Selection process
November 2020 to February 2021
1. Pre-selection
Open call in two stages (from November 16 to December 16, and from January 19 to February 19), to receive applications. The objective of the pre-selection is to appoint two candidates for each ESR position who will give a presentation in the final recruitment conference.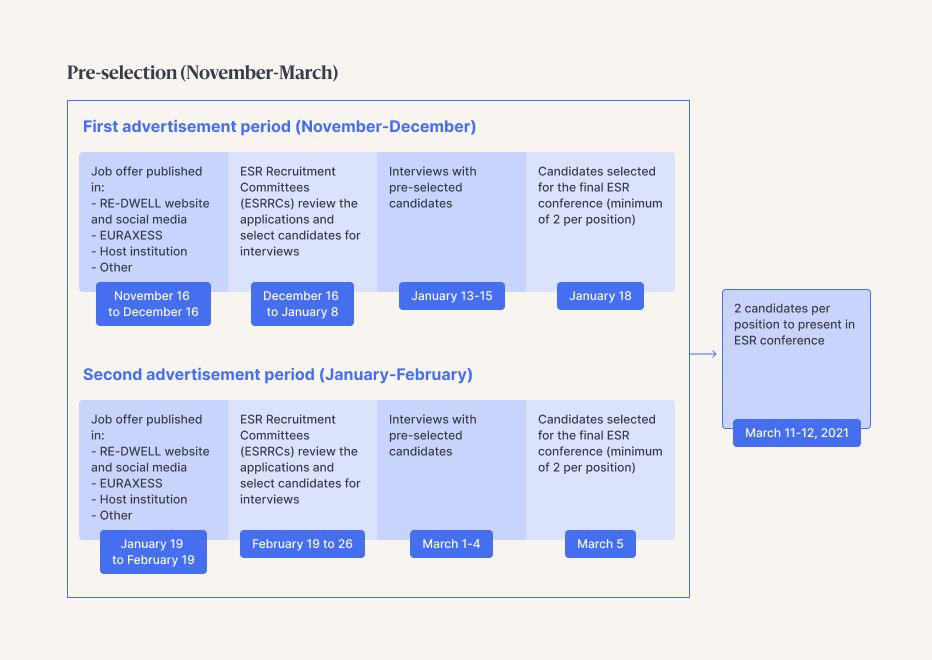 1. Eligibility

Less than four years or research experience from the time of recruitment (June 2021); less than 12 months of residence in the applied country; English knowledge

2. Curriculum

Academic records, professional experience, and portfolio (optional)

3. Research proposal

Quality of the research proposal; adequacy to the research to be carried out in RE-DWELL; skills required; appropriateness of research methods; schedule; awareness of transdisciplinary research of RE-DWELL; alignment with previous academic and professional experience; adequacy to the specific requirements of the ESR project
After revaluating the applications, the ESR panel will invite some applicants to an interview. Following the interview, the panel will decide which candidate or candidates to invite to the final recruitment event.

If there are at least 2 good candidates for a position, the pre-selection process ends for those positions. If there are not enough good candidates, a second job offer for those positions will start on January 19 and close on February 19, 2021.
In the first stage of the pre-selection process we have received 145 applications from 43 countries. Forty-five candidates have been invited for an interview with the ESR recruitment panels. 22 applicants have been selected to give a presentation in the final recruitment event.

In the second stage, we have received 101 applications from 40 countries. Twenty-one candidates were invited to an interview, and seven of them have been selected for the final stage.

29 candidates from 21 countries, selected among 246 applicants around the world, will participate in the final stage of the selection process of the 15 ESR positions which will take place on March 11 and 12, 2021.
mid-March, 2021
2. Final selection
The two selected candidates for each ESR position will give a presentation to the Supervisory Board members who will make the final selection. The presentation will be based on the guidelines delivered to the candidates one week earlier. The panel members will formulate questions based on the presentation. The evaluation will be done using a specific rubric consisting of four blocks:
1. Project

Less than four years or research experience from the time of recruitment (June 2021); less than 12 months of residence in the applied country; English knowledge

2. Research proposal

Added value to the RE-DWELL research, links to other ESR projects, work plan, integration of secondments, applicability of outputs

3. Communication

Structure of the presentation, congruency with the oral explanations, graphic quality

4. Personal skills

Knowledge of English language, clarity and quality of responses, motivation and conviction, capacity to work in collaboration
At the end of the two-day final selection event, the Supervisory Board confirmed the results of the evaluations conducted by the 15 ESR panels. Following the evaluation of the panels, the board agreed to confirm the selection of the 15 candidates (8 females, 7 males, from 11 countries). In addition, the board propose to create a reserve list in the event that any of the designated fellows are unable to complete the signing of the contract