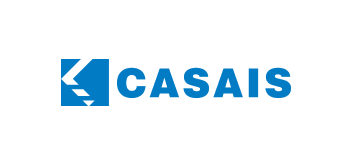 Casais
Portugal
The Casais Group has been operating for over 60 years in the Engineering and Construction sector, having expanded its area of activity in recent years. Today, in addition to Engineering and Construction, the Group is present in the sectors of Specialties and Industry and Promotion and Asset Management.

Considered by the Construir Awards, for the 3rd consecutive time, the best construction company in Portugal, it has a know-how built with mastery and rigor in the national and international market. It maintains the family nature, with which it was initially created, which translates into more than 60 years of strategic, ethical and professional principles that dictate its success over time and in the different market areas, through rational management and compliance with deadlines and objectives.

The internationalization process of the Casais Group started in 1994, with the entry into Germany. Currently, internationalization is the key to the Group's development, representing more than 80% of the global turnover. Based on adapting to the local culture and privileging strategic partnerships for a solid presence, the Casais Group's activity extends to 17 markets: Portugal, Germany, Angola, Algeria, Belgium, Brazil, United Arab Emirates, Spain, United States of America , France, Ghana, Gibraltar, the Netherlands, Morocco, Mozambique, Qatar and the United Kingdom.

The future depends on the continuous growth in the national market and the commitment to internationalization, consolidating its presence in the countries where it operates and investing in entering other countries.

Grupo Casais aims to be a reference of knowledge and solidity in the area of Engineering and Construction, working daily with the purpose of building the vision of its customers and a better tomorrow.