Sustainable developments in social housing, a secondment at South Yorkshire Housing Association.
Posted on 18-08-2022
It's been a few months now since I completed my secondment with South Yorkshire Housing Association (SYHA) and writing this post is more difficult than I expected. However, before I continue, I need to clarify some of the key terms mentioned so far. Firstly, a secondment is a defined period of time during which an employee is sent to another organisation to gain experience, increase the workforce or share knowledge (Cambridge, n.d.). A housing association is broadly defined as a society, trust or company that provides, builds, improves or manages housing, or facilitates or promotes the construction of housing, and operates on a not-for-profit basis (HMSO, 1985). Its role has recently expanded to include other social services that focus on vulnerable at-risk groups. Against this background, my work at SYHA has been to research and identify the process of developing sustainable social housing and to participate in real projects to measure housing sustainability and to work with housing associations.
Background.
The story of South Yorkshire Housing Association begins when founder John Belcher set up Sheffield Family Housing Association to help young homeless families after watching the BBC drama 'Cathy Come Home' in 1972. Almost 50 years later, South Yorkshire Housing Association still builds and manages a range of services, including social housing, affordable rented housing, shared ownership housing and other social support services (SYHA, 2021a). In recent years, SYHA has changed its business model to the concept of "The business is more than housing", focusing on and prioritising other important challenges such as the wellbeing and social needs of its tenants and environmental challenges, in particular climate change, energy efficiency and carbon emissions (SYHA, 2021b).
Unlike the conventional 'departmental organisational structure' that follows a strict service typology or structures tailored to role descriptions. SYHA has a unique and dynamic organisational structure guided by the principles of goal setting and services defined as continuous strengthening of resources and improvement of staff performance (SYHA, 2021b, Jacobides, 2007). According to SYHA's latest annual report, total assets owned, managed or under construction amount to more than 6,000 housing units. These include flats, terraced houses, detached houses, semi-detached houses and residential communities (SYHA, 2021c).
From strategic plan to theory.
Housing is a big part of the climate change problem, accounting for 27 per cent of UK carbon emissions and consuming up to 30 per cent of inland generated energy (DBEIS, 2020). In response, SYHA has developed a strategic plan to achieve the UK's 2050 zero carbon target and help mitigate the impact of climate change on people's health, wellbeing and access to housing (SYHA, 2020). The strategic plan is to (1) identify and calculate the current carbon footprint (2) improve the management of asset data, (3) identify the necessary behavioural changes and engage with end users to reduce their impact on the natural and built environment (read Andreas Panagidis post on participation in planning), (4) improve the energy efficiency of existing homes and tackle fuel poverty (read Tijn Croon post on energy poverty), (5) build new homes to high environmental standards and develop future-proof changes to our current design standard, as well as test new approaches, (6) reduce fossil fuel use across all business areas, (7) update the business plan to respond to various challenges.
From theory to practice.
In analysing several projects, I have found that SYHA has successfully translated strategic plans into practical guidelines for 'best practice', creating several award-winning projects such as the North Wingfield social housing complex. The guidelines include:
(1) Spatial requirements by creating a meeting point between building regulations and actual needs and recognising the different lifestyle preferences of end users,
(2) The design of residential neighbourhoods taking into account cultural and natural elements,
(3) The connectivity and accessibility of projects and maximising the use of existing infrastructure without depleting resources,
(4) Sustainable landscaping and drainage to reduce the impact of artificial landscapes and integrate native components into projects,
(5) Modern construction methods that enable safe and fast construction with minimal waste generation..
From practice to research.
The main aim of the secondment is to engage the researcher in real projects to measure environmental sustainability and develop a framework for affordable, low-carbon homes. To achieve this goal, I was expected to (1) conduct quantitative and qualitative research and engage with local and international partners and stakeholders, and (2) accurately record and analyse data to provide useful insights for other academics, funders, policy makers and practitioners. I used a variety of research methods such as systematic content analysis, informal interviews and observation. The data collected was analysed from an intervention research perspective.
From research to practice.
The outcome of the secondment was the development of an online platform that overcomes the challenges and risks identified in the analysis; the platform includes, among other functions, the following.
(1) Sustainability practices, by clarifying the principles, tools and structure of environmental sustainability that enhance the existing SYHA project flow chart and overall development processes.
(2) Reduce misunderstandings about sustainability and social housing by creating a top-down glossary of terminologies that unifies the language within housing association practices.
From SYHA to RE-DWELL.
At the end of the secondment, I was able to list and explain the processes used by SYHA and other housing associations in the UK to develop sustainable social housing. The process is complicated and requires extensive analysis of building regulations, policy development and project flow charts. More importantly, I have tested and validated my research gaps to ultimately create valid research questions that respond to real-life challenges. The analysis of SYAH practices provided valuable input for my PhD thesis and helped in the selection of exploratory case studies. All in all, the secondment was an important tool that RE-DWELL used to guide and support my research project.
Acknowledgement.
The three months I spent at SYHA provided me with great theoretical data, but what was really interesting was meeting the people of SYHA. I received tremendous support from all the team members, and so I have to thank everyone at SYHA and especially Jon Walker, Natalie Newman, Eira Capelan and Robert Milne.
References
CAMBRIDGE n.d. Secondment definition In: UNIVERSITY, C. (ed.) Cambridge dictionary. United Kingdom.
DBEIS 2020. Energy Consumption in the UK (ECUK) 1970 to 2019 In: (ONS), O. O. N. S. (ed.) National Statistics. London: Department for Business, Energy & Industrial Strategy.
HMSO 1985. The Housing Associations Act 1985: Chapter 69. London: Her Majesty's Stationery Office.
JACOBIDES, M. G. 2007. The inherent limits of organizational structure and the unfulfilled role of hierarchy: Lessons from a near-war. Organization Science, 18, 455-477.
SYHA. 2020. Our Strategic Plan 2020-2023 [Online]. UK: South Yorkshire Housing Association. Available: https://www.syha.co.uk/who-we-are/what-we-do/our-strategic-plan/ [Accessed 2021].
SYHA. 2021a. Our history [Online]. UK. Available: https://www.syha.co.uk/who-we-are/our-history/ [Accessed].
SYHA. 2021b. Our purpose [Online]. UK: South Yorkshire Housing Association. Available: https://www.syha.co.uk/who-we-are/what-we-do/our-purpose/ [Accessed].
SYHA. 2021c. Who we are [Online]. UK: South Yorkshire Housing Association. Available: https://www.syha.co.uk/who-we-are/ [Accessed].
Related case studies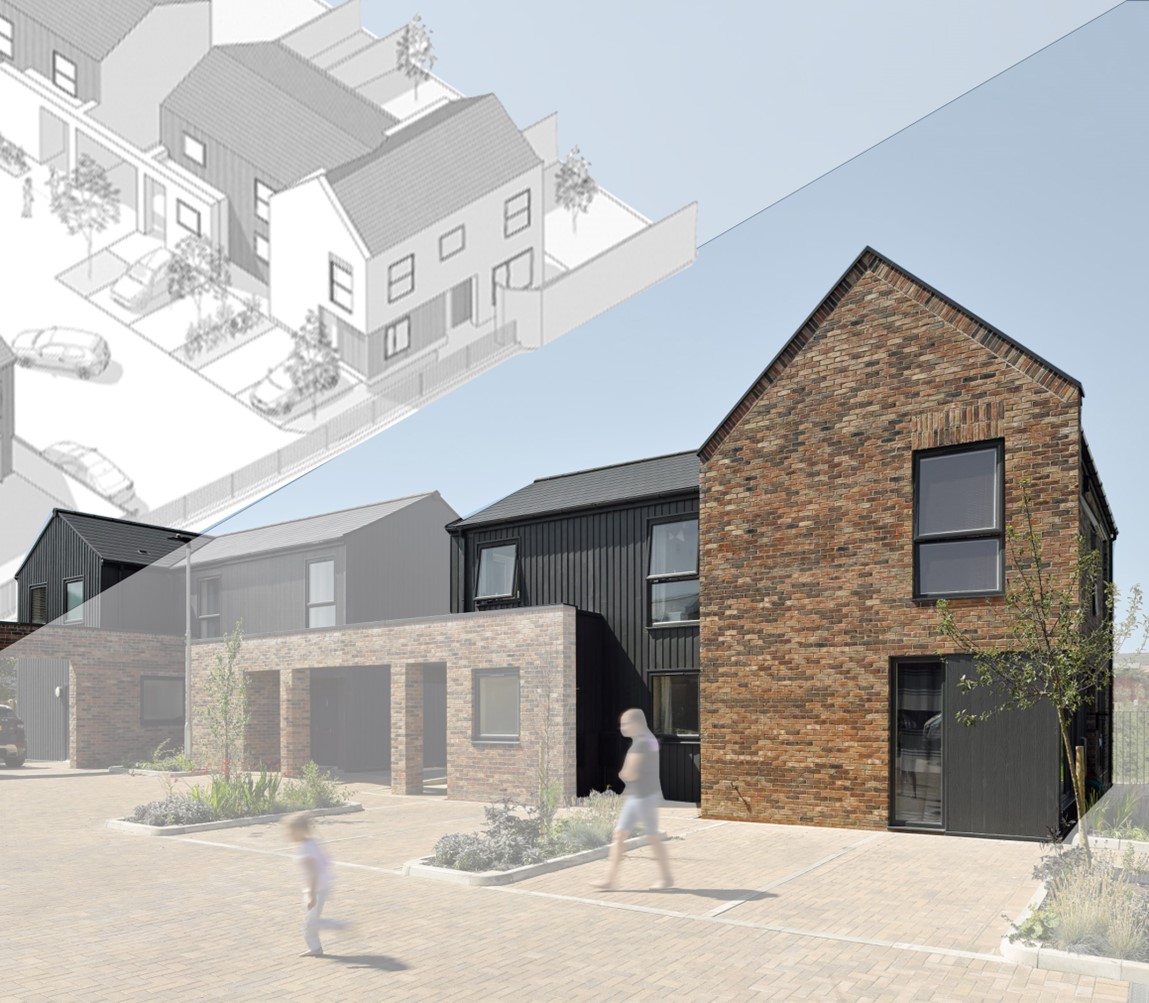 North Wingfield Road social housing complex.
Created on 25-11-2022
a) Design philosophy According to the Housing Design Awards, the design of the North Wingfield project took a contemporary design approach, combining the features of local vernacular architecture - as adopted from local farms - with the developer's vision and requirements for flexible, sustainable and innovative housing (HDA, 2021). The architectural office DK -Architects explains that this fusion is represented by massing the morphology of the project, traditional architectural elements (e.g. Dreadnought brick (roof), Janinhoff brick (walls)) with modern elements such as large glazing and aluminium cladding. This combination of materials not only provides an aesthetically pleasing appearance, but also helps to capture heat, ultimately reducing heating energy consumption for at least seven months of the year (DK-A, 2021). In addition, several innovative features have been adapted, including the well-planned use of space and the clear conceptual plans that extends beyond the interior spaces to the shared courtyard, which serves as a social gathering place for the tenants. The inspiration for the courtyard was derived from the local identity, the farmstead and the crew yard (HDA, 2021). At the same time, the use of a see-through fence, which extends the sightline into the rural surroundings, provides a calming splash of green colour in each residential unit. The semi-raised upper massing extends the courtyard and provides a semi-enclosed space that enhances the feeling of safety and security (DK-A, 2021). Meanwhile, the buildings in the front row clearly stand out from the surrounding buildings through the use of colours and materials and also serve as an entrance gate to the project (DK-A, 2021; HDA, 2021). Each dwelling has its own mini agricultural space, which has proven valuable for the well-being of the residents. b) Construction process The skeleton of the building utilises an off-site timber frame method of construction, adopting a semi-modular design principle (Davies & Jokiniemi, 2008). This construction method provides a structure with a superior thermal envelope that requires minimal maintenance and is a 'fit-and-forget' solution for the lifetime of the building. In addition, both labour and material costs were significantly reduced due to less reliance on craftsmanship and multiple suppliers. This is in line with the UK government plans to revamp construction regulations to encourage bold, creative and sustainable construction methods (Davies & Jokiniemi, 2008; Sterjova, 2017). The construction process started with ground treatment, followed by the casting of the foundations on site. Meanwhile, the timber frames were manufactured off-site at the supplier's factory, which helped to reduce construction work and thus carbon emissions. The frames were then transported to the site for fixing and external treatment, and all the construction work ran in parallel (Wheatley, 2020). The overall process can be seen in Figure 1. c) Sustainability integration At the sustainability level, the project worked on several areas to maximise the adaptation of sustainability features and minimise the impact on the natural environment (HDA, 2021). Creating sustainable buildings Through sustainable design and layout (e.g. orientation, maximising daylight, optimising solar gain). Creating high quality outdoor environments (e.g. public and private open spaces that provide shade and shelter and consider flood retention and multi-functional green spaces to protect wildlife). Use of sustainable water management techniques (e.g. use of sustainable drainage systems and consideration of surface water run-off). Use of sustainable waste management facilities for private and communal use (through the appropriate provision of waste and recycling bins). Focus on reducing the use of non-renewable energy. Reduction of carbon emissions The project has been designed in accordance with the highest level of building regulations and sustainability standards, in line with the Government's 10-year timetable for all new homes to be carbon neutral by 2016. Water recycling techniques (such as grey water and rainwater harvesting). Sustainable Transport (reducing reliance on the private car, incorporating practical and accessible sustainable transport patterns). d) Energy performance One of the tools to assess building energy efficiency in the UK is the Energy Performance Certificate (EPC), which is defined by the Department for Levelling Up, Housing and Communities as: A rating scheme that summarises the energy efficiency of buildings; it includes a certificate that gives a property an energy efficiency rating from A (most efficient) to G (least efficient) and is valid for 10 years (DLUHC, 2014). The EPC is produced using the Standard Assessment Procedure (SAP), which is defined by the Department for Business, Energy & Industrial Strategy as follows: The method used to assess and compare the energy and environmental performance of properties in the UK [...] it uses detailed information about the property's construction to calculate energy performance (DBEIS, 2013). The North Wingfield project has successfully achieved a (B) rating - equivalent to 84 out of a maximum possible 100 points with a high potential for an (A) rating equivalent to 95 points (DLUHC, 2021). This score is the result of The use of high-performance materials with very good thermal transmittance properties (walls: 0.20 W/m²K, roof: 0.11 W/m²K, floor: 0.09 W/m²K). Well-designed ventilation system that achieves a good air tightness indicator (air permeability 4.9 m³/h.m²). Low consumption of primary energy of 94 kWh/m2. Another indicator is the Environmental Impact Score (EIS), which shows the impact of a building on the environment through the estimated carbon dioxide (CO2) emissions calculated at the time of the EPC assessment (DLUHC, 2014). The higher the score, the lower the building's impact on the environment: like EPC labels, the environmental impact score is graded from A to G (DBEIS, 2014). The project generates 1.4 tonnes of CO2 annually. This is less than a quarter of the 6 tonnes emitted by an average household. By improving the EIS rating to A, CO2 production will be reduced to 0.3 tonnes, which will distinguish the project as one of the most environmentally friendly projects (DLUHC, 2021). Figure 2 shows the EPC and EIS breakdowns of the properties.