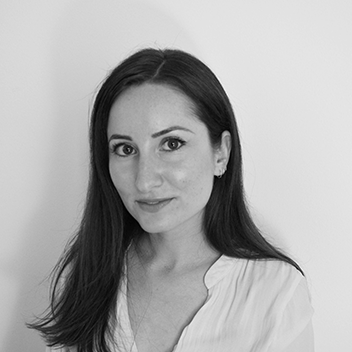 Annette has worked as a RIBA Part 3 qualified Architect, with professional and academic experience acquired in the UK and abroad. She completed her BSc at the University of Bath, where she also participated in a year exchange at Universidad Europea de Madrid in Spain.

During her Masters studies at the Manchester School of Architecture, she pursued her passion for using design to address social housing issues with her project 'Rethinking the Highrise'. The project identified the need to implement sustainable and affordable design solutions for the high-rise typology, addressing the need for high quality design for high density housing by utilising modular stacked dwellings. Following her Masters, she completed the RIBA professional practice postgraduate diploma with the University of Westminster in 2019.

Annette's professional experience in architecture and urban design includes a range of residential, public realm, and commercial projects in Melbourne, Australia, and at several award winning London practices. She was able to first develop her strong conceptional skills at smaller practices, after which she gained substantial technical and construction experience with BIM based projects at two larger practices.

Alongside her professional experience, she has taken part in volunteering and sustainability activities. She was a founding member of Farrells' Sustainability Group, supported the work of climate action groups, and volunteered as a RIBA Ambassador in 2019. In her spare time she has developed skills in HTML and CSS to develop personal and volunteer projects designing websites and apps.
March, 21, 2022
December, 14, 2021
September, 14, 2021
Industrialising Housing to Meet Circular Goals:
A cradle-to-cradle assessment in combination with Design for Disassembly and Building Layers
The climate and housing crises are putting increasing pressure on the construction industry to shift from the current paradigm to a more sustainable and affordable one. Construction accounts for nearly 40% of global energy-related CO2 emissions, whilst over a third of all waste in the EU is generated by construction and demolition. Additionally, advancements in energy efficiency and reduced operational carbon have exposed the urgent need reduce the extraction of raw materials and embodied carbon to achieve net zero by 2050. In tandem, there is a lack of social and affordable housing, the latter of which is becoming increasingly unaffordable. To address these challenges, the industry must move away from the linear "take-make-waste" model that has underpinned development to a Circular Economy (CE) approach, which decouples growth from the consumption of finite resources. A circular building system provides the opportunity to improve the affordability of housing whilst simultaneously improving environmental sustainability.
Industrialised Construction (IC) - or Modern Methods of Construction (MMC) - is a broad term encompassing the systematic and controlled production of buildings; it is increasingly associated with industry 4.0 and merging with ICTs such as BIM to support an integrated project team and document information for all building life-cycle stages. IC can be combined with economies of scale to provide social and affordable housing: reducing construction time, improving build quality, and reducing costs. Production of industrialised housing can take place in factories either off-site or in temporary on-site hubs. It is expected that a significant proportion of housing in the coming decades across Europe will be built in such factories, and sustainable homes will be mass customised from range of standard elements. Both IC and CE principles consider buildings as a product rather than a one-off prototype. These two schools of thought intersect in practice through Design for Disassembly (DfD) where demountable standardised elements are easily adapted, reused, repaired, recycled, or relocated.
A circular approach is of high priority in the EU and globally as highlighted by the Circular Economy Action Plan, and changes in leading Green Building assessments and the new Europe-wide framework Level(s). These assessments are increasingly reliant on quantitative data and cradle-to-cradle Life Cycle Analysis (LCA) to measure resource and energy efficiency. However, applying the current Whole Building LCA method to industrialised housing and DfD is an unresolved issue. The standard LCA method assumes a 60-year life span for the entire building, that does not account the varying lifespans of different building layers. In addition, this does not support the comparison of a range of large building elements to inform design decisions in mass customised housing. These are crucial issues to address not only to appropriately assess the sustainability of industrialised housing, but to set appropriate governmental targets.
The aim of this project is therefore twofold: to investigate how Design for Disassembly (DfD) can provide circular sustainability solutions in housing and strategies for increased adoption at the building and policy levels.
Within this project, a new method is proposed to assess the sustainability of housing designed to be disassembled. This will be based on a cradle-to-cradle LCA using Building Information Modelling (BIM), which will incorporate holistic indicators in combination with a building layers approach, with different assumed lifespans for each layer. This will enable technical stakeholders to make better informed design decisions throughout all building stages and provide sustainable solutions based on more accurate information, within a less time-consuming process. This will be achieved through testing the proposed methodology on both research and industry projects with Universitat Politècnica de València (UPV) and construction company Grupo Casais. The expected outcome of this project is an outline methodology to be used in industry, which will include a roadmap and recommendations to achieve this.
Keywords: Industrialised Construction (IC), Building Information Modelling (BIM), Design for Disassembly (DfD), Life Cycle Analysis (LCA), Cradle-to-cradle (C2C).
Reference documents

Key Concepts
View
A framework for sustainable and affordable housing using Industrialised Construction
Industrialised Construction (IC) is a broad term which encompasses systematic and controlled production. IC is no longer synonymous with mass production and prefabrication, and novel methods are more often taking place on site. Today IC is used to deliver customer-oriented housing through mass customisation and is increasingly used in combination with ICTs such as BIM to implement lean methods. Recent advancements in IC and ICTs have created a paradigm shift in the Architecture Engineering and Construction (AEC) industry, with a different view of the building lifetime that goes beyond practical completion.
There is growing attention on utilising IC to provide innovative solutions for today's housing challenges in sustainability and affordability, in addition to managing building complexity and coordination with various fields. Recent ambitious EU targets to deliver Net Zero Energy Buildings and to incorporate circular economy have put increasing pressure on the construction industry to shift from the current paradigm to a more sustainable one. When used in conjunction with economies of scale IC can improve build quality, minimise waste, and reduce cost and time of construction. However, there needs to be a greater understanding of IC by both technical and non-technical stakeholders for its benefits to be fully realised.
This project will investigate the benefits that a combination of industrialised methods and ICTs can provide in delivering sustainable and affordable housing. The research will seek to establish methods suitable for housing within a BIM-centric framework, demonstrating the benefits in terms of sustainability and affordability supported with case studies in collaboration with construction company Grupo Casais. The methodology will include establishing indicators in conjunction with Life Cycle Analysis. This will cover all building stages, including beyond the end-of life-stage for a circular approach. The proposed outputs will include a framework and guidelines for actors involved in the delivery of housing.
A framework for sustainable development of housing using Industrialised Construction
Industrialised Construction (IC) is a broad term which encompasses systematic and controlled production. IC is no longer synonymous with mass production and prefabrication, and novel methods are more often taking place on site. Today IC is used to deliver customer-oriented housing through mass customisation and is increasingly used in combination with ICTs such as BIM to implement lean methods. IC raises the question of what constitutes a 'home'; arguably some of the innovative methods intended for other purposes such as travel, military use, or product design, which have been adapted to housing are inherently unsuitable.
There is growing attention on utilising IC to provide innovative solutions for today's housing challenges in sustainability and affordability, in addition to managing building complexity and coordination with various fields. Recent ambitious EU targets to deliver Net Zero Energy Buildings and to incorporate circular economy have put increasing pressure on the construction industry to shift from the current paradigm to a more sustainable one. When used in conjunction with economies of scale IC can improve build quality, minimise waste, and reduce cost and time of construction. However, there needs to be a greater understanding of IC by both technical and non-technical stakeholders for its benefits to be fully realised.
This project will investigate the benefits that a combination of industrialised methods and ICTs can provide in delivering sustainable and affordable housing. The research will seek to establish current methods suitable for housing within a framework, demonstrating the benefits in terms of sustainable development supported with case studies in collaboration with construction company Grupo Casais. Using a systems approach, the methodology will include establishing indicators in conjunction with Life Cycle Analysis (LCA). The analysis will cover all building stages, including beyond the end-of life-stage for a circular approach in line with the Level(s) framework. The proposed outputs will include a framework and guidelines for actors involved in the delivery of housing.
ESRs visit to the Casais Group in Portugal
Posted on 09-03-2022
Blog post written collectively with Aya Elghandour and Carolina Martín Last month three Early-Stage Researchers (Aya, Carolina and Annette) visited project partners the Casais Group in Braga, Portugal. Casais is an international construction company founded in Portugal with experience in several sectors, including housing. Casais have been integrating Industrialised Construction in the delivery of their projects, which includes the creation of their off-site BluFab factory in Braga. Casais established BluFab in 2019 and since then they have been optimising their design and manufacturing processes to build more sustainable, precise and cost-efficient projects. Aware of the current affordable housing shortages, they are developing optimisation tools using digital technologies to gradually increase their level of industrialisation to enhance productivity, minimise delays, and improve scalability. The company is invested in improving the sustainability of their projects through training staff in Green Building assessments to monitor projects in-house, as well as using Industrialised Construction methods such as pods and panelisation. Casais aims to automate processes and use the latest tools and technology in a seamless way together with the other stakeholders involved in the delivery of housing. One of their current challenges lies in finding the best way to utilise ICT tools such as BIM to achieve an effective knowledge transfer between the different design and manufacturing stages. This matter is also tightly linked with the possibility to mass customise housing to attain a personalised and adaptable building stock. We believe the collaboration between the ESRs and Casais will be key in finding the right balance between the level of variety offered and the need to adopt an economy of scale, using Industrialised Construction methods and BIM to provide affordable and sustainable housing solutions. In the context of Housing Life Cycle Costs, discussions with the Casais team were very fruitful to reveal practical aspects of current construction issues in Europe and their approach to tackle them. For instance, one of the most challenging aspects facing construction in Portugal is the lack of skilled labour, which is expected to worsen in the following years. Another issue is the costs that must be paid to the municipality per day for occupying the street and disturbance around the construction site. Therefore, Casais are working on finding innovative ways to overcome these challenges by industrialising the process. These industrialised solutions, which includes off-site construction of building elements in their factory and transporting them to the construction site, save a lot of time and money and mitigates risks! With the huge housing demand in Portugal and the need to design and construct sustainably, it is vital for the industry to respond to these challenges in line with the latest research. Therefore, the collaboration between Casais and RE-DWELL's Early-Stage Researchers aims to contribute to further developing industrialised construction solutions, understanding the market needs, and communicating these with design teams. We look forward to continuing to develop our projects with Casais.
Nicosia: The divided city
Posted on 13-12-2021
Due to Covid-related delays, the first RE-DWELL summer school took place last month at the Cypriot host institution in Nicosia. The week-long activities served to enrich the development of our individual research projects whilst enabling us to build on our connections with fellow Early-Stage Researchers (ESR), the supervising team, and external speakers. Despite Nicosia being the capital city of Cyprus, the urban scale was much more modest than I had expected. The historic area had a village feel, which was mainly residential and generally only built up to 2 storeys high, with many friendly stray cats roaming the streets. Nicosia is in fact Europe's last divided city, bearing similarities to the German capital Berlin which was divided for approximately 50 years – Nicosia has so far been divided for almost as long. The Turkish-Cypriot border reaches across the island and extends up into Nicosia, neatly dividing the circular Walled Old City into two halves [1]. This week was therefore not only valuable in terms of workshop activities, but also in understanding the political and social situation there, and how it has manifested in the city masterplan and architecture. The division I began to learn more about the history behind the divide through casual conversations with the locals, including the two ESRs based in Nicosia, as well as with the host supervisors from the University of Cyprus: Nadia Charalambous and Andreas Savvides. At the end of the week, we were given an informative lecture by Athina Papadopoulou, the conservation architect and head of the Greek Cypriot Nicosia Master Plan team since 2010. The official division of Cyprus took place in 1974 and resulted in a Greek-Cypriot south side - occupying around two thirds of the island - and a Turkish-Cypriot north side (Oktay, 2007). This resettlement programme displaced populations of Greek-Cypriots and Turkish-Cypriots, creating refugees on both sides. During our visit we learned about the temporary refugee housing which at the time included tents and brick and mortar homes, the latter of which still exist today. Papadopoulou presented to us the bi-communal initiative to develop a twin masterplan which was funded by USAID through UNHCR & UNDP. This project is based on restoration of individual sites on both sides, such as houses, markets, and historic monuments to name a few. On our visit to the Turkish-Cypriot side of the Walled Old City we were able to visit some of these on a tour with Papadopoulou. The buffer zone The UN has the responsibility of securing the buffer zone – also known as 'the Green Line' – and its checkpoints, as well as facilitating communication between the two territories. As explained by Papadopoulou, the buffer zone itself presents additional issues as houses and buildings left in this strip of land are falling into disrepair, with many at risk of collapse. The buffer is a demilitarised zone that shapes the urban fabric; it is non-uniform, with wide and narrow sections. However, limited access to the area (which requires a UN guide) creates a barrier to efforts to repair any of the buildings located here. Interestingly, I learned from a ESR based in Nicosia that the border also restricts the movement of animals, so for example you cannot visit for the day and casually take your pet dog with you. It seemed strange to me to enforce such restrictions on an island with a single ecosystem where the large populations of stray cats, birds and other small mammals are constantly freely crossing the border. Planning for the future Whether or not the city and the island are politically unified will undoubtedly influence house prices on both sides. The cost of living and rent is currently considerably cheaper on the Turkish-Cypriot side. Speaking with an ESR, who is also an economist, I was able to get a better understanding of the financial implications to the possibility of reunification. As housing is also considered a financial asset, there is incentive for developers and private individuals to buy properties in the historic centre whilst prices are low, in the hope of the value increasing with reunification. Therefore, capitalist motivations may also inadvertently have a shared interest in reunification efforts - particularly within the Walled Old City. The summer school ended with the viewing of documentary film 'Anamones' followed by a discussion with architect Andri Tsiouti who collaborated on the production of the documentary. The film investigates the sociological impact of designing in starter bars (structural steel rods) protruding from the roofs of homes in Cyprus for "future use". Interviews with parents who had the starter bars built had 'speculated' that their children would want to build an additional floor to live above their parents. This film included some light-hearted and humorous interviews with the young adult generation, the majority of whom expressed that they would prefer to live more independently and have more distance from their parents. This served to highlight the importance of knowing what the end-user needs are in the design process in housing, which is one of the key issues being explored by the RE-DWELL network. Looking forward to Cyprus' future, there are hopes for reconciliation with projects for cohesion also taking place in the form of social bi-communal events that include meetings, gatherings, and conversations for peace and reunification. I am keen to see how these architectural, urban, and social projects will be able to reshape the city of Nicosia and the island as a whole in a positive way in the years to come. References Oktay, D. (2007) 'An analysis and review of the divided city of Nicosia, Cyprus, and new perspectives', Geography, 92(3), pp. 231–247. doi: 10.1080/00167487.2007.12094203. Bibliography https://unece.org/fileadmin/DAM/thepep/en/workplan/urban/documents/petridouNycosiamasterplan.pdf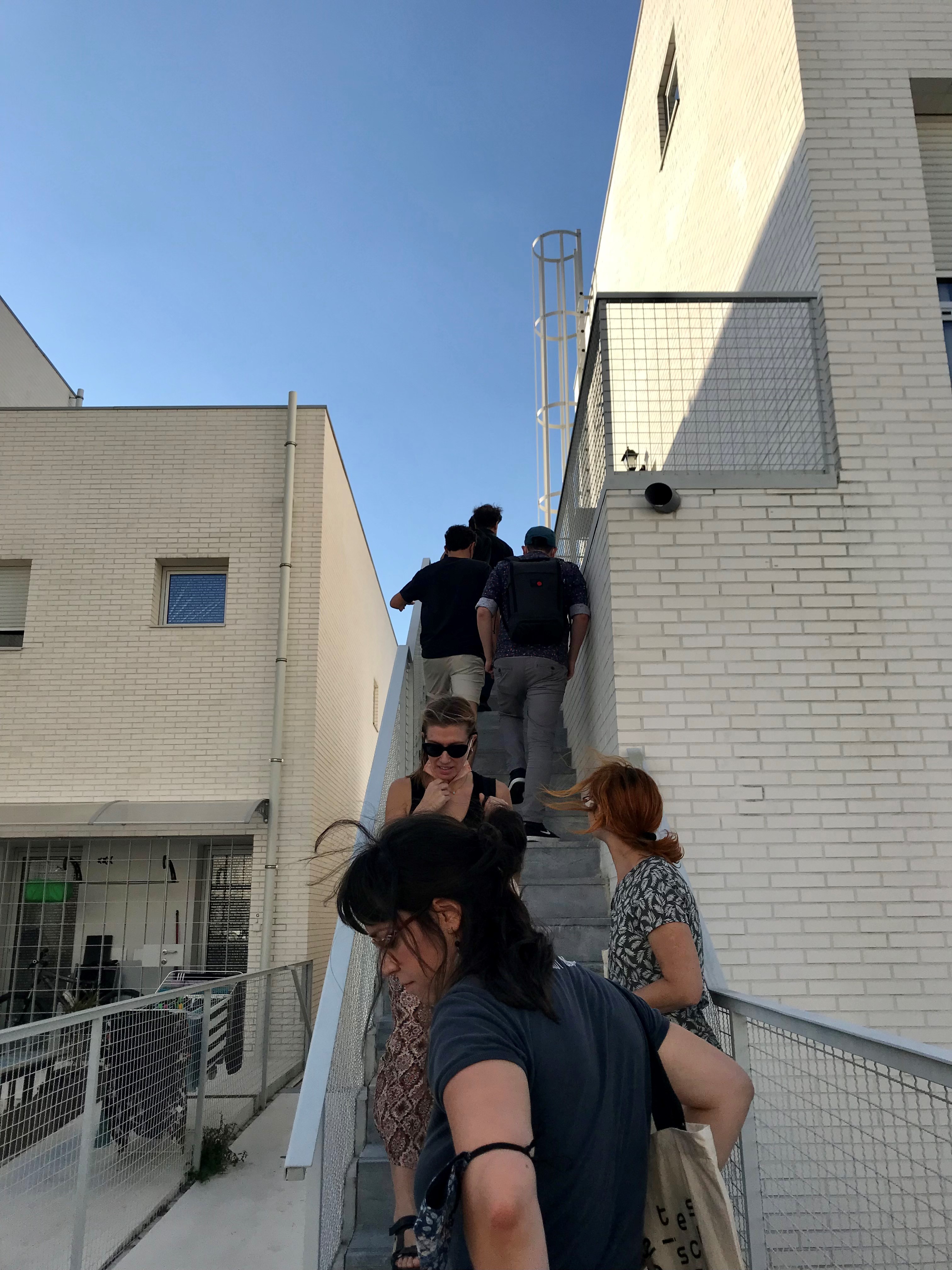 Links between sustainability and BIM
Posted on 10-12-2021
The Lisbon workshop not only facilitated training activities, but it was also the first opportunity to finally meet the fellow Early-Stage Researchers in person after 3 months of online encounters. During the 3-day workshop we were able to have fruitful conversations and some lively debates ranging from the use of the term 'vulnerable people', to how to ethically carry out community-led projects in practice, to intersectionality. Activities included a roundtable discussion, lectures, and site visits to the Boavista eco-neighbourhood and self-build housing in Marvila to name a few. These provided different lenses with which to view a holistic sustainable approach such as more intangible social aspects, as well as ways to digitally support and represent this information. Discussions about BIM Building Information Modelling (BIM) is a methodology that focuses on emerging technology to parametrically model and operate building information within a digital platform (Love et al., 2013). BIM will play a crucial role in the future of housing to be able to measure and meet sustainability targets through improved energy and resource efficiency throughout the entire lifespan of a building. We had two lectures which focused on BIM, one given by Miguel Pires from construction company Grupo Casais and another by Miguel Azenha from Minho University in Portugal. Grupo Casais' lecture gave valuable insights into how BIM software is currently being used within industry. Miguel Azenha's lecture provided a methodological perspective covering standardisation and circularity, according to whom standardisation is affecting BIM and influencing the way people in construction are using information. In addition, circular economy principles are implicit to the concept of BIM and support the feasibility for Design for Deconstruction (DfD). Interestingly, BIM was also described as object-oriented modelling, in which even voids are modelled as objects. This lead me question how can 'intangible' social sustainability factors (such as health and wellbeing of residents) also be represented in a BIM environment which is object oriented? Social sustainability and impact on communities As mentioned, the workshop included visits to neighbourhoods in Lisbon that had incorporated sustainability and affordability into their design, including a visit to Boavista (a new sustainable neighbourhood providing rented social housing) led by architect Miguel Brito from Lisbon municipality [1]. The homes in the completed and inhabited pilot neighbourhood were based on a modular design - though built using traditional construction techniques. Within the project, there was a focus on improving energy efficiency to reduce fuel bills, whilst upgrading and rehousing an existing community previously located only one road away. During the trip we were invited inside the homes on a small tour where we were able to talk with residents and find out what life is like in the new neighbourhood. Importantly, this pilot project provides the opportunity to address any design issues for the roll-out of the planned future neighbourhoods in Lisbon that will be based on the same design. Another project which centred on dialogues with residents to foster community participation was informal settlement Terras da Costa (located 10km from Lisbon) presented by architect and urban researcher Joana Pestana Lages (Pestana Lages and Gouveia Braga, 2016). The informal settlement is home to a Cape-Verdean community that has lived in the area for decades. The municipality planned to rehouse the residents in a resettlement project, the social implications of which were discussed by Lages. The new housing solution had the potential to socially isolate residents as well having a negative economic impact, as some residents relied on the land to keep livestock as part of their livelihood. Conventional European housing therefore posed the potential to radically change the lives of the residents that would move into them. The numerous issues raised by Lages in the case of informal settlements and the human right for all to live and thrive in our cities (Harvey, 2003) is relevant across Europe. There are informal settlements in several member states currently under transformation in line with the UN Sustainable Development Goals, including Cuñada Real in Madrid which is Europe's largest informal settlement. How to link social sustainability and BIM? Coming away from the workshop, I have been keen to ensure my own research project provides holistic solutions to sustainable and affordable housing in combination with ICTs such as BIM. The importance and challenges of incorporating social aspects of sustainability is represented by a growing body of research in Social Life Cycle Analysis (SLCA). This can be understood as a component of the "Triple Bottom Line" (TBL) model of sustainability which integrates environmental, economic, and social indicators. This can be achieved through using the corresponding methodologies of Life Cycle Analysis (LCA) (environmental), Life Cycle Costing Analysis (LCCA) (economic), together with Social Life Cycle Analysis (SLCA) (social). BIM plays a key role in measuring and unifying these holistic indicators. This is important to document during the typical 50 to 60 years of a building's lifespan to ensure that not only environmental targets are met, but to ensure a high quality of life for inhabitants. This information becomes even more crucial at the 'beyond building life stage' when housing is ultimately deconstructed and reused - long after the working lifetime of the original design team. These themes are currently being explored during the forming of my individual research project, in which I am investigating Industrialised Construction in connection with BIM and sustainability. References Harvey, D. (2003) 'The Right to the City', International Journal of Urban and Regional Research, 27, pp. 939–941. doi: 10.1111/j.0309-1317.2003.00492.x. Love, P. E. D. et al. (2013) 'From justification to evaluation: Building information modeling for asset owners', Automation in Construction, 35, pp. 208–216. doi: 10.1016/j.autcon.2013.05.008. Pestana Lages, J. and Gouveia Braga, J. (2016) 'There is Africa in Lisbon', in Embodying difference in the discourse and practices of urban planning. Zurich, pp. 1–11. Available at: https://ethz.ch/content/dam/ethz/special-interest/conference-websites-dam/no-cost-housing-dam/documents/Lages_Paper.pdf. Bibliography Further reading on BIM and object-oriented modelling: Van Nederveen, S., Beheshti, R. and Gielingh, W. (2010) 'Modelling Concepts for BIM', in Underwood, J. and Isikdag, U. (eds) Handbook of research on building information modelling and construction informatics: concepts and technologies. IGI Global Publishing, pp. 1–18. doi: 10.4018/978-1-60566-928-1.ch001.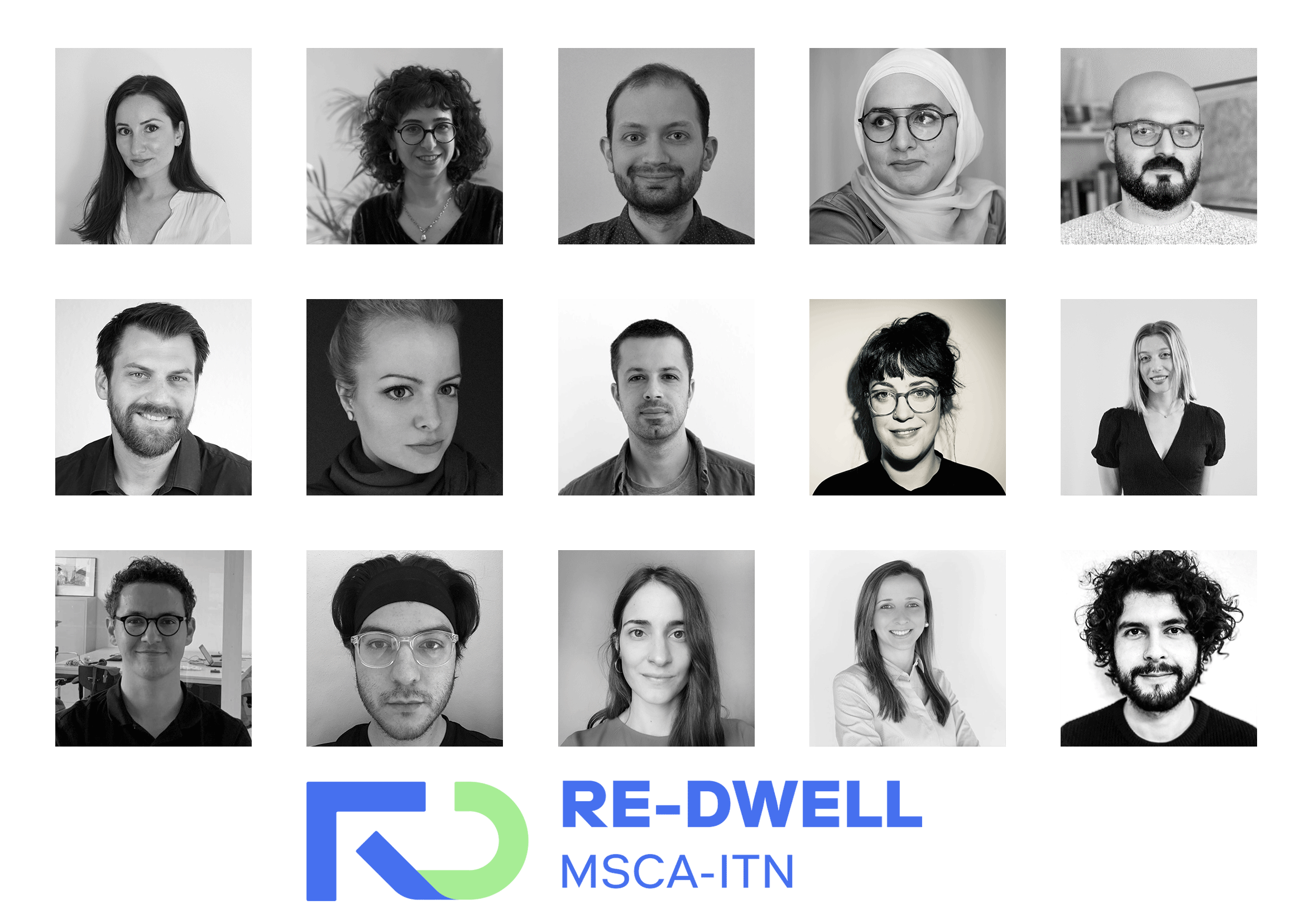 Embracing transdisciplinarity
Posted on 15-07-2021
I have to admit, before embarking on this journey with the Marie-Curie International Training Network I was unfamiliar with the term transdisciplinary. The work of myself and 14 other Early Stage Researchers (ESRs) will use this concept to carry out our research with RE-DWELL, crossing the boundaries of our respective projects within the areas of design, policy and finance, and community participation. My first practical experience getting to grips with transdisciplinarity - in the context of learning – began with our kick-off workshops last week. This was the first opportunity to meet the other ESRs, hailing from Europe, the Middle East, and North and South America. As a part of the introductory sessions, we were tasked with defining sustainability, affordability and transdisciplinarity in small groups. This was a particularly interesting task, as we were put in mixed groups with ESRs from different professional and academic backgrounds. It was also the first opportunity to speak one-to-one and get to know my fellow ESRs, and gain an understanding of their perspectives on the core issues of sustainability and affordability, relative to their field. My group consisted of two architects (myself included) and a political-scientist. Combining our mixed experiences brought up some interesting points which I am sure would not have been considered, had it just been limited to architects. Since the current Covid-19 pandemic online working environments are now the norm. But it is hard to imagine otherwise how these workshops could have been delivered as efficiently and effectively. The use of visual concept boards and virtual breakout rooms meant we could be organised in groups and present information with ease (plus it meant we significantly reduced our carbon footprints!). Of course, this isn't a replacement for in-person collaboration, and I look forward to meeting the ESRs and the wider training network in the coming months. However, these workshops have demonstrated the usefulness of online working environments to facilitate transdisciplinary learning.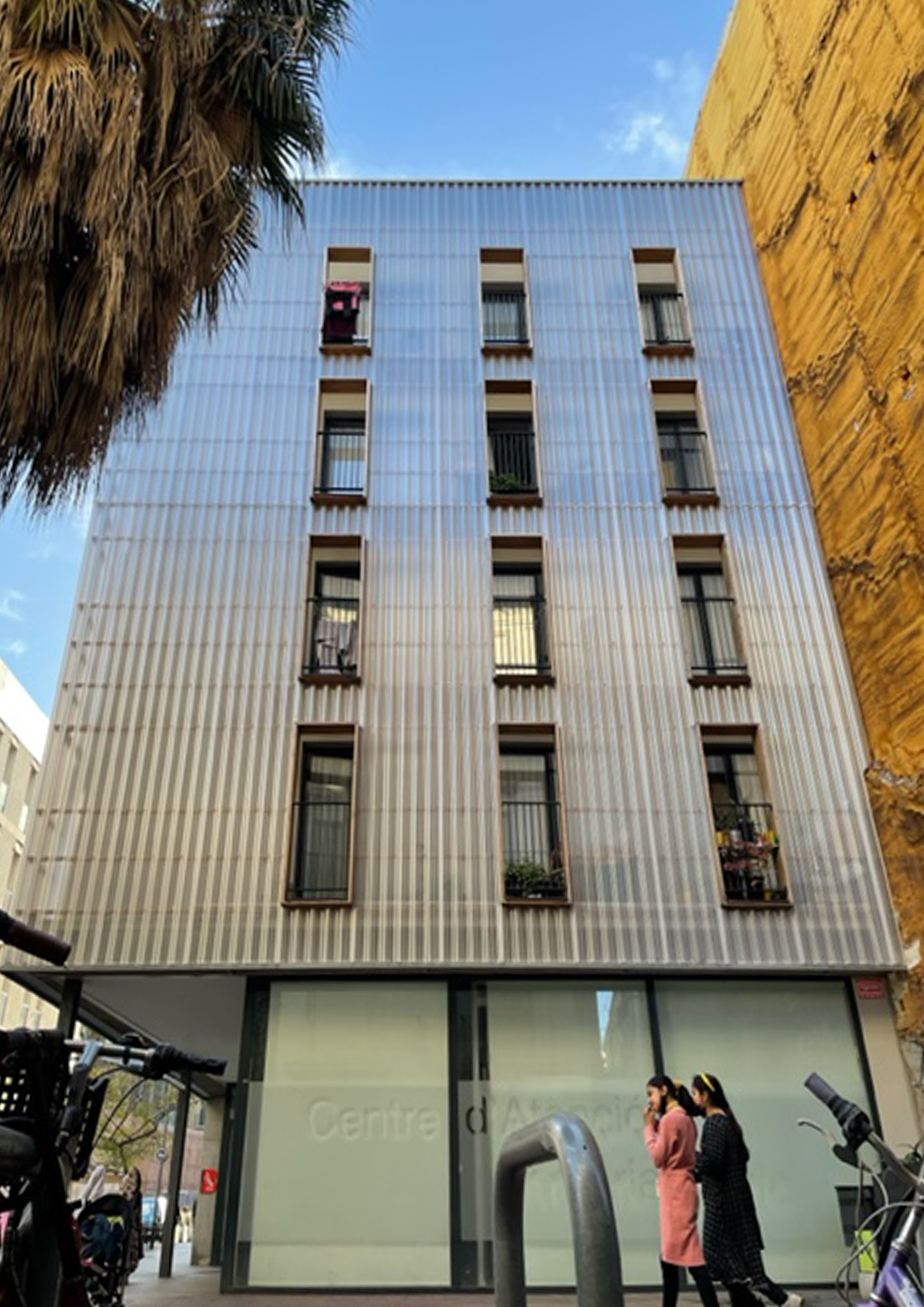 APROP | Temporary social housing for people at risk to residential exclusion
Created on 21-06-2022
Innovative aspects of the housing design The APROP system is based on prefabricated modules, providing dignified dwellings for members of society who have difficulties in accessing housing in a fast and sustainable way. The homes achieve an AA Energy Rating, which the Barcelona Municipality equates to a level of energy consumption four to six times lower than that of a conventional building of the same characteristics (Ajuntament de Barcelona, 2019a). Circularity is integral to the concept of the project, with recycled shipping containers forming the structure, which would otherwise be considered as waste and sent to landfill. In terms of time and cost savings, owing to the dry and lightweight structure the entire building can be disassembled in four weeks are reassembled elsewhere, significantly reducing on-site construction time. APROP has been documented as an exemplary project by the Barcelona municipality and features in the "Innovation in affordable housing Barcelona" and "Barcelona right to housing" reports (Ajuntament de Barcelona, 2018; Hernández Falagán, 2019). Following the announcement of the Bauhaus award, a prize that aims to demonstrate sustainability in alignment with the European Green Deal (European Commission, 2022), Housing Europe declared APROP "an emerging housing model" (Housing Europe, 2021). The project has also been recognised by various other local and international awards (Ajuntament de Barcelona, 2022). The project received a critical response from the UK, with the Guardian news outlet describing APROP as "Sardine tins for the poor" (The Guardian, 2019), highlighting the potential danger of the project being replicated elsewhere to lower standards. In the same article, the principal architect David Juárez from Straddle3 responded "building with containers can bring terrible results unless you really make an effort". Methodology and research project by ATRI The project is the result of research carried out by Tactical Accommodations of Inclusive Repopulation (ATRI), an interdisciplinary team consisting of researchers, architects, builders, economists, a lawyer, and a social scientist. The group was initiated in response to a lack of social and emergency housing in the Barcelona region. The project framework formed between the Department of Social Rights, Cooperativa Lacol (the architects responsible for housing cooperative "La Borda"), Bestraten Hormias Arquitectura, and architectural practice Straddle3. ATRI cite the thesis project of architectural scholar Gerardo Wadel from La Salle School of Architecture on Industrialised Construction and sustainability as further theoretical grounding for the APROP system (ATRI, n.d.-b). The methodology crosses disciplines to encompass four key areas: urbanism, architecture, economy, and management. This research culminated into the three main characteristics of an ATRI building: reversibility, being lightweight, and minimising execution time. Construction characteristics, materials and processes The architectural team includes three practices; Straddle3 and Eulia Arkitektura in the design stage, and Yaiza Terré for the delivery stage. The prefabricated construction method and modular design strategy are considered as Industrialised Construction (IC). Although the project is based on off-site construction, this did not take place in a factory setting and traditional manual labour (as opposed to robotics) was used (Ajuntament de Barcelona, 2019b). The modules were built over the course of 26 weeks (Ajuntament de Barcelona, 2022) before being transported through the narrow inner-city streets and placed on site within a steel frame using a large tonnage crane. Shipping containers are based on international ISO standards and are designed to universal sizes and can support their own weight whilst being stackable. The lightweight corrugated steel containers used here are "last trip" containers that are easily available in Barcelona, which is a coastal city with a busy Mediterranean port. The apartments themselves integrate underfloor heating to provide efficient thermal comfort for residents, whilst the double skin façade ensures the homes do not overheat. The skin includes a translucent outer layer made from cellular polycarbonate and timber to increase natural daylight. This also serves to visually adapt the building to its context and allows the shipping containers beneath to be visible. Knauf products were used to create a double plate system in the ceilings and partitions for a structural 60-minute fire rating. The modules, façade and roof incorporate dismountable dry joints for disassembly, recycling, and to enable the easy relocation of parts or whole buildings if necessary. Energy performance characteristics APROP reduces energy consumption by 25% and greenhouse gas emissions by 54% (European Commission, 2021). The double skin façade, layout, and the use of photovoltaics significantly contributed to the achievement of the AA energy certification. These design decisions had been tested during the design process using energy simulation models and collaboration with an energy and resource efficiency consultancy (European Commission, 2021). Energy is supplied by an aerothermal heat pump that extracts energy from the ambient air, which is more energy efficient compared to conventional methods. Passive design strategies are also incorporated with exterior openings positioned to produce cross ventilation and maximise sunlight during the winter and shade in the summer months. These techniques significantly reduce heating and cooling demands and further improve the energy efficiency performance. Financial benefits The APROP Gothic pilot project cost €940,000. The use of recycled shipping containers is reported to have afforded a 10% material reduction in construction costs compared to traditional methods, in addition to cost savings from a much shorter project programme. These savings are referred to as the Pre-Manufactured Value (PMV) in relation to Industrialised Construction methods, as outlined in the Farmer report (Farmer & Thornton, 2021). The APROP system offers the possibility of further cost savings if the project is replicated through economies of scale; plans are already underway for multiple APROP projects in the city to provide permanent social housing in additional to temporary housing. Work on the second pilot project, a block of 42 dwellings in El Parc i la Llacuna del Poblenou, began in January 2022.
Area: Design, planning and building
Building Information Modelling (BIM) is the process of creating a set of digital representations which consists of both graphical and non-graphical data for the entire building cycle (Eastman et al., 2011). This process involves documenting, gathering, organising, and updating this information throughout the whole life cycle of a building from conception to demolition (Eschenbruch & Bodden, 2018). Beyond the demolition stage BIM can also support circular principles; managing the re-use, recovery, and recycling-potential of a building (Akbarieh et al., 2020; Xue et al., 2021). Whilst the concept of BIM as a process is supported by the International Organisation for Standardisation in ISO 19650-1:2018 (ISO, 2018), the National BIM Standard describes BIM as a digital technology (NBIMS-US, 2015). Despite the origins of BIM dating back to the 1970s, it did not become widely adopted by the Architecture, Engineering and Construction (AEC) industry as a computer design tool until the 2000s (Costa, 2017). The digital building information model uses intelligent objects to store information in the form of three-dimensional geometric components along with its functional characteristics such as type, materials, technical properties, or costs (Eschenbruch & Bodden, 2018). This model forms the basis of a shared knowledge resource to support the various digital workflows of multidisciplinary stakeholders (Chong, Lee and Wang, 2017; Barile et al., 2018). Moreover, it serves the purpose of visualisation, clash detection between different building components, code criteria checking, environmental analysis, and cost estimation to name a few (Kamel & Memari, 2019; Krygiel & Nies, 2008). Therefore, utilising BIM can improve construction accuracy and enhance the built asset's performance (Kubba, 2017; Love et al., 2013). The building information model facilitates the knowledge transfer between experts and project participants to satisfy end-user needs and support early-stage decision-making (Chong et al., 2017; Lu et al., 2017). Therefore, BIM can be considered a transdisciplinary practice as it communicates AEC, computation, and science (Correia et al., 2017). In the AEC industry implementing BIM involves several stages, which are known as BIM maturity models. The maturity here means the extent of the user's ability to produce and exchange information. These stages are the milestones, or levels, of collaboration and sharing of information that teams, and organisations aspire to. Defining these milestones is the main purpose of the different BIM maturity models that exist nowadays (Succar et al., 2012). The European Commission (EC) encourages step-by-step maturity models starting from BIM level 0 up to 4, to move the industry from a traditional modelling approach towards an open BIM approach. According to the EC, to reach BIM level 4 "all project, operational documentation and history are linked to objects in the model" (European Commission, 2017). Due to growing concerns over the environmental, economic, and social impacts of the built environment, BIM is increasingly used to facilitate various sustainability analyses. In this regard, the concept of Green BIM initiated as the systematic digitalisation of building life cycles to accomplish established sustainability goals (Barile et al., 2018; Wong & Zhou, 2015). As such BIM has been integrated with Life Cycle Analysis (LCA), Life Cycle Costing Analysis (LCCA), and recently with Social Life Cycle Analysis (S-LCA) (Llatas et al., 2020). Today several BIM applications perform sustainability analysis in conjunction with Green Building Rating Systems (Sartori et al., 2021). In relation to housing BIM plays a crucial role in addressing affordability and sustainability issues from creation to maintenance, as well as the beyond end-of-life phases. However, many challenges remain for it to be fully and inclusively integrated within the AEC practice and for the full potential of BIM to be realised.
Created on 16-02-2022
Read more

->