RE-DWELL ISHF Helsinki Workshop
Posted on 22-06-2022
The workshop took place in the lobby of Helsinki City Hall on 14 June 2022. Around 30 people participated in the workshop, together with 7 ESRs and 7 supervisors and secondment representatives. The aim of the workshop was to apply a holistic approach to the provision of affordable and sustainable housing, through a use case: A municipality has a piece of land in a working class neighbourhood that is to be developed through a sustainable master plan including affordable housing. During the three-hour session, participants, organised in four teams, developed a step-by-step strategy that takes into account the interrelationships between the three themes that make up the RE-DWELL research framework: design, planning and construction; community participation, and policy and financing. For each theme, participants were given a brief explanation of the most relevant issues, methods and tools, summarised in a 'wheel'. Each team then had 30 minutes to discuss how those could be applied to the use case, and present the results to the rest of the participants. This methodology enabled us to put into practice for the first time the transdisciplinary approach that we aim to develop in RE-DWELL. This is the video recording of the introductory session.
Last blog entries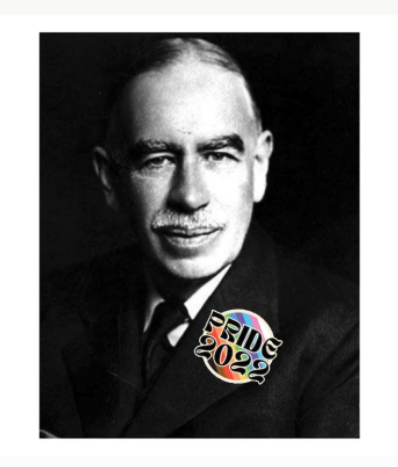 It's Pride Month! Let's talk about queering housing economics
Posted on 05-06-2022
It's pride month and we queers get to celebrate our identity. That is, unless we are in one of the 71 countries that still criminalise homosexuality. In fact, in 11 of them not being straight can get you executed. But hey, you don't need to go to Uganda to get killed for being gay, just going out with your friends can end up with you getting beaten to death as it happened to a 23-year-old last year in my home region. [1] At least our cheesy teenager romcoms are better, just like Hearstopper on Netflix has proven to the whole world once again. That being said, I'm not here to (just) shame all the straight readers and celebrate queer culture alone. I have something to say about housing economics. Because economics is queer. This is not only because Keynes, the father of macroeconomics whose birthday is today, was a queer himself (and a Gemini) but because economic inequalities affect sexual minorities harder. But enough about Keynes's hook-up list which proves that gay sex was already ubiquitous even before Grindr. [2] I want to draw your attention to some facts. The charity AKT reports that as many as 24% of young (aged 16 to 25) homeless people in the UK are LGBT+. This is a more than worrisome figure given queers are less than 10% of the population. Abuse, poverty and exclusion are still the daily realities of many a queer youth. Please have a look at their latest report here. [3] [4] [5] However, the discrimination of queer people is not only tangible in homelessness but permeates housing provision tout court. According to research by Freddie Mac, the government agency tasked with expanding the secondary market for mortgages in the US, LGBT ownership lags behind the general population. 49% of LGBT community members are likely to own a home, considerably lower than the current national rate (64.3). Gays and lesbians are the most likely to own (52%) "while LGBT African-Americans (30 per cent) and LGBT Millennials (23 per cent) were the least likely to be homeowners." [6] Homeownership has come to occupy a central role in wealth building and welfare provision, particularly for the middle classes and those well-off. This is a direct result of a set of housing policies, including mortgage interest deduction and lack of capital gain tax, often enacted by governments across the political spectrum. Problematising the distributional impact of these policies on queer households is paramount to the reformulation of housing provision. You can now go click on Keyne's hook-up list, which together with his latest biography by Zachary D. Carter is not to be missed. [1]https://www.theguardian.com/world/2021/jul/06/protests-spain-gay-man-samuel-luiz-beaten-death-galicia [2]https://www.theatlantic.com/daily-dish/archive/2008/01/keyness-jew-boy-quickie/220620/ [3]https://www.akt.org.uk/report [4]https://www.insidehousing.co.uk/insight/insight/lgbtq-homelessness-the-data-hole-that-undermines-services-74552 [5]https://www.insidehousing.co.uk/comment/comment/lgbtq-homeless-people-face-increased-risk-we-are-committed-to-helping-them-72562 [6]https://www.freddiemac.com/research/consumer-research/20181001-lgbt-homeownership [7]https://www.penguinrandomhouse.com/books/563378/the-price-of-peace-by-zachary-d-carter/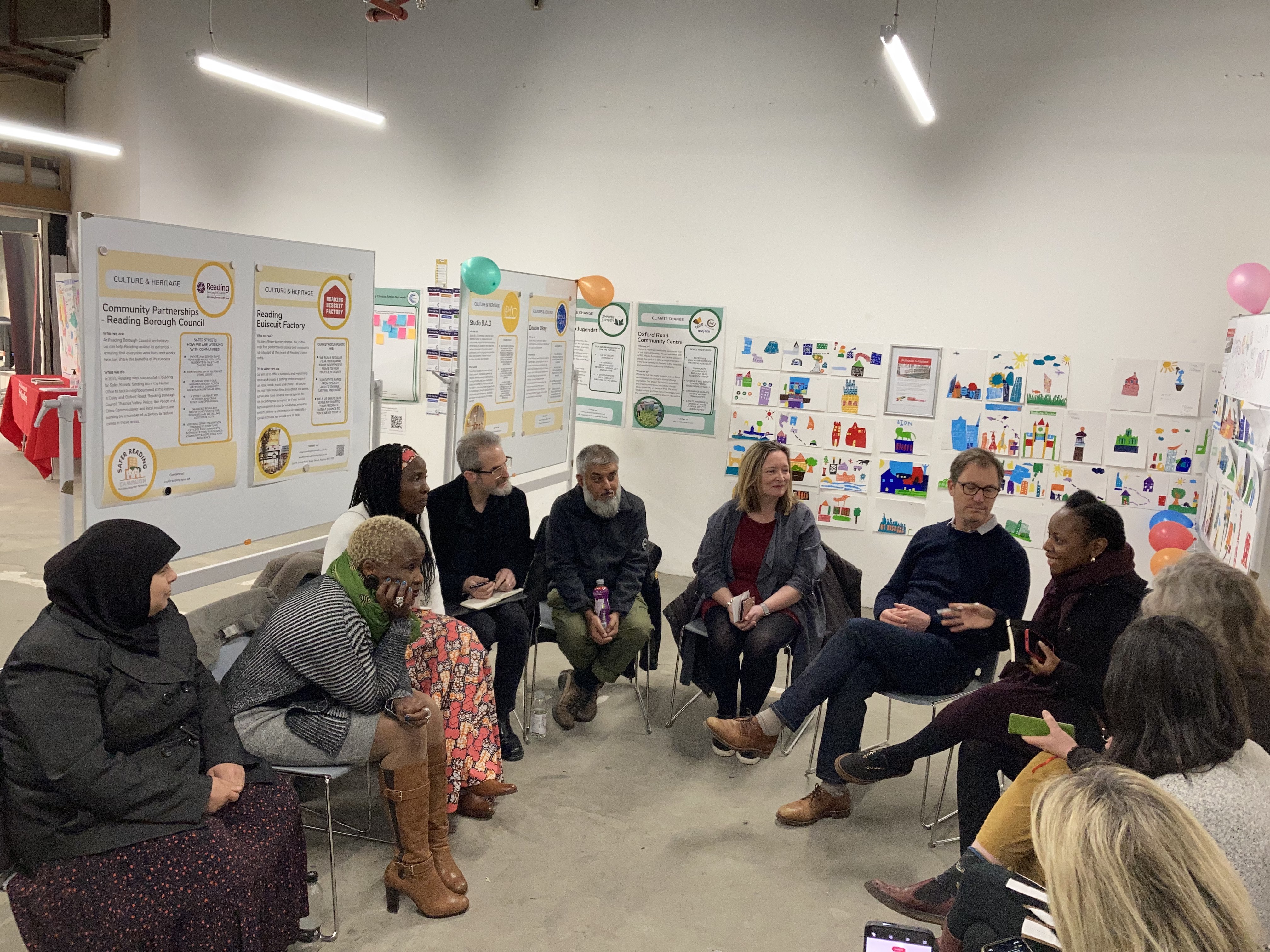 Novel approaches to participation in planning
Posted on 11-05-2022
During my recent secondment at the University of Reading, School of Architecture I was lucky enough to participate in the Urban Room, part of the Community Consultation for Quality of Life (CCQoL) research project in the UK.[i] The ongoing research project is taking place during the development of four pilot projects in England, Wales, Northern Ireland and Scotland and brings together community groups, academic researchers, industry partners and local authorities, with the aim of improving the process of community consultation (CC) in planning. In Reading, it was a great opportunity to see how the issues mentioned above were being tackled "on the ground" so to speak, where local community groups were given a real space to meet and discuss important local issues. During my experience of the Urban Room, I found the process of mapping social value combined with face-to-face engagement particularly important tools placed in the hands of citizens as much as experts in understanding and enhancing social value when undertaking processes of community consultation. The co-design of maps emphasises how people can have their say in creating a resource of local knowledge aimed at revealing the hidden attributes that benefit communities. As the map began to be populated with responses, I noticed how people's feelings, now spatially strewn across different parts of the city, became a process of learning about and connecting with each other. Concurrently, the opportunity for people to casually meet in physical space has proven that face-to-face encounter still is incredibly necessary. Both processes have indicated how important it can be to have control and power to take decisions collectively, rather than individually, as other researchers have noted.[ii] In focus group discussions, it has been made clear by community representatives that in real community consultation processes the community needs to there from the beginning as much as possible, pointing to the need for transparency, and for taking the "peoples' pace", highlighting the need for patience. These observations come in a time of rapid technological innovation and adoption of digital mediums both in data collection, consultation, design and visualisation, related to planning decisions that influence the development of quality of life in housing and neighbourhoods. Recently, public-private partnerships in the development of housing and neighbourhoods seem to be growing but the methods of participation in planning that focus on the needs and aspirations of communities are just beginning to be updated. The processes of collaborative decision-making by involving communities directly and from the early stages have become increasingly important in the built environment disciplines. Yet, physical, technocratic design concerns seem to be dominant and perhaps easier to evaluate than the accumulated complexity of interactions that make social value at the neighbourhood scale. The integration of a set of social participation- with design-oriented guidelines is necessary. A growing interest is observed in Urban Living labs (ULLs) as a physical setting and a methodology, with more emphasis placed on real-life settings of experimentation and collaboration between different stakeholders. Collaborative knowledge production and citizen-driven innovation in urban sustainability transitions is often prioritised. ULLs focused on innovation in urban planning processes, are being defined by the term City Labs.[iii] The influential research currently underway on community engagement in Urban Rooms is an exciting and promising trajectory for innovation in participatory planning that shares aspects of the ULLs/City Labs by involving communities, built environment professionals and local councils in collaborative and interactive arrangements. Perhaps the ULLs/City Labs approach, as an extension of the Urban Room concept, presents the opportunity of placing more emphasis on experimentation, involving new tools and methods that enhance participation and lead to co-creation of social value at the neighbourhood level. [i] https://ccqol.org [ii] https://qolf.medium.com/control-stress-pathways-and-rights-of-the-city-associates-workshop-4-c80dafc09681 [iii] Scholl, C., & Kemp, R. (2016). City labs as vehicles for innovation in urban planning processes. Urban Planning, 1(4), 89-102.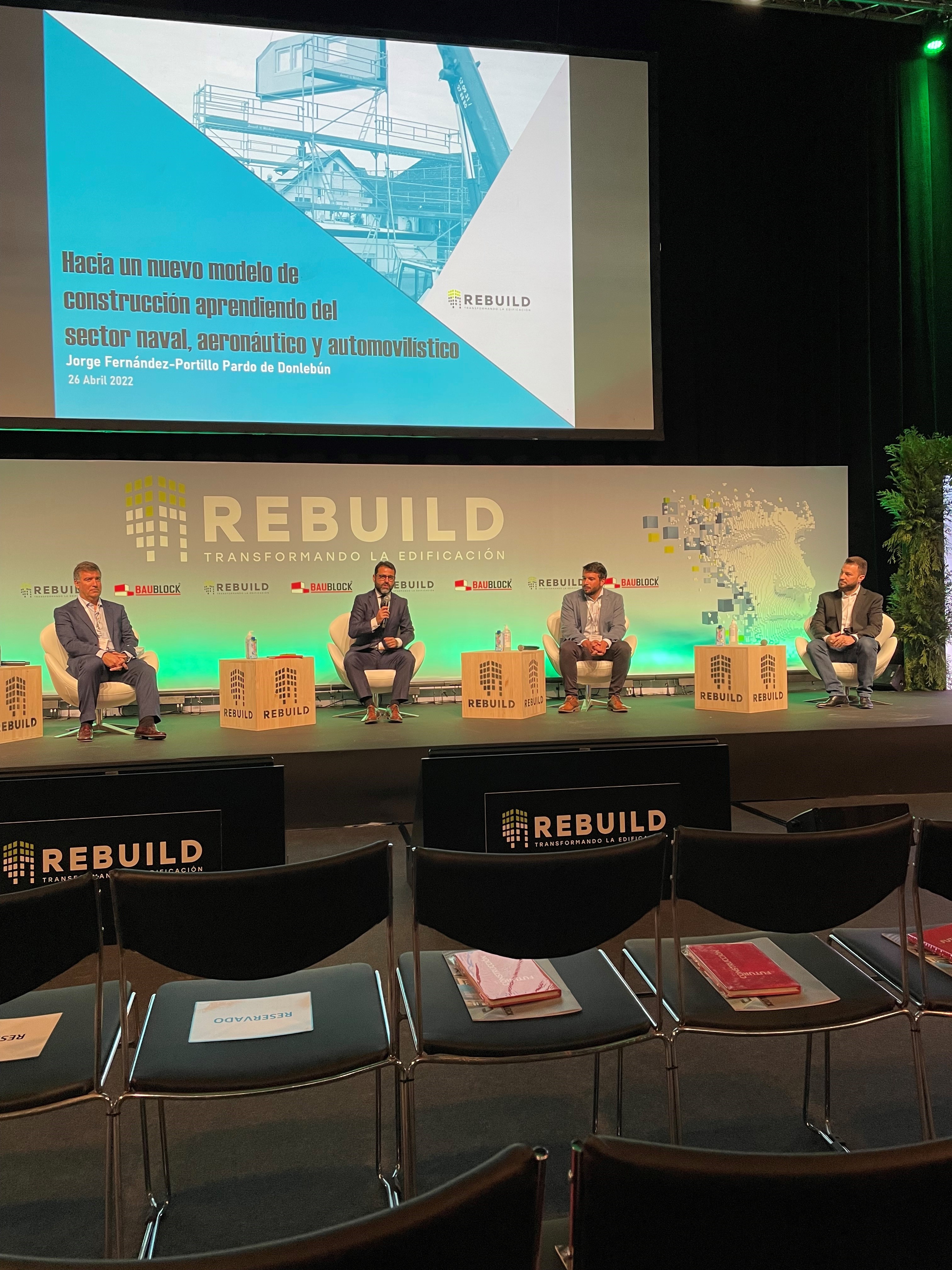 Rebuild 2022 Madrid | The foundations are set for a promising construction industry
Posted on 03-05-2022
In a rapidly changing world where the world's urban population is increasing by 200,000 people per day and the global carbon emissions of the construction sector are 30%, there is a pressing need to provide an affordable and sustainable housebuilding industry. The integration of modern innovative techniques in the construction sector can allow the rise of productivity and a higher democratisation of the built environment, having a direct impact on global economic, environmental, and societal issues. The Rebuild 2022 Conference that took in Madrid was an exciting event centred in how to boost the construction industry through innovation, circularity, and private-public investment. I found interesting to see the varied perspectives from different stakeholders of the construction business from construction companies, suppliers and fabricators to public entities, developers, architects, and software designers. All of them showed their particular response to the challenges the sector is undergoing from their own experience. Nevertheless, their different approaches converged in the necessity to increase the optimisation of processes, the required collaboration between all stakeholders and the need to embrace a full digitisation of the construction industry. The main topics discussed during the three-day conference were industrialisation, digitisation, and sustainability. Industrialisation In order to meet the demand that the construction industry requires, we cannot continue building in a traditional way. An industrialisation of the business is needed to achieve the scalability of solutions and the adoption of lean construction methods. It is necessary to unify the architecture design with the constructive process from the initial stages. The selection of the MMC (Modern Method of Construction) and the logistics will have an influence on the design. Therefore, it is essential to invite the contractor, engineers and fabricators to collaborate with the developer and design team from the beginning to allow for an integrated project delivery and to optimise the manufacturing process. Most of the companies working in the housebuilding industry agreed that a system based on 2D components prefabricated off-site was the most effective currently, as it allowed for greater flexibility while at the same time reduced the construction time and minimised errors, keeping the transportation costs lower than with 3D elements. A few companies advocated that the use of 3D elements was beneficial when the room was a very compact one (e.g. bathrooms) and there were a high number of identical instances (e.g. hospitality industry). Digitisation The fourth industrial revolution has accelerated dramatically the productivity in other industrial sectors, as the automotive, naval or aerospace, while in the construction sector the levels of automation are generally still low. In these industries, the use of the digital twin is the main driver of development and continuous learning. Several industry professionals pointed out that the lack of digital implementation in the construction industry has been one of the reasons why industrialised construction has not been broadly implemented in multi-family housing yet in Spain. Construction has always been a collaborative practice but without an adequate digitisation, it will remain fragmented. New innovations in technology should be implemented into the housebuilding industry as an added value to the sector and to the user. Some examples that could help in the digitisation of the industry would be the use of digital twins, allowing for traceability and monitoring throughout the design and construction process, increasing precision and minimising waste; the use of BIM as a design tool, data collector and collaborative environment, being able to give precise quantities and pricing from initial design stages, avoiding important price variations; or the introduction of automation and robotics to substitute manual labour in repetitive and dangerous activities. Sustainability Decarbonization, net-zero buildings, and the use of wood as a circular material were some of the hot topics on the sustainability agenda. Likewise, the evaluation of LCCA (Life Cycle Cost Analysis) and LCA (Life Cycle Assessment) have become vital to be able to make the right choices from the beggining. Sustainability, innovation, and technology are essential to overcome obsolescence, but to do so it is necessary to monitor the consumption throughout the entire building's lifespan. In the race against climate change, wood is gaining greater support in the Spanish construction industry. A sector that has been for decades strongly defined by its concrete production, is starting to become aware of the advantages of building with circular materials. The industry has not only recognized that wood is a renewable material that retains heat, absorbs CO2, lasts longer, and can be recycled, but as well that it has a positive effect on the user's physical and mental health, improving their wellbeing. Important housing developers are planning to reduce the CO2 emissions by 80% in their ongoing projects by using hybrid construction in wood, by increasing their level of industrialisation, and by improving their digitisation. Construtech companies are offering end-to-end services using platforms that integrate through technology all the stakeholders in a sustainable supply chain. The construction sector has opened their eyes to realize what architects have been pursuing for a century. A user-centric approach where the wellbeing, passive design criteria and the planet are key in the decision-making. With the difference that today we have the technology and innovation to accept these challenges in an efficient way, monitoring and measuring our progress to take firm steps towards a more environmental, societal, and economic sustainability. The Rebuild 2022 Conference showcased that the construction sector is in an exciting moment of transformation. The industry has laid the foundations to progress into a more industrialised, collaborative, efficient, and technological sector, to be able to offer sustainable and democratic quality housing at an affordable price.
View more
Last news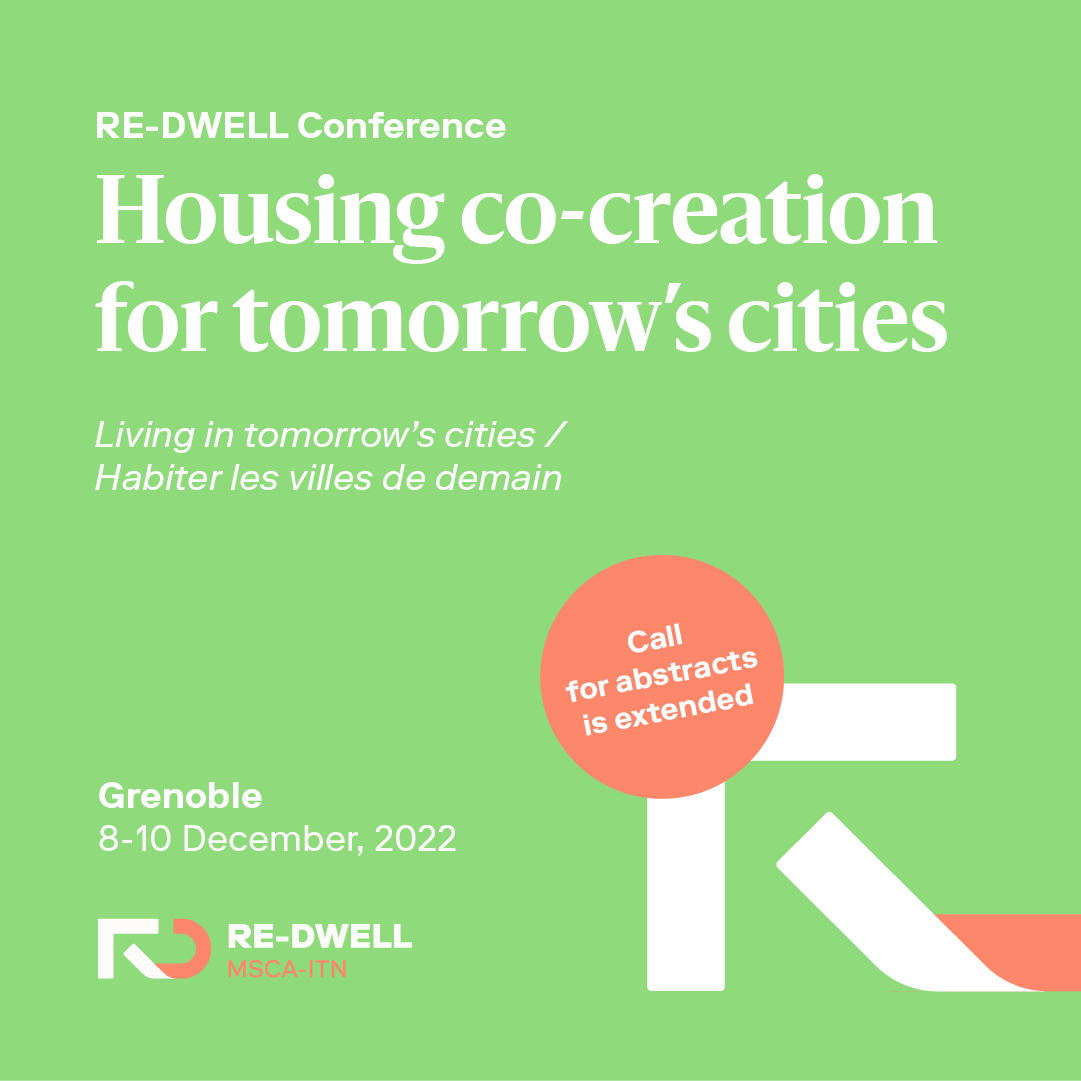 Housing co-creation for tomorrow's cities. Deadline for abstracts extended.
Published on 22-06-2022
Housing co-creation for tomorrow's cities Grenoble, 8-10 December, 2022 Deadline to receive abstracts for the RE-DWELL Grenoble Conference is extended until 24 June 2022 You can submit the 500-word abstract via https://re-dwell2022.sciencesconf.org The objective of this first RE-DWELL conference is to create a discussion platform for the multiple actors involved in housing policy, planning, design and construction. We are particularly interested in the ways such interrelations challenge the established conceptions and professional practices in the field of housing in European cities. The conference will include presentations of scientific papers, keynote speeches, an open roundtable discussion with local housing stakeholders, as well as site visits. This event is part of the agenda of Grenoble European Green Capital 2022, and its December theme "Living in tomorrow's cities" / "Habiter les villes de demain". More information: https://www.re-dwell.eu/activities/conferences/grenoble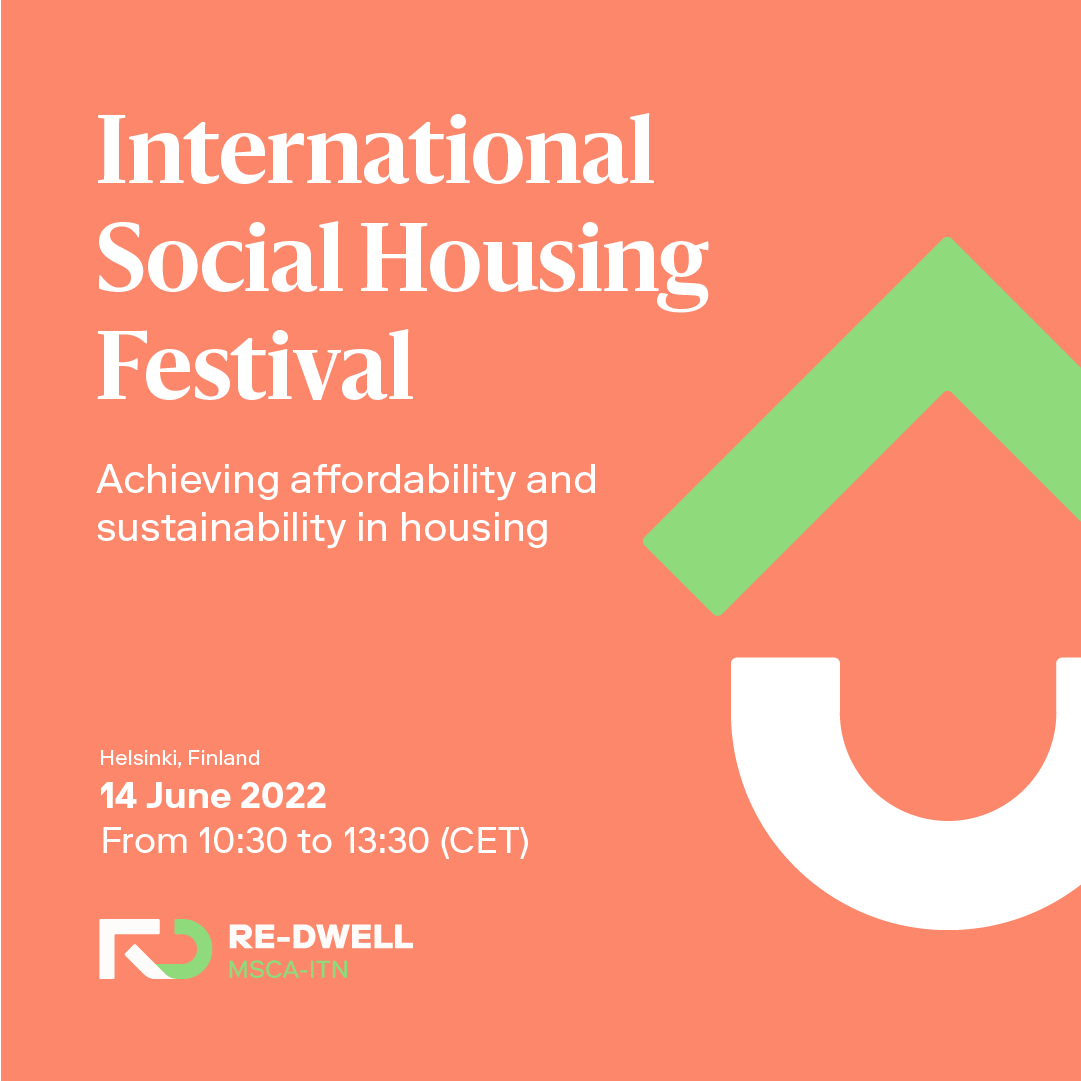 RE-DWELL will be present at the International Social Housing Festival, Helsinki
Published on 03-05-2022
RE-DWELL will be present at the International Social Housing Festival, Helsinki https://socialhousingfestival.eu/ with a workshop and exhibition on Tuesday June 14 at 10:30–13:30 Workshop https://socialhousingfestival.eu/events/festival-program/?event_id=1172 Programme This session, led by the Marie Curie RE-DWELL Innovative Training Network, will take the format of an interactive research workshop with the aim of developing a roadmap to address the urgent issues at stake in the delivery of affordable and sustainable housing across Europe: the priorities, the short and long-term strategies, and the envisaged scenarios. The discussion will be supported with an exhibition showing the 15 ongoing projects by the early stage PhD researchers who are working closely with partner organisations (industry, housing associations, administrations) across Europe. The workshop will begin with an introduction to RE-DWELL's holistic, transdisciplinary approach to affordable and sustainable housing. Participants in this session will be organized in break out groups each with a particular theme relating to the ongoing research projects. Here participants will discuss dimensions of the problem in small groups, each led by early stage researcher, supported by the academic supervisors. The break out groups will provide an opportunity to learn about cutting edge housing research, to contribute to the development of the ESR projects and to interact with colleagues across Europe. The group discussions will lead to a plenary session in which a series of policy recommendations will be formulated. These will be assembled into a manifesto for affordable and sustainable housing which will be disseminated after the festival in the RE-DWELL media channels. The aim of the workshop is to foster knowledge exchange between researchers, practitioners and policy makers involved in affordable and sustainable housing provision. Registration Sign-up for this event with the festival registration form (limited to 60 places) https://socialhousingfestival.eu/registration/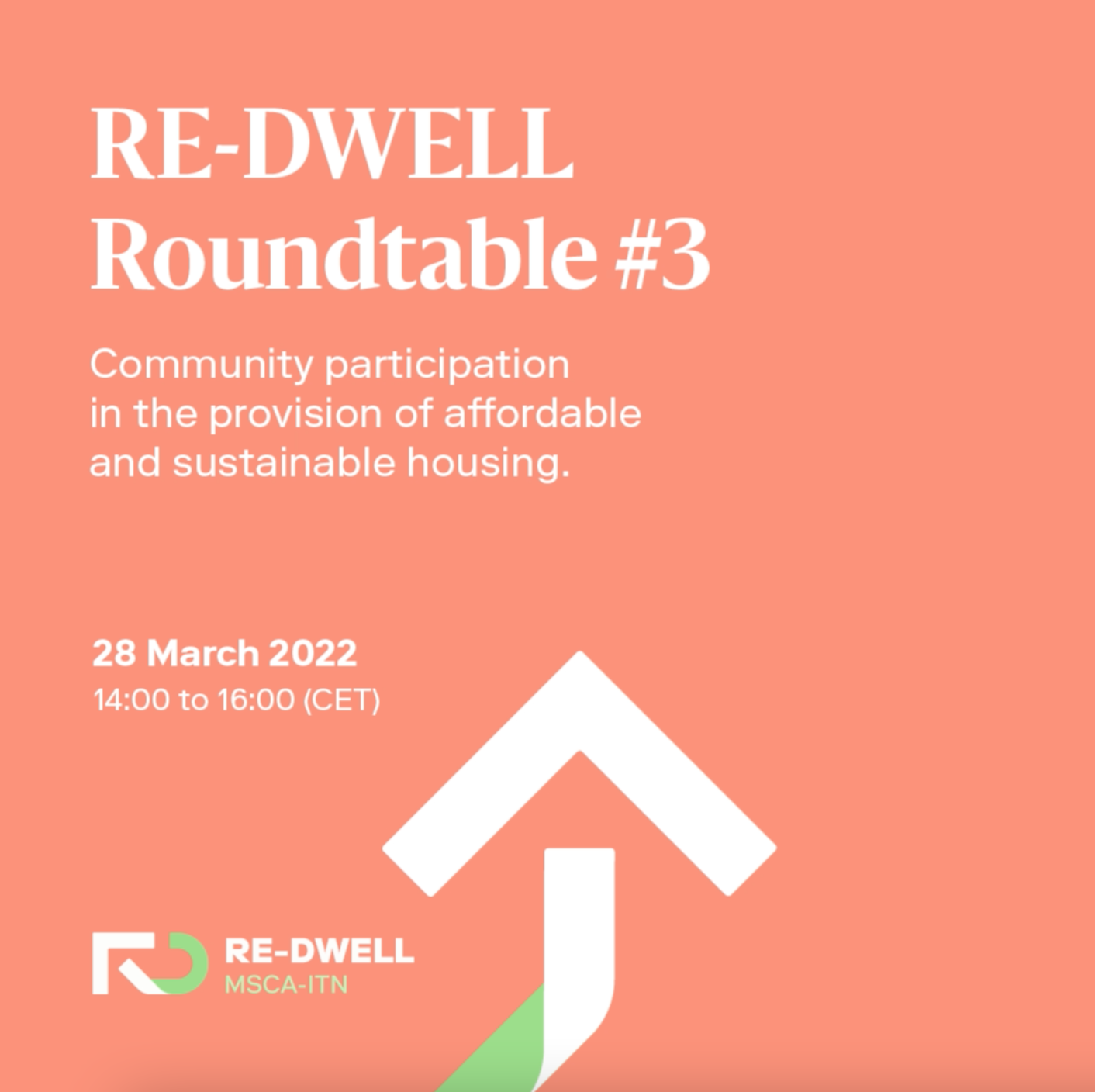 RE-DWELL Roundtable #3
Published on 23-03-2022
RE-DWELL Roundtable #3 Roundtable discussion "Community participation in the provision of affordable and sustainable housing" 26 March 2022 (14:00–16:00 CET) Open panel discussion with invited speakers and audience: processes, obstacles and best practices for community participation in contemporary housing provision. Moderated by Prof. Gerard van Bortel Faculty of Architecture and the Built Environment (ABE), TU Delft. With the participation of: • Laura Colini, PhD in Urban, Regional and Environmental Design; Habil. in Urban Studies. • Richard Lang, Full Professor of Social Enterprise and Innovative Regions at Bertha von Suttner Private University in St. Pölten, Austria. • Jenny Pickerill, Professor of Environmental Geography and Head of Department of Geography at Sheffield University, England. Free open session. Join us at: https://us06web.zoom.us/j/84596443228?pwd=eEgzSE5kQWhVOGZyMmlUQkttVVREQT09 Meeting ID: 845 9644 3228 Passcode: 291193
View more