RE-DWELL Roundtable #2: Design of Affordable and Sustainable Housing: Challenges and Opportunities
Posted on 22-12-2021
This roundtable took place in a blended format, in the University of Cyprus and on line, during the Nicosia Summer School, on November 16, 2021. The participants were: Darinka Czischke, Associate Professor, TU Delft Lisa D. Iulo, Associate Professor of Architecture, Director of the Hamer Center for Community Design, Pennsylvania State University Montserrat Pareja-Eastaway, Associate Professor, University of Barcelona The session was moderated by Leandro Madrazo, School of Architecture La Salle.
Last blog entries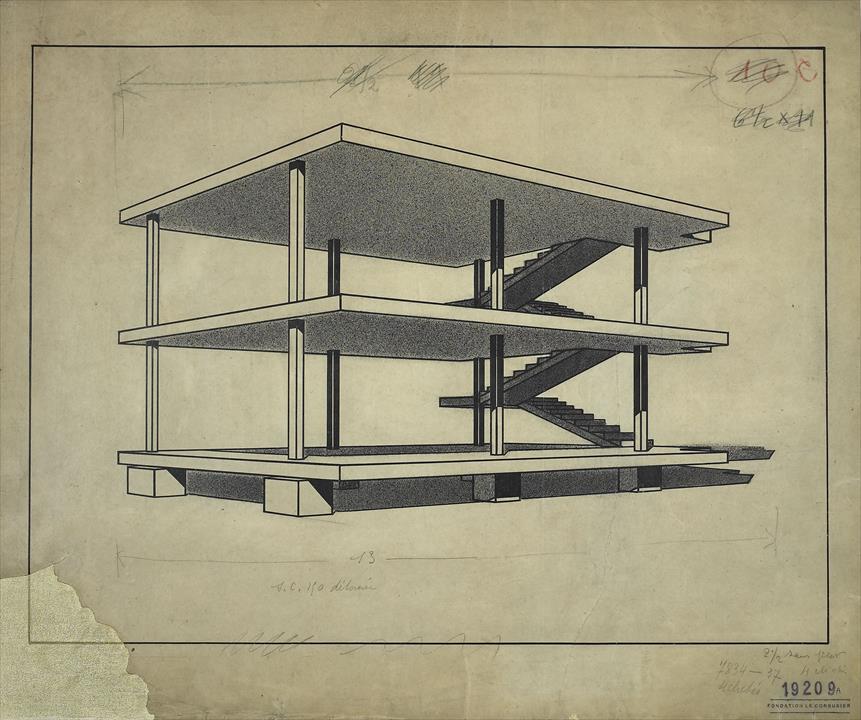 Decoding 'new' housing paradigms
Posted on 13-01-2022
Several attempts to elicit guidelines that holistically respond to the issue of understanding and creating an adequate built environment have been produced, especially since the second half of the previous century. Some of them are recognised and elevated as fundamental readings for urbanists and architects alike. However, the principles of what makes a good public space or the ideal spatial configuration of a housing complex, or the adequate allocation of open spaces and communal areas to recognise the needs of children; keep being ignored or at least relegated to theoretical scenarios held in academic setups or one-off experimental works. Buildings can be studied from a range of tenets, and through history there has always been a dominating paradigm. For Vitruvius, for instance, the ruling qualities that any architectural work might embody were compiled in three, i.e., firmitatis, utilitatis, venustatis, or stability, utility and beauty, those would be detailed in his influential book De Architectura. In the XX century, in full swing of the modernist movement, Le Corbusier portrayed what would become one of the most ground-breaking books in architecture, vers une architecture (1923), enunciating a new way of living and inhabiting, which in turn was followed by a series of principles that dictated the key elements to accomplish 'good' architecture with a particular fixation on residential buildings[1]. Form follows function, was one of the maxims that spearheaded modernist architecture and depicted the decided break up with the past, ornament in buildings would then become unnecessary and anachronic. The zeitgeist of each era fluctuates to respond to the most demanding needs inherent to that moment in time. From housing standardisation to adaptation The housing design that follows flexibility and adaptability tenets is not a novelty in architecture, a feature that can be traced in Mies van der Rohe's Weissenhofsiedlung (1927), or even more than a decade before that with Le Corbusier's modular prototype the Maison Dom-Ino (1914); the concept has been re-introduced by few contemporary authors like Jeremy Till and Tatjana Schneider, as a response to current housing struggles. According to them, flexible housing should be at the forefront of the contemporary housing agenda. By avoiding the obsolescence that comes with the short-termed mono-functional housing design, and replacing it with a long-term capacity to re-adapt to evolving needs and accommodate multiple ways of life, flexibility by design renders a solution that equates with sustainable practices very much needed in the housebuilding sector. Nowadays, climate degradation and the urgency of reducing carbon emissions have catapulted sustainability as a term that become part of the everyday jargon in a wide array of fields, an acute issue that has been at the forefront of the international debate in the recent COP26 summit in Glasgow in 2021. Architecture and the built environment are not exempt from this trend[2]. It has been argued that sustainability cannot be attained solely by using energy-friendly technologies, or incorporating labels like LEED or evaluation protocols like BREEAM (BRE Environmental Assessment Method). The triple bottom line of sustainability asserts a social dimension, and other interpretations go even further considering a fourth cultural variable attached to it (see the circles of sustainability). In that specific and often neglected niche, that of social and cultural sustainability, this study purports to focus on the housing domain. Perhaps one of the most harmful practices of the housebuilding sector is the fact that, akin to a tech company, the products, in this case, dwellings, are planned for obsolescence. Numerous examples of designing housing for obsolescence are portrayed by Till and Schneider in their seminal book Flexible Housing (2007). They contend that such a mindset, mainly enforced by developers and architects during the design stages of a project, is the culprit of major disturbances in the urban layout in cities nowadays. Energy poverty, speculation, gentrification, spiralling land cost and urban segregation, could be attributed, at least to some extent, to poor planning practices and an impossibility, deliberate or accidental, of thinking of housing as the most important asset in our cities. This implies bearing in mind the whole life-cycle of a project and the consequences that go beyond the handover of a housing unit. Thus, a dwelling must be seen as an activity rather than seen as an object. And similarly perceived as a social asset rather than as an economic asset from a consumerism perspective. A rather complementary vision to the one contended by John Turner already in 1976 in Housing by People: Towards Autonomy in Buildings Environments. Whereby, though in a totally different context, the barriada or informal settlement in Peru, he recognises housing as a process in which the users are directly implicated. The process or the housing pathway derived from the housing practices as Clapham suggests (2002), evidence that the evolution of a housing development, along with people's housing careers, continues very much after dwellings have been sold or rented; and therefore, there must be a different approach towards housing design and production. As Till and other authors argue, flexibility and adaptability do not mean that architects are no longer relevant or that every design decision is passed to the users. Architects, according to these precepts, work more as enablers or facilitators, a veritable different approach from the controlling and godlike paradigm that accompanied architectural practice in the XX century, especially during modernism. A good design goes beyond the moment a project is handed over, the life-cycle of a housing scheme must be fully considered from the initial stages of design. A good design is one that recognises that needs change over time and that users are not static, families are formed, grow and reduce. As opposed to what Andrew Rabeneck has called 'tight-fit-functionalism', that is the design that follows specific requirements and that can only accommodate determined uses designated by a type of furniture layout. This attitude condemns the typology, and by extension the building, to obsolescence. That is a house that can only accommodate a family-type, a default user. Lifestyles are more fluid than ever before, the way people live has evolved especially in multicultural setups. It is no longer possible to make generalising assumptions over people needs and expectations. In other cultures, the notion of a house might have different connotations than in a traditional north European scenario. Yet, housing solutions seem to fail to respond effectively to a myriad of ways of life and aspirations. These challenges are not new and as it has been established, these debates were held decades ago. Nevertheless, the same question that Marcus and Sarkissian made in their book Housing as if people mattered: Site design guidelines for the planning of medium-density family housing (1986), four decades in the past, still remains: "If research on people-housing relations now exists, why are the design professions not using it?" (p.5). The empirical research that my thesis is pushing forward purports to give equitable significance to what happens inside, outside and in-between dwellings, and that is the reason that supports the intertwining of Marcus and Sarkissian's work with the one of Schneider and Till. Marcus and Sarkissian put it clearly when insisting: "A particular program, and the resulting built environment, may be well conceived to cope with the current daily needs of, say families with young children, but what happens when the children become teenagers or when half of the original nuclear families become single-parent families or grouping of unrelated adults? Design flexibility is often recommended, but an ambiguous space in year I is often equally ambiguous (and leads to equally ambiguous serious problems) in year 15." (p.7) One of the main misconceptions that as many authors cited before this research aim to address, is the idea of housing seen as a disposable commodity. People should not have to move out when their personal circumstances change, because their dwelling is not suitable anymore. Such a capitalist view of real estate, especially housing, is not socially responsible let alone environmentally sustainable. Housing provision seen through the lenses of affordability and sustainability goals must incorporate POE, social value and flexibility whether it intends to holistically respond to current concerns. When carrying out Post-occupancy evaluation of a regeneration project there are a series of tenets that shall be permanently referred to during the data collection: User participation, Flexibility by design, Affordability by design and sustainability. Then it will be clear what makes a regeneration project succeed and what aspects are crucial to monitor. This is where the responses and data collected can come in handy. As an analogue research endeavour to that carried out by Marcus and Sarkissian, this research can possibly deliver an updated roadmap for generating social value through regeneration schemes to be further applied, in this case by Clarion in other ventures. Likewise, any housing association, social landlord or non-profit investor that is actively involved in regeneration schemes, can consider these aspects as part of its comprehensive social value approach. [1] In Les cinq points de l'architecture moderne (1927), Le Corbusier along with Pierre Jeanneret, would compile their recipe of the modern architecture : The Pilotis, Roof gardens, Free plan, Ribbon windows, and Free façade. The Unité d'habitation in Marseille (1952) represents the epitome of these principles applied to residential architecture, a formula that would be further implemented in other sites in the years on. [2] Especially knowing that at least 8% of global emissions are produced by the cement industry alone without considering other unsustainable building techniques (Ellis, et al. 2020). References Clapham, D., 2002. Housing pathways: A post modern analytical framework. Housing, theory and society, 19(2), pp.57-68. Ellis, L.D., Badel, A.F., Chiang, M.L., Park, R.J.Y. and Chiang, Y.M., 2020. Toward electrochemical synthesis of cement—An electrolyzer-based process for decarbonating CaCO3 while producing useful gas streams. Proceedings of the National Academy of Sciences, 117(23), pp.12584-12591. Le Corbusier, 1946. Towards a new architecture. London: Architectural Press. Marcus, C.C. and Sarkissian, W., 1986. Housing as if people mattered: Site design guidelines for the planning of medium-density family housing (Vol. 4). Univ of California Press. Rabeneck, A., Sheppard, D. and Town, P., 1973. Housing flexibility. Architectural Design, 43(11), pp.698-727. Rowland, I.D. and Howe, T.N. eds., 2001. Vitruvius:'Ten books on architecture'. Cambridge University Press. Schneider, T. and Till, J., 2007. Flexible housing. Architectural press. Schneider, T. and Till, J., 2005. Flexible housing: opportunities and limits. Arq: Architectural Research Quarterly, 9(2), pp.157-166. Till, J. and Schneider, T., 2005. Flexible housing: the means to the end. ARQ: architectural research quarterly, 9(3-4), pp.287-296. Turner, J., 1976. Housing by People: Towards Autonomy in Building Environments. Marion Boyars Publishers.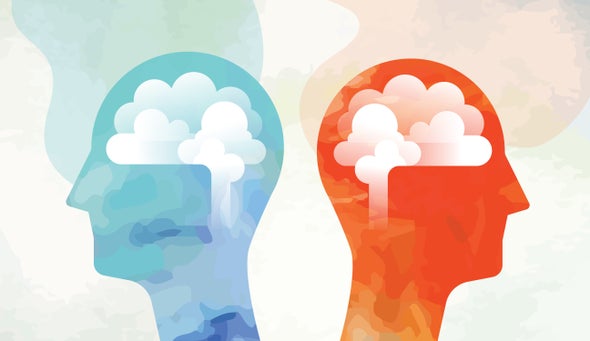 Understanding the differences between architects and the "rest of us"
Posted on 16-12-2021
As a social scientist with a background in economics and environmental science, I have received a training to question the current state of things and look at problems holistically. I will not dwell on the term holistic but in general, it requires different stakeholders from many disciplines to work towards the same context, each contributing with a unique point of view. On the other side, if I think of architects as engineers, I would presume they face specific problems, approaching them with exact solutions, following industry standards, checklists etc. But where I see the challenge, and what this project is trying to achieve is to create a dialogue between architects and the "rest of us" in problematising sustainable and affordable housing. I use the term the "rest of us" simply because I cannot at this point define architects as non-social scientist. Here is the brief logic behind my understanding of architects. I have some architects in my family, but I never stopped to think if they were social scientists, engineers, artists or something else? Even now after a quick Google search for "are architects social scientists", I am still not convinced in the results as no result can either fully confirm or deny it. For example, one blog post (Wood, 2015) with a title "Architecture as Social Science?" states different explanations, however, most significant is that architects are not social scientists. Literature however does clearly divide architects and social scientists (Lewis et al., 2018). Even more so, understanding from this paper is that a word "home" would probably trigger different perspectives for architects and social scientists. By joining Re-Dwell project, I started to really interact with fellow ESRs with the architectural background, and for the most of the time, we (social scientists) speak a different language. I am sure if I ask my ESR architect colleagues, I would receive a clear answer, but that was not the point of this blog. The point was to offer an angle of a non-architect towards problematizing sustainable and affordable housing, and to highlight the need of multidisciplinary approach towards formulating a problem, especially as wicked as housing. One cannot say architects are detached from social science simply because their ideas and design can include (or exclude) human interaction and influence how people use buildings or public space. Social scientist on the other side cannot problematise sustainable and affordable housing without architects either, as it has much to do with engineering, materials used, safety, accessibility etc. Thus, bringing together architects and social scientists who are most willing to interact and learn from each other in a project like Re-Dwell provides a safe environment and a good platform to question each others point of view and communicate towards finding solutions to different components of the problem. So far, formats such as interactive workshops and round tables gave us the opportunity to express our opinion and understand where we come from in terms of sustainable and affordable housing problem formulation. I can only hope that this type of dialogue will reach even higher level in the years to come. Literature Lewis, C., May, V., Hicks, S., Costa Santos, S. & Bertolino, N. (2018). Researching the home using architectural and social science methods. Methodological Innovations. 2018;11(2). doi:10.1177/2059799118796006 Wood, A. (2015). "Architecture as a Social Science?". Architecture and Education [accessed online 13 December 2021] https://architectureandeducation.org/2015/10/27/architecture-as-a-social-science/
Nicosia: The divided city
Posted on 13-12-2021
Due to Covid-related delays, the first RE-DWELL summer school took place last month at the Cypriot host institution in Nicosia. The week-long activities served to enrich the development of our individual research projects whilst enabling us to build on our connections with fellow Early-Stage Researchers (ESR), the supervising team, and external speakers. Despite Nicosia being the capital city of Cyprus, the urban scale was much more modest than I had expected. The historic area had a village feel, which was mainly residential and generally only built up to 2 storeys high, with many friendly stray cats roaming the streets. Nicosia is in fact Europe's last divided city, bearing similarities to the German capital Berlin which was divided for approximately 50 years – Nicosia has so far been divided for almost as long. The Turkish-Cypriot border reaches across the island and extends up into Nicosia, neatly dividing the circular Walled Old City into two halves [1]. This week was therefore not only valuable in terms of workshop activities, but also in understanding the political and social situation there, and how it has manifested in the city masterplan and architecture. The division I began to learn more about the history behind the divide through casual conversations with the locals, including the two ESRs based in Nicosia, as well as with the host supervisors from the University of Cyprus: Nadia Charalambous and Andreas Savvides. At the end of the week, we were given an informative lecture by Athina Papadopoulou, the conservation architect and head of the Greek Cypriot Nicosia Master Plan team since 2010. The official division of Cyprus took place in 1974 and resulted in a Greek-Cypriot south side - occupying around two thirds of the island - and a Turkish-Cypriot north side (Oktay, 2007). This resettlement programme displaced populations of Greek-Cypriots and Turkish-Cypriots, creating refugees on both sides. During our visit we learned about the temporary refugee housing which at the time included tents and brick and mortar homes, the latter of which still exist today. Papadopoulou presented to us the bi-communal initiative to develop a twin masterplan which was funded by USAID through UNHCR & UNDP. This project is based on restoration of individual sites on both sides, such as houses, markets, and historic monuments to name a few. On our visit to the Turkish-Cypriot side of the Walled Old City we were able to visit some of these on a tour with Papadopoulou. The buffer zone The UN has the responsibility of securing the buffer zone – also known as 'the Green Line' – and its checkpoints, as well as facilitating communication between the two territories. As explained by Papadopoulou, the buffer zone itself presents additional issues as houses and buildings left in this strip of land are falling into disrepair, with many at risk of collapse. The buffer is a demilitarised zone that shapes the urban fabric; it is non-uniform, with wide and narrow sections. However, limited access to the area (which requires a UN guide) creates a barrier to efforts to repair any of the buildings located here. Interestingly, I learned from a ESR based in Nicosia that the border also restricts the movement of animals, so for example you cannot visit for the day and casually take your pet dog with you. It seemed strange to me to enforce such restrictions on an island with a single ecosystem where the large populations of stray cats, birds and other small mammals are constantly freely crossing the border. Planning for the future Whether or not the city and the island are politically unified will undoubtedly influence house prices on both sides. The cost of living and rent is currently considerably cheaper on the Turkish-Cypriot side. Speaking with an ESR, who is also an economist, I was able to get a better understanding of the financial implications to the possibility of reunification. As housing is also considered a financial asset, there is incentive for developers and private individuals to buy properties in the historic centre whilst prices are low, in the hope of the value increasing with reunification. Therefore, capitalist motivations may also inadvertently have a shared interest in reunification efforts - particularly within the Walled Old City. The summer school ended with the viewing of documentary film 'Anamones' followed by a discussion with architect Andri Tsiouti who collaborated on the production of the documentary. The film investigates the sociological impact of designing in starter bars (structural steel rods) protruding from the roofs of homes in Cyprus for "future use". Interviews with parents who had the starter bars built had 'speculated' that their children would want to build an additional floor to live above their parents. This film included some light-hearted and humorous interviews with the young adult generation, the majority of whom expressed that they would prefer to live more independently and have more distance from their parents. This served to highlight the importance of knowing what the end-user needs are in the design process in housing, which is one of the key issues being explored by the RE-DWELL network. Looking forward to Cyprus' future, there are hopes for reconciliation with projects for cohesion also taking place in the form of social bi-communal events that include meetings, gatherings, and conversations for peace and reunification. I am keen to see how these architectural, urban, and social projects will be able to reshape the city of Nicosia and the island as a whole in a positive way in the years to come. References Oktay, D. (2007) 'An analysis and review of the divided city of Nicosia, Cyprus, and new perspectives', Geography, 92(3), pp. 231–247. doi: 10.1080/00167487.2007.12094203. Bibliography https://unece.org/fileadmin/DAM/thepep/en/workplan/urban/documents/petridouNycosiamasterplan.pdf
View more
Last news
RE-DWELL Roundtable #2
Published on 16-11-2021
RE-DWELL Roundtable The design of affordable ans sustainable housing: Challenges and opportunities November 16, 2021 (16:15 – 18:15 CET +1) An open discussion on the Design of Affordable and Sustainable Housing focusing on the challenges and opportunities during the design process, moderated by Prof. Leandro Madrazo, School of Architectute La Salle- URL. With the participation of: - Darinka Czischke, Associate Professor, TU Delft - Lisa D. Iulo, Associate Professor of Architecture, Director of the Hamer Center for Community Design, Pennsylvania State University - Montserrat Pareja-Eastaway, Associate Professor, University of Barcelona Free open session. Join us at https://bit.ly/3DcL88P
RE-DWELL Summer School #1 Nicosia
Published on 13-11-2021
The Nicosia Summer School aims to foster the exchange of knowledge across ESRs, supervisors and non-academic organisations, on the challenges and opportunities of the design process in realizing needs for affordable and sustainable housing. A programme of activities is designed to enable a follow-up on the development of ESR's research through training activities related to the ongoing structured courses (RMT1 and TS1) and networking between the individual projects, supervisors and partner organisations. Invited speakers from professional practice, academia and local municipalities will address topics related to "Planning, design, and retrofitting of affordable and sustainable housing" from multiple perspectives. The lectures will be followed by group discussions and complemented by site visits. A roundtable to discuss "The design of affordable and sustainable housing: challenges and opportunities" will be open to the public via an online session.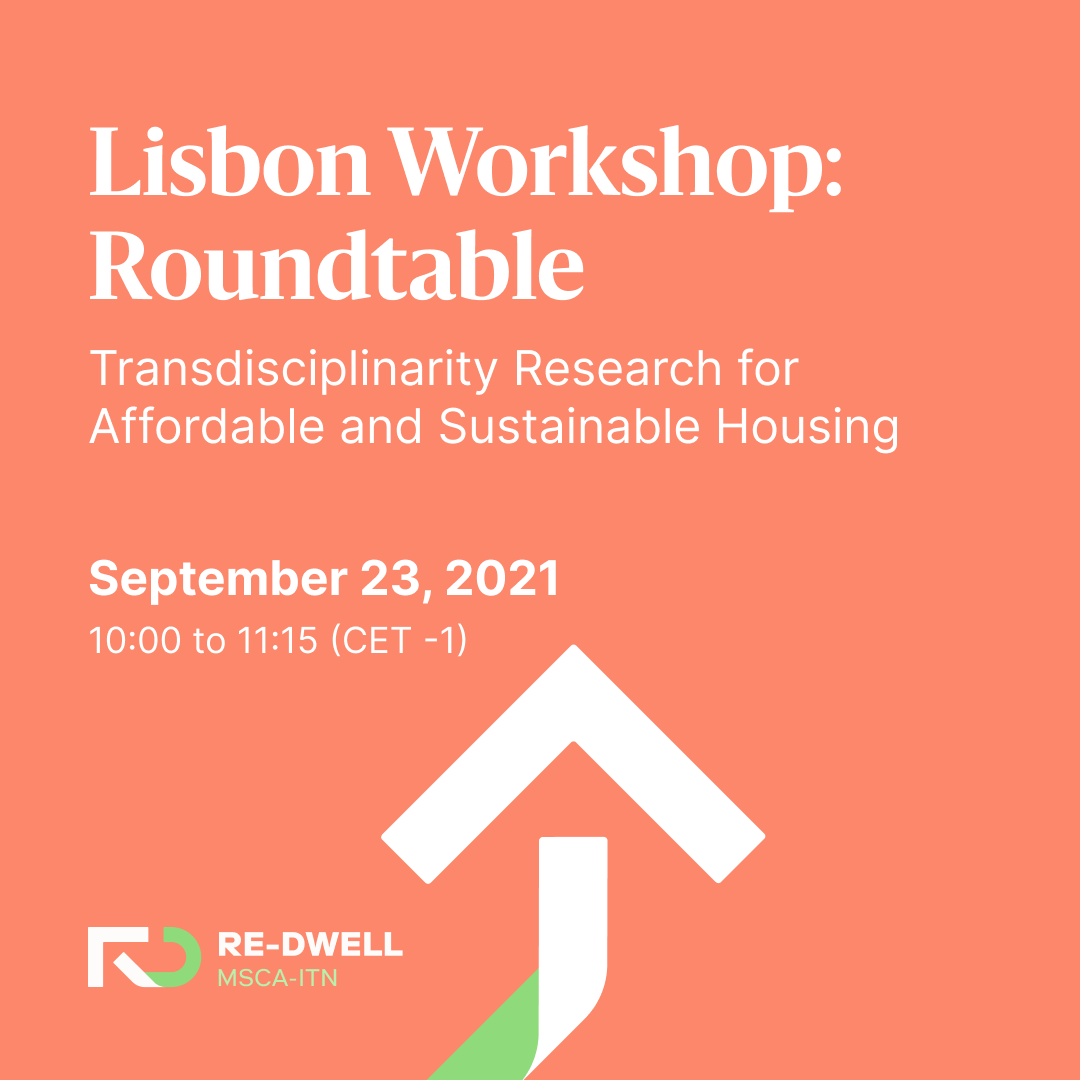 Lisbon Workshop: Roundtable
Published on 15-09-2021
On Thursday 23, roundtable on Transdisclipinary Research for Affordable and Sustainable Housing, starting at 10:00 (CET -1). Free access to the online session. The field of housing research is characterised by siloed thinking with little debate across disciplines. The aim of this event is to consider the way in which housing is approached from different disciplinary perspectives and to think about ways in which multi-, cross- and transdisciplinary research has been carried out so far in Europe and the UK. How can research on housing address the global challenges of climate change and of social inequalities and in the same time engage with concrete practice in architecture, engineering, planning and public policy? A historical approach to housing research and its "disciplines" will help engage this timely debate.   This event will be chaired by Flora Samuel, Professor at the University of Reading, UK. Panel members will be: David Clapham, Professor of Housing and Urban Studies, University of Glasgow Gilles Debizet, Professor in Urban Planning, University Grenoble Alpes Doina Petrescu, Professor of Architecture and Design Activism, University of Sheffield Ashraf Salama, Professor of Architecture, University of Strathclyde
View more