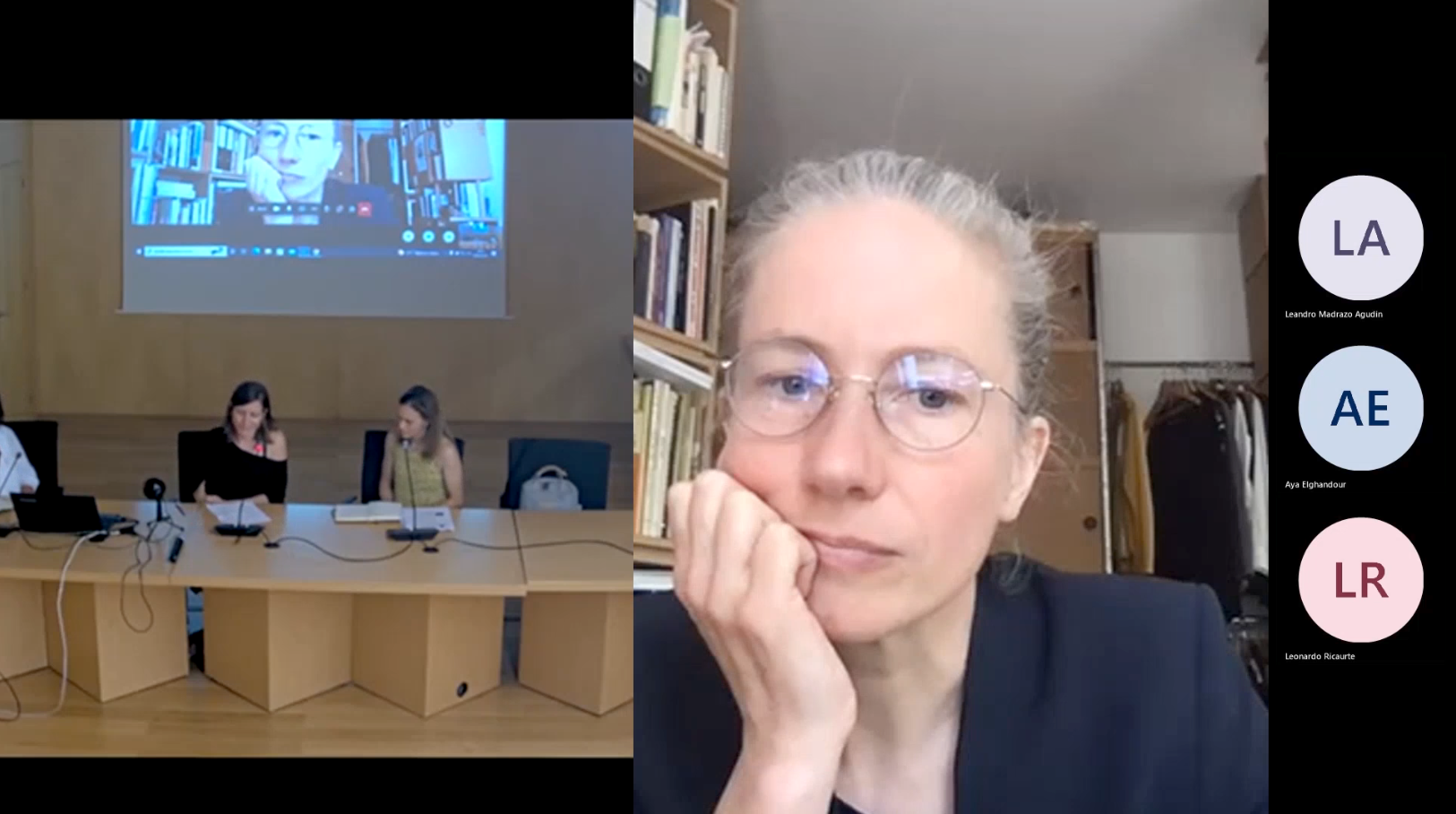 RE-DWELL Roundtable #4: How can community participation in the provision of affordable and sustainable housing be guided?
Posted on 28-07-2022
This roundtable took place in the Universitat Politècnica de València, during the Valencia Summer School, on 14 July 2022. The panel members were: • Anne Kockelkorn, Assistant Professor of Dwelling in the Department of Architecture, TU Delft. • Blanca Pedrola, architect, Associate Professor, CEU Cardenal Herrera University. • Isabel González, architect, Fent Estudi Cooperative. The discussion was moderated by: • Nadia Charalambous, Associate Professor, Department of Architecture, UCY.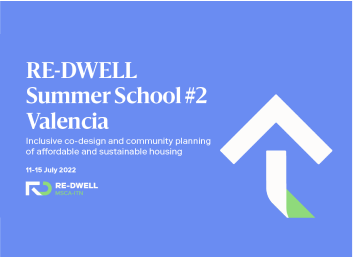 Valencia
Posted on 11-07-2022
Summer School 2: Inclusive co-design and community planning of affordable and sustainable housing
RE-DWELL ISHF Helsinki Workshop
Posted on 22-06-2022
The workshop took place in the lobby of Helsinki City Hall on 14 June 2022. Around 30 people participated in the workshop, together with 7 ESRs and 7 supervisors and secondment representatives. The aim of the workshop was to apply a holistic approach to the provision of affordable and sustainable housing, through a use case: A municipality has a piece of land in a working class neighbourhood that is to be developed through a sustainable master plan including affordable housing. During the three-hour session, participants, organised in four teams, developed a step-by-step strategy that takes into account the interrelationships between the three themes that make up the RE-DWELL research framework: design, planning and construction; community participation, and policy and financing. For each theme, participants were given a brief explanation of the most relevant issues, methods and tools, summarised in a 'wheel'. Each team then had 30 minutes to discuss how those could be applied to the use case, and present the results to the rest of the participants. This methodology enabled us to put into practice for the first time the transdisciplinary approach that we aim to develop in RE-DWELL. This is the video recording of the introductory session.
Last news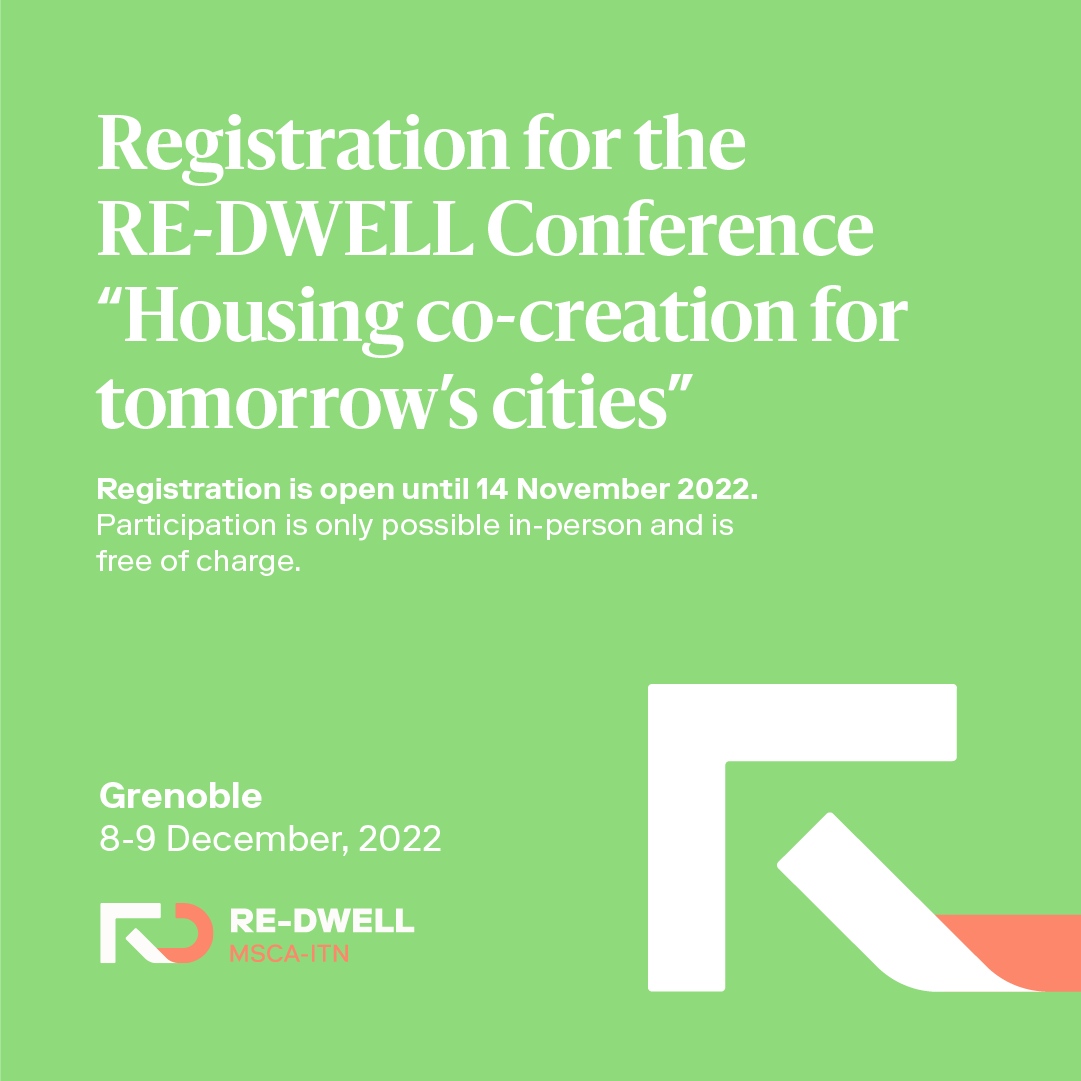 Registration for the RE-DWELL Conference "Housing co-creation for tomorrow's cities" is now open.
Published on 21-10-2022
RE-DWELL Conference, Grenoble https://www.re-dwell.eu/activities/conferences/grenoble Registration for the RE-DWELL Conference "Housing co-creation for tomorrow's cities", Grenoble, December 8-9, 2022 is now open. Participation is only possible in-person and is free of charge. You can register at https://re-dwell2022.sciencesconf.org/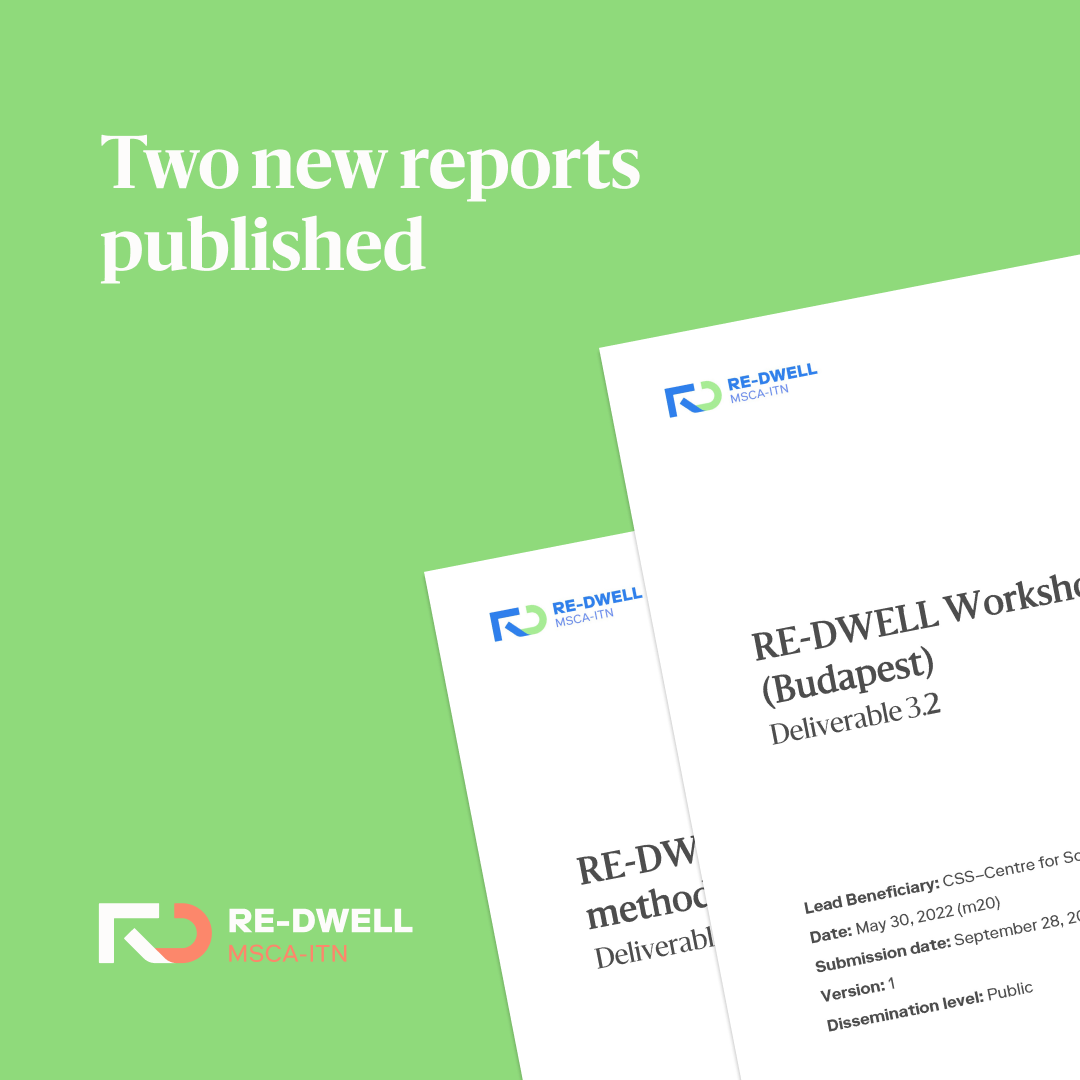 Two new reports published
Published on 07-10-2022
Two new reports are published in RE-DWELL website about the Budapest Worskhop and the blended learning methods and tools to support a transdisciplinary collaborative research on affordable and sustainable housing. They can be accessed at https://www.re-dwell.eu/reports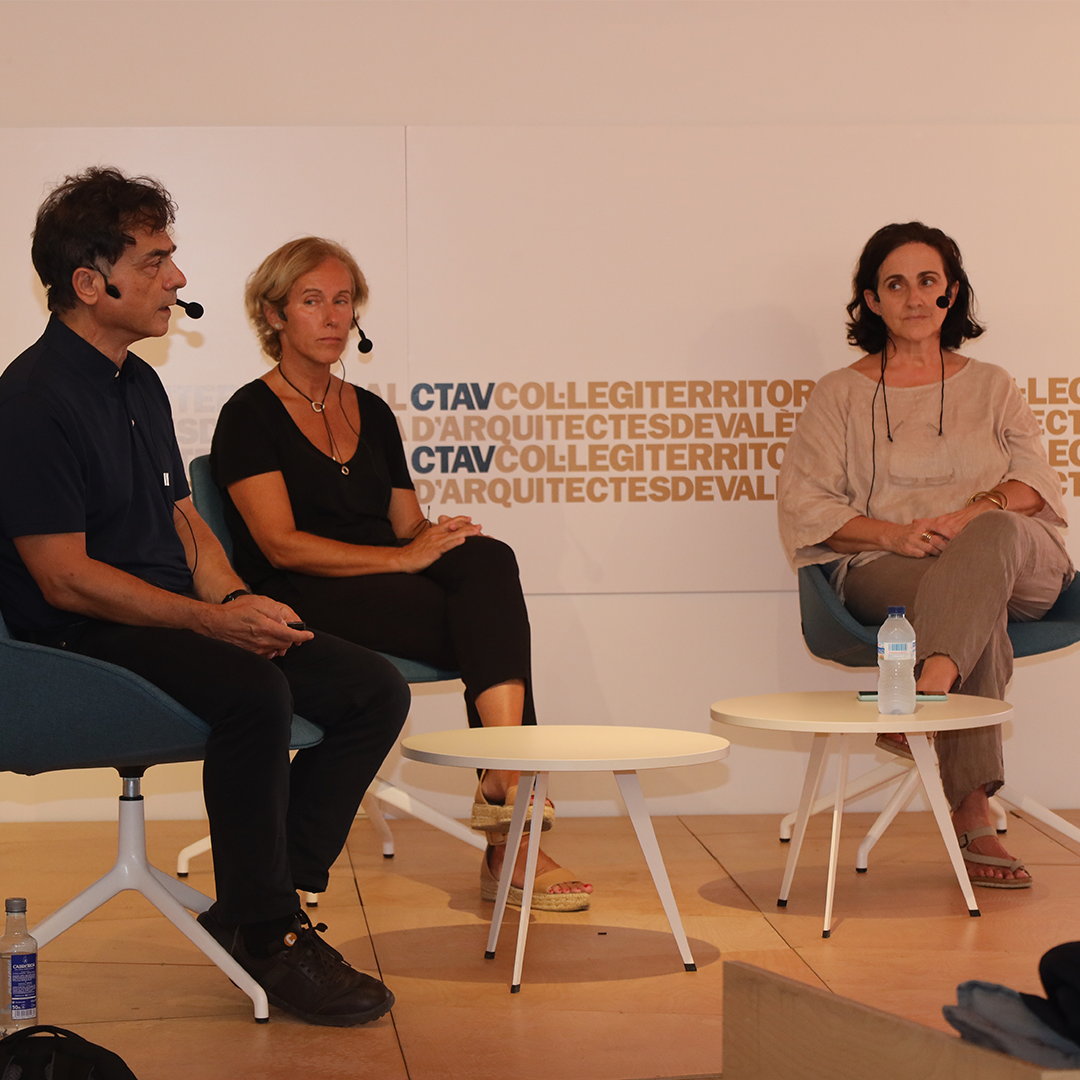 RE-DWELL exhibition. Closing session "Innovation in sustainable and affordable housing"
Published on 22-09-2022
The RE-DWELL exhibition, which began on 8 September at the Valencia Chamber of Architects, ended on 22 September 2022. Carla Sentieri from the School of Architecture of the Universitat Politècnica de València, partner of RE-DWELL, curated the exhibition. The closing session was dedicated to the theme "Innovation in affordable and sustainable housing". Leandro Madrazo, project coordinator, addressed the intertwining between housing affordability and sustainability and explained the research and training framework that is being implemented in RE-DWELL to address this issue from a holistic and transdisciplinary perspective. Video closing session: https://www.youtube.com/watch?v=cQTaIiMj-6k Closing session: http://arquitectosdevalencia.es/contenido/conferencia-innovacion-en-vivienda-sostenible-y-asequible/ Exhibition: http://arquitectosdevalencia.es/contenido/conferencia-innovacion-en-vivienda-sostenible-y-asequible/
View more
Last blog entries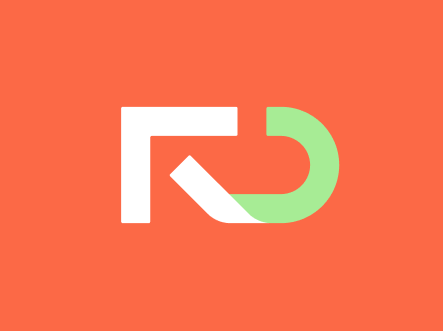 Reflecting on housing inequalities after our first conference (and some Christmas TV-binging)
Posted on 04-01-2023
To both critical and popular acclaim, the second season of White Lotus reached its paroxistic finale just before Christmas. Shouldn't we all be thankful to be living under the benevolent rule of what many a cultural pundit has called peak TV?[1] It'd just be too facile to praise the unforgettable performances of Simona Tabasco and Sabrina Impacciatore or the impeccable writing of Mike White. So it is not that I will be doing. Following our European scholarly mandate, one should talk about housing (and the first Re-Dwell Conference taking place in Grenoble), and that's what I shall be doing, after a quick detour. Beware spoilers await. At one point in White Lotus' last episode, Quentin, an English expat integrated in Palermo's high society complains about the expenses he incurs to maintain his palazzo. Here is some visual reference as a suggestion for future research[2], throwing it out there for a case study. Quentin's lament is: "We're here on earth such a short time but our houses live on, we must be good stewards". [Spoiler alert] This would suggest a noble heritage preservation pursuit. However, the maintenance of his palazzo has led him to devise a ruse to kill Tanya, played by the household favourite Jennifer Coolidge, and partake in the inheritance of her wealth with his lover, Tanya's own scheming husband! Far-fetched as it seems, I argue that at the heart of White Lotus lie a set of multifaceted housing and wealth inequalities issues. As Martina's and Joris's research shows, experiences of housing unaffordability, exclusion and material deprivation are most acute among the young. However, what are the consequences of extreme (housing) inequalities for those who do not suffer them in their crudest form? Can one suffer the consequences of a polarising world from a palazzo? Indulge me in a perennial fascination with wealth and accompany me to another palace. This time located in Paris, 63 Rue de Monceau more precisely. There, in front of the Parc Monceau stands the superb mansion Moïse de Camondo built for his 18th-century art collection and his family. Yes, in this particular order since the house was specially designed to house his collection of art-decorative artefacts first. Originally from Constantinople, Camondo became, together with his brother, the leaders of one of the most powerful banking dynasties of the Third French Republic. While studying the financialisation of real estate, one can quickly fall under the impression that this is a recent phenomenon. However, speculation with real estate prices has been a defining feature of urban development. Camondo's palace standing in the Parc Monceau was in fact built during a speculative frenzy on formerly public land. Zola described the mansion of one of his leading characters in his novel La Curee as follows: « Saccard venait de faire bâtir son hôtel du parc Monceau sur un terrain volé à la Ville. Il s'y était réservé, au premier étage, un cabinet superbe, palissandre et or, avec de hautes vitrines de bibliothèques, pleines de dossiers, et où l'on ne voyait pas un livre ; le coffre-fort, enfoncé dans 257 le mur, se creusait comme une alcôve de fer, grande à y coucher les amours d'un milliard. » Although elaborating over Zola's writing on housing speculation deserves much more academic attention, and in fact, it has directly inspired the work of the economist Piketty, let's go back to Camondo. After his death, Camondo donated his house and art collection to the French State under the specific provision that it would become a museum in honour of his son Nissim, killed in WWI. During his lifetime, Camondo became a patron of the arts, donating to a number of Parisian museums and advocating for the integration of Jews French society even in the face of rampant anti-semitism. A few years after Camondo's death his few descendants left alive were brutally assassinated in Auschwitz. In his recent book "Letters to Camondo" Edmund de Waal, a far relative of Camondo explores the feelings of loss at the violent death of his ancestors and the state of prosecution they suffered: "And I had to say why this moment mattered. That this was not waiting for someone to give us back what had been stolen, with violence, with terror. That breaking up, our dispersion, our diaspora. That fracture of the four Ephrussi children to four continents of the world, the suicide of their mother, their father a refugee, the murder in the labour camps of uncles and aunts. This wasn't about art. It was what art carries. This was restitution: a bringing back of something taken." ― Edmund de Waal, Letters to Camondo The sentence we're here on earth such a short time but our houses live on, acquires a new significance in the case of Camondo. His house is a testimony to the efforts to fit in of an outsider who was never accepted. Houses themselves are integral to how we present ourselves, an embodiment of the times and our place in society. This is precisely why these mansions are scars, for those who were never allowed to belong, who were robbed and had their descendants killed. This bears questions about what kind of limitations societies focusing on luxury real estate put on integration. And just like that… the long shadow of anti-semitism and the many other hatreds brought by the far right rise once again in Europe. One cannot help to wonder how much at odds with ontological security extreme inequalities are. Redistribution may cost us a few of the contemporary equivalent of 18th century Palermitan palazzi, maybe a couple of start-architects villas? Nevertheless, it is indispensable if we are to produce egalitarian and democratic urban environments. [1] https://www.theguardian.com/culture/2020/jan/04/thought-wed-reached-peak-tv-just-wait-until-you-see-what-2020-has-in-store [2] https://www.architecturaldigest.com/story/the-white-lotus-sicilian-villa-episode-5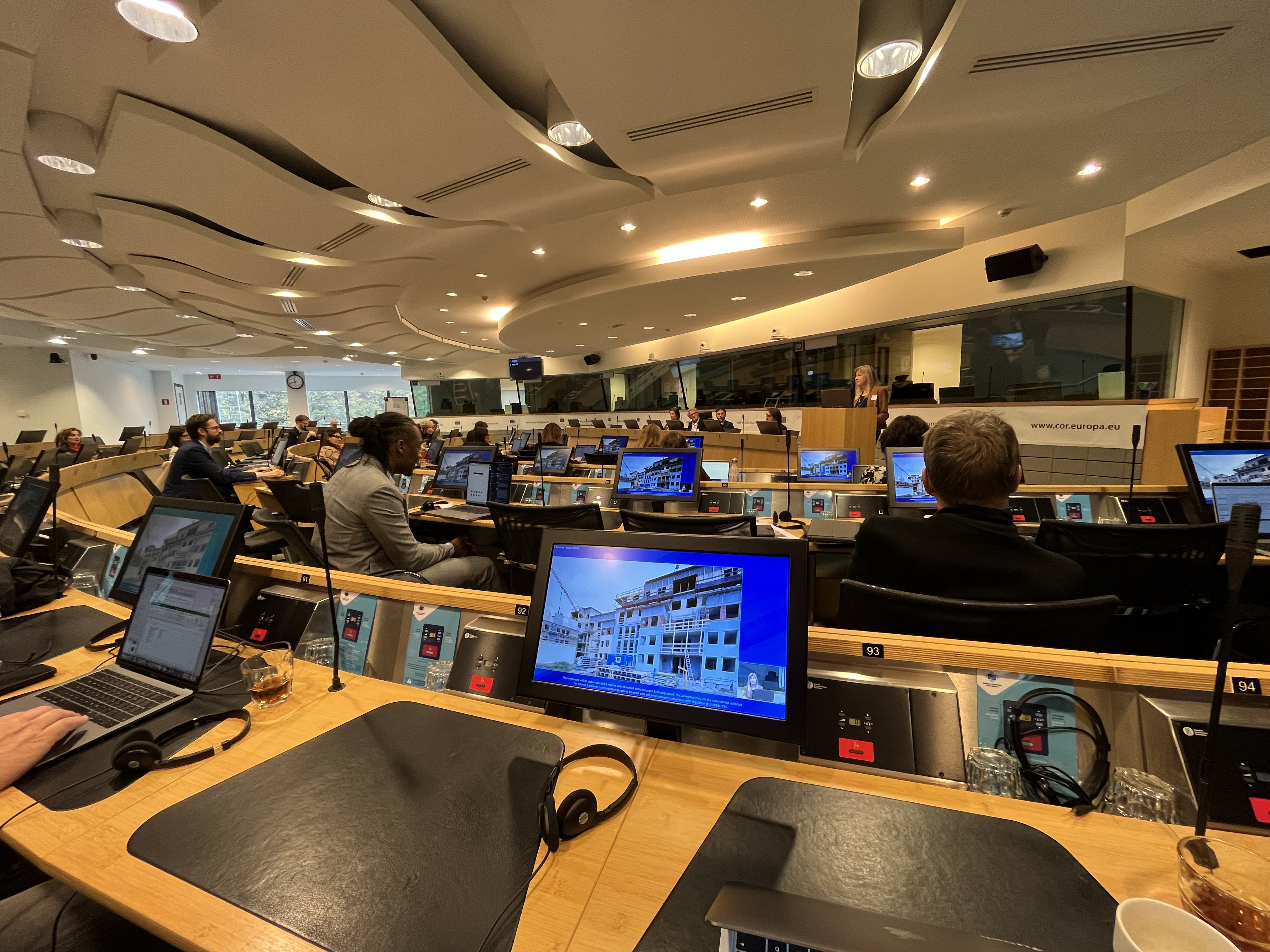 Thriving Through Crises
Posted on 22-11-2022
Ursula von der Leyen, President of the European Commission, used the word 'crisis' ten times in her latest State of the Union. As one of her distant predecessors, Jean Monnet, once said that "Europe will be forged in crises"[i], I could hardly think of a more interesting time to be seconded in Brussels. Whether crises relate to housing, climate, energy, cost-of-living, or the war in Ukraine, they necessitate representatives to go beyond their own interests and come together in a constructive matter. I greatly appreciate the opportunity to take a closer look at this political dance during my secondment at Housing Europe. Brussels comes with a unique dialect, often ridiculed and currently under scrutiny after a study (Rauh, 2022) showed that it baffles anyone except technocrats who use it on a day-to-day basis. Frankly, I did not have a clue what a 'trilogue meeting' consisted of before starting here, but now I have become fascinated by this closed-door negotiation process between the European Commission, the European Parliament and the European Council (i.e. national governments). In the past few weeks, I have tried to follow talks on the Energy Performance of Buildings Directive (EPBD) revision and the Emission Trading Scheme (ETS) extension for Housing Europe. Once you find your way through the EU's web of acronyms, it is rather engaging to read through related documents and visit relevant events. They allow you to identify trends that will be further developed across the continent in the years after. While discussions about the promise of 'one-stop-shops' and 'energy communities' are not new, recent emphasis on these terms in European corridors suggest that a surge of policy incentives is to be expected in the near future. Another ubiquitous term, at least since last year's surge in gas prices, lies at the heart of my research: energy poverty. During Housing Europe's annual Renovation Summit, held last week, energy poverty was even designated as one of the most pressing issues of our time by Alessia di Gregorio, deputy head of Social Economy at the European Commission. She urged member states to both monitor it continuously as well as address it with adequate retrofit policies. Marcos Ros Sempere, an MEP who serves as EPBD 'shadow rapporteur', referred to energy poverty alleviation as one of the main pillars of the Renovation Wave, emphasising the need to allocate funds to "the people who need it most". It strengthens me in my belief that national governments and other stakeholders (such as housing associations and energy suppliers) need to monitor which residents are most at risk. Not only because the revised Electricity Directive (Article 29 in Directive 2019/944 for EU insiders) and upcoming Social Climate Fund require them to, but because recognitional justice is a prerequisite for distributional justice. The only way to make the 'just transition' more than another empty shell is by identifying the disadvantaged, having them participate in the legislative process, and drafting policies that genuinely benefit their livelihoods. [i] The original quote was "L'Europe se fera dans les crises et elle sera la somme des solutions apportées à ces crises" which would translate into "Europe will be forged in crises, and will be the sum of the solutions adopted for those crises" (Monnet, 1976). References Monnet, J. (1976). Mémoires. Paris: Fayard. Rauh, C. (2022). Clear messages to the European public? The language of European Commission press releases 1985–2020. Journal of European Integration, 1-19.

A fruitful time at Housing Europe
Posted on 08-11-2022
ESG risks being one of the most (over)used acronyms of this decade. Hailed as "the" solution to climate change or dismissed as greenwashing, it is also becoming important to review its relevance for social housing. This has precisely been the focus of my research at Housing Europe, framed within the RE-DWELL project, funded by the European Commission. Last week, I was invited to the 83rd session of the UNECE Committee on Urban Development to discuss the role of green finance in enabling the development and renovation of social housing. You can follow some of the points I raised at this event on a blog I wrote for Housing Europe in the link below: https://www.housingeurope.eu/blog-1733/the-role-of-green-finance-in-enabling-the-development-and-renovation-of-social-housing
View more