RE-DWELL Roundtable #3: "Community participation in the provision of affordable and sustainable housing"
Posted on 06-05-2022
This discussion took place in a blended format on March 26, as part of the Budapest workshop. The panelists were: • Jenny Pickerill, Professor of Environmental Geography and Head of Department of Geography at Sheffield University, England • Richard Lang, Full Professor of Social Enterprise and Innovative Regions at Bertha von Suttner Private University in St. Pölten, Austria. The discussion was moderated by Prof. Gerard van Bortel, Faculty of Architecture and the Built Environment (ABE), TU Delft.
RE-DWELL Roundtable #2: Design of Affordable and Sustainable Housing: Challenges and Opportunities
Posted on 22-12-2021
This roundtable took place in a blended format, in the University of Cyprus and on line, during the Nicosia Summer School, on November 16, 2021. The participants were: Darinka Czischke, Associate Professor, TU Delft Lisa D. Iulo, Associate Professor of Architecture, Director of the Hamer Center for Community Design, Pennsylvania State University Montserrat Pareja-Eastaway, Associate Professor, University of Barcelona The session was moderated by Leandro Madrazo, School of Architecture La Salle.
Last blog entries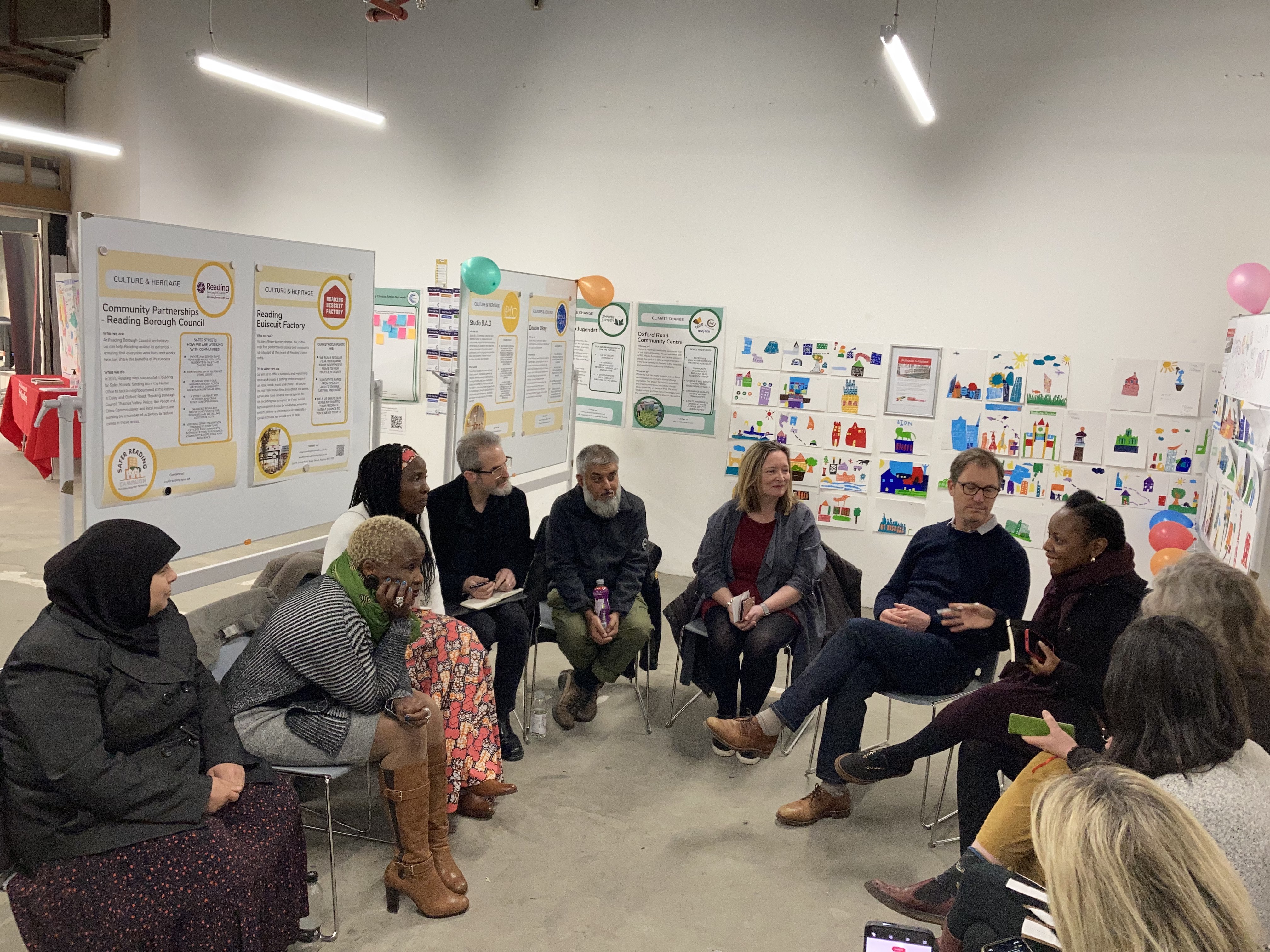 Novel approaches to participation in planning
Posted on 11-05-2022
During my recent secondment at the University of Reading, School of Architecture I was lucky enough to participate in the Urban Room, part of the Community Consultation for Quality of Life (CCQoL) research project in the UK.[i] The ongoing research project is taking place during the development of four pilot projects in England, Wales, Northern Ireland and Scotland and brings together community groups, academic researchers, industry partners and local authorities, with the aim of improving the process of community consultation (CC) in planning. In Reading, it was a great opportunity to see how the issues mentioned above were being tackled "on the ground" so to speak, where local community groups were given a real space to meet and discuss important local issues. During my experience of the Urban Room, I found the process of mapping social value combined with face-to-face engagement particularly important tools placed in the hands of citizens as much as experts in understanding and enhancing social value when undertaking processes of community consultation. The co-design of maps emphasises how people can have their say in creating a resource of local knowledge aimed at revealing the hidden attributes that benefit communities. As the map began to be populated with responses, I noticed how people's feelings, now spatially strewn across different parts of the city, became a process of learning about and connecting with each other. Concurrently, the opportunity for people to casually meet in physical space has proven that face-to-face encounter still is incredibly necessary. Both processes have indicated how important it can be to have control and power to take decisions collectively, rather than individually, as other researchers have noted.[ii] In focus group discussions, it has been made clear by community representatives that in real community consultation processes the community needs to there from the beginning as much as possible, pointing to the need for transparency, and for taking the "peoples' pace", highlighting the need for patience. These observations come in a time of rapid technological innovation and adoption of digital mediums both in data collection, consultation, design and visualisation, related to planning decisions that influence the development of quality of life in housing and neighbourhoods. Recently, public-private partnerships in the development of housing and neighbourhoods seem to be growing but the methods of participation in planning that focus on the needs and aspirations of communities are just beginning to be updated. The processes of collaborative decision-making by involving communities directly and from the early stages have become increasingly important in the built environment disciplines. Yet, physical, technocratic design concerns seem to be dominant and perhaps easier to evaluate than the accumulated complexity of interactions that make social value at the neighbourhood scale. The integration of a set of social participation- with design-oriented guidelines is necessary. A growing interest is observed in Urban Living labs (ULLs) as a physical setting and a methodology, with more emphasis placed on real-life settings of experimentation and collaboration between different stakeholders. Collaborative knowledge production and citizen-driven innovation in urban sustainability transitions is often prioritised. ULLs focused on innovation in urban planning processes, are being defined by the term City Labs.[iii] The influential research currently underway on community engagement in Urban Rooms is an exciting and promising trajectory for innovation in participatory planning that shares aspects of the ULLs/City Labs by involving communities, built environment professionals and local councils in collaborative and interactive arrangements. Perhaps the ULLs/City Labs approach, as an extension of the Urban Room concept, presents the opportunity of placing more emphasis on experimentation, involving new tools and methods that enhance participation and lead to co-creation of social value at the neighbourhood level. [i] https://ccqol.org [ii] https://qolf.medium.com/control-stress-pathways-and-rights-of-the-city-associates-workshop-4-c80dafc09681 [iii] Scholl, C., & Kemp, R. (2016). City labs as vehicles for innovation in urban planning processes. Urban Planning, 1(4), 89-102.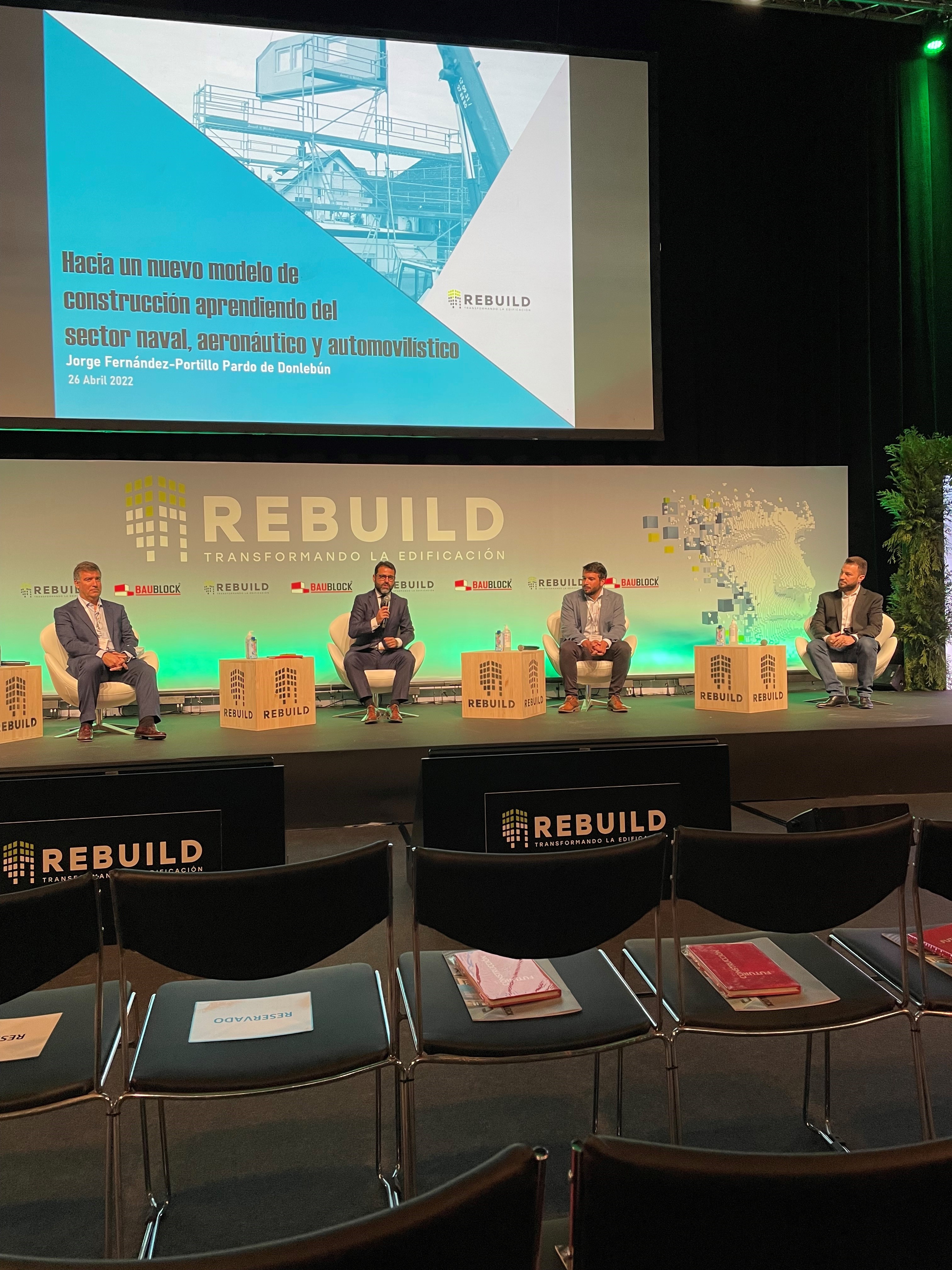 Rebuild 2022 Madrid | The foundations are set for a promising construction industry
Posted on 03-05-2022
In a rapidly changing world where the world's urban population is increasing by 200,000 people per day and the global carbon emissions of the construction sector are 30%, there is a pressing need to provide an affordable and sustainable housebuilding industry. The integration of modern innovative techniques in the construction sector can allow the rise of productivity and a higher democratisation of the built environment, having a direct impact on global economic, environmental, and societal issues. The Rebuild 2022 Conference that took in Madrid was an exciting event centred in how to boost the construction industry through innovation, circularity, and private-public investment. I found interesting to see the varied perspectives from different stakeholders of the construction business from construction companies, suppliers and fabricators to public entities, developers, architects, and software designers. All of them showed their particular response to the challenges the sector is undergoing from their own experience. Nevertheless, their different approaches converged in the necessity to increase the optimisation of processes, the required collaboration between all stakeholders and the need to embrace a full digitisation of the construction industry. The main topics discussed during the three-day conference were industrialisation, digitisation, and sustainability. Industrialisation In order to meet the demand that the construction industry requires, we cannot continue building in a traditional way. An industrialisation of the business is needed to achieve the scalability of solutions and the adoption of lean construction methods. It is necessary to unify the architecture design with the constructive process from the initial stages. The selection of the MMC (Modern Method of Construction) and the logistics will have an influence on the design. Therefore, it is essential to invite the contractor, engineers and fabricators to collaborate with the developer and design team from the beginning to allow for an integrated project delivery and to optimise the manufacturing process. Most of the companies working in the housebuilding industry agreed that a system based on 2D components prefabricated off-site was the most effective currently, as it allowed for greater flexibility while at the same time reduced the construction time and minimised errors, keeping the transportation costs lower than with 3D elements. A few companies advocated that the use of 3D elements was beneficial when the room was a very compact one (e.g. bathrooms) and there were a high number of identical instances (e.g. hospitality industry). Digitisation The fourth industrial revolution has accelerated dramatically the productivity in other industrial sectors, as the automotive, naval or aerospace, while in the construction sector the levels of automation are generally still low. In these industries, the use of the digital twin is the main driver of development and continuous learning. Several industry professionals pointed out that the lack of digital implementation in the construction industry has been one of the reasons why industrialised construction has not been broadly implemented in multi-family housing yet in Spain. Construction has always been a collaborative practice but without an adequate digitisation, it will remain fragmented. New innovations in technology should be implemented into the housebuilding industry as an added value to the sector and to the user. Some examples that could help in the digitisation of the industry would be the use of digital twins, allowing for traceability and monitoring throughout the design and construction process, increasing precision and minimising waste; the use of BIM as a design tool, data collector and collaborative environment, being able to give precise quantities and pricing from initial design stages, avoiding important price variations; or the introduction of automation and robotics to substitute manual labour in repetitive and dangerous activities. Sustainability Decarbonization, net-zero buildings, and the use of wood as a circular material were some of the hot topics on the sustainability agenda. Likewise, the evaluation of LCCA (Life Cycle Cost Analysis) and LCA (Life Cycle Assessment) have become vital to be able to make the right choices from the beggining. Sustainability, innovation, and technology are essential to overcome obsolescence, but to do so it is necessary to monitor the consumption throughout the entire building's lifespan. In the race against climate change, wood is gaining greater support in the Spanish construction industry. A sector that has been for decades strongly defined by its concrete production, is starting to become aware of the advantages of building with circular materials. The industry has not only recognized that wood is a renewable material that retains heat, absorbs CO2, lasts longer, and can be recycled, but as well that it has a positive effect on the user's physical and mental health, improving their wellbeing. Important housing developers are planning to reduce the CO2 emissions by 80% in their ongoing projects by using hybrid construction in wood, by increasing their level of industrialisation, and by improving their digitisation. Construtech companies are offering end-to-end services using platforms that integrate through technology all the stakeholders in a sustainable supply chain. The construction sector has opened their eyes to realize what architects have been pursuing for a century. A user-centric approach where the wellbeing, passive design criteria and the planet are key in the decision-making. With the difference that today we have the technology and innovation to accept these challenges in an efficient way, monitoring and measuring our progress to take firm steps towards a more environmental, societal, and economic sustainability. The Rebuild 2022 Conference showcased that the construction sector is in an exciting moment of transformation. The industry has laid the foundations to progress into a more industrialised, collaborative, efficient, and technological sector, to be able to offer sustainable and democratic quality housing at an affordable price.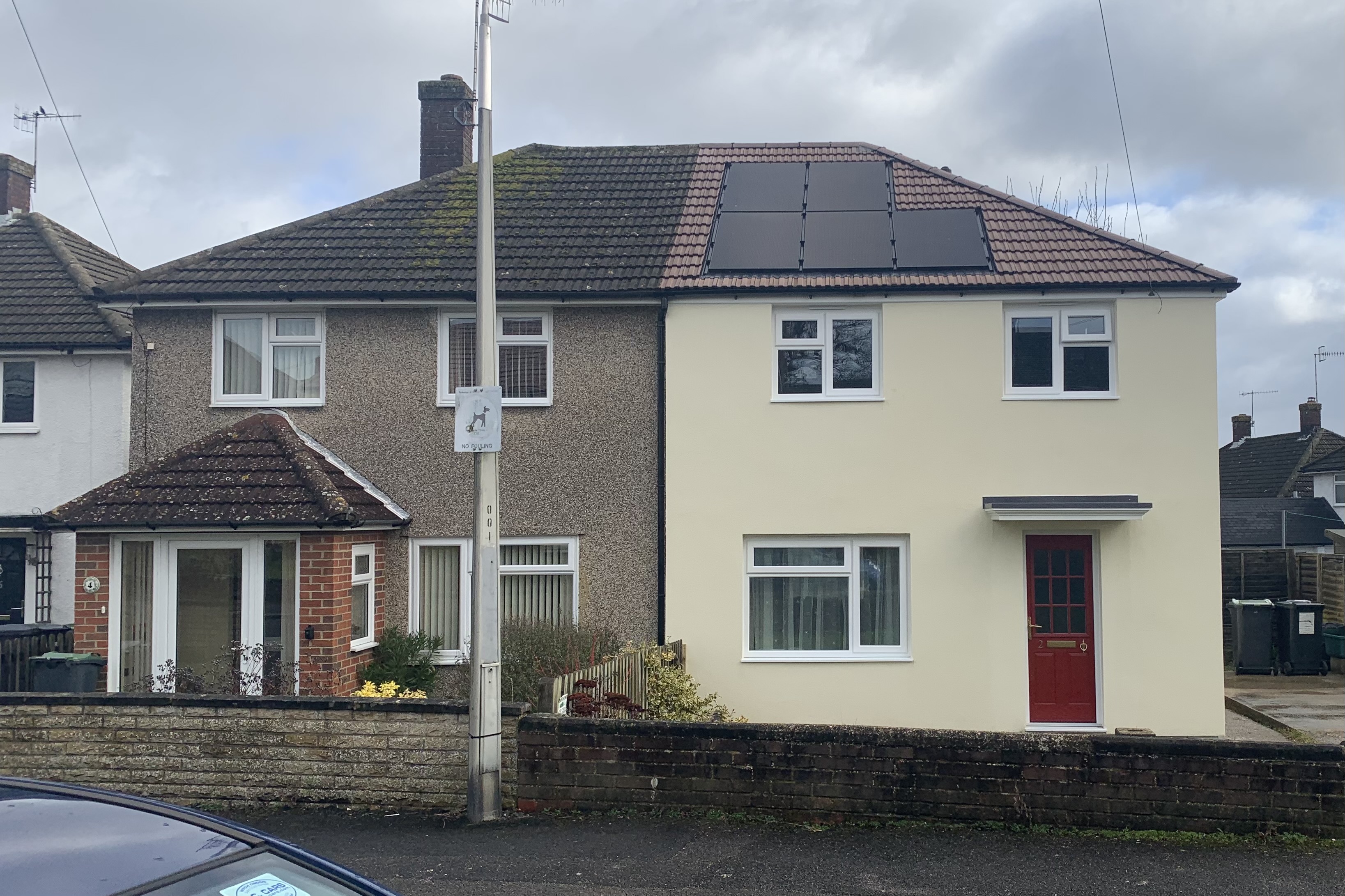 Bridging research and practice during secondment at Clarion
Posted on 08-04-2022
One of the main objectives of transdisciplinary research is the collaboration between academics and practitioners in trying to solve societal issues. This approach is particularly welcome in the field of fuel poverty[1], as the key role of housing associations generally remains overlooked while a significant share of their tenants cannot afford domestic energy services. In addition, the body of scholarship on fuel poverty measurement has grown rapidly, but its use in practice has hardly been addressed (Bouzarovski, Thomson, & Cornelis, 2021). During my secondment at the research department of Clarion, the UK's biggest housing association, I have tried to explore and combat these mismatches. Ever since Brenda Boardman (1991) wrote her famous work on fuel poverty, the UK has been at the forefront of the policy agenda (Middlemiss, 2017). It also has the longest tradition of relevant research with almost a third of scientific publications up to date authored by UK scholars (Xiao, Wu, Wang, & Mei, 2021). In my view, this knowledge advantage is also reflected by the fact that professionals in all walks of the organisation were fully acquainted with the term and Clarion's predecessor Affinity Sutton had already developed its first 'fuel poverty vulnerability indicator' back in 2013. Together with my peers, I examined whether and, if so, how the vulnerability indicator could be aligned and adapted to the latest scientific findings, recent regulatory changes, and daily operations. Encouraged by my supervisor Dr Elanor Warwick, I started my secondment reaching out to as many new colleagues as possible. This resulted in dozens of very engaging informal conversations that helped me a lot, not only in my investigation for Clarion, but certainly also in my wider academic exploration. I believe these practical insights will steer my research trajectory to a more impactful course. Field visits to Wisbech and Tonbridge, where Clarion's whole house retrofits are co-financed by the Social Housing Decarbonisation Fund Demonstrator, introduced me to day-to-day operations on the ground. The measures consisted of applying triple glazing, external wall and loft insulation, as well as environmentally friendly technologies such as air source heat pumps, solar panels and centralised mechanical ventilation. Besides reduction of carbon emissions, the upgrade will save tenants between £300 and £500 on fuel bills each year (savings will be much higher with the current price peaks). After six weeks of informal interviews with professionals about the targeting of retrofits, practical barriers in home improvement and energy advice for tenants, I felt that I reached a satisfactory degree of saturation. Gradually it had become clearer that although the vulnerability indicator was very holistic, methodologically innovative, and had provided valuable insights into the fuel poverty experienced by tenants in 2013, its use in practice was limited. In my view, there are various possible explanations for this, amongst which the following: 1.) the used formula was not exactly intuitive and understandable for the end-user, which could have impeded take-up; 2.) heavy weighting of some variables was difficult to justify due to data quality concerns; 3.) low-scale results (preferably building block level) were not easily accessible. To improve interpretability across the organisation, I suggested to differentiate the vulnerability indicator into two different ones: one easy-to-understand binary indicator based on income and energy efficiency and thus aligned with the LILEE indicator of the Department of BEIS (2022), and one more holistic scale indicator that would also take into account socio-demographic and health characteristics. The results of the binary indicator would be suitable for monitoring and external reporting but could also inform retrofit decision-making, especially when bidding for public funding schemes. On the other hand, the scale indicator promised be an appropriate tool to flag specific households for interventions from the energy guidance team and neighbourhood response officers or for extended support during retrofit works. To enhance reliability, I recommended the research team to include an indicative proxy question on fuel poverty in the next annual survey. During my secondment I conducted statistical analyses on data from the last conducted survey, and found that the question "How easy do you find it to keep your home at a comfortable temperature?" came closest. However, a more unequivocal alternative would be the question asked to respondents all across Europe by Eurostat (2021): "Can you afford to heat your home?" This way, the response relates directly to affordability, and cannot be interpreted differently (like the user-friendliness of the thermostat). While surveyed responses in the context of fuel poverty remain culturally biased (Thomson, Bouzarovski, & Snell, 2017), comparing the results from both indicators with the perception among those tenants would increase their validity. Together with other qualitative techniques this would also advance the understanding of lived experiences of tenants in fuel poverty. To conclude, I think the secondment component is one of the greatest things about MSCA-ITNs, because they smoothly blend research and practice together. My future research direction has altered for the better because of my experiences at Clarion, and at the same time I have been able to share academic insights early on in my doctoral programme. Therefore, I am delighted to keep working with Clarion on these topics in the coming months and years, as I will be assisting the team in drafting an updated fuel poverty strategy and will return to London later this year for a comparative focus group study. [1] Since the term 'fuel poverty' is common in the UK, I prefer to use it in this context. Across mainland Europe the term 'energy poverty' is increasingly used. References BEIS. (2022). Methodology handbook LILEE with projection. Retrieved from https://www.gov.uk/government/publications/fuel-poverty-statistics-methodology-handbook Boardman, B. (1991). Fuel Poverty: From Cold Homes to Affordable Warmth. London: Pinter Pub Limited. Bouzarovski, S., Thomson, H., & Cornelis, M. (2021). Confronting Energy Poverty in Europe: A Research and Policy Agenda. Energies, 14(4). doi:10.3390/en14040858 Eurostat. (2021). Can you afford to heat your home? [Press release]. Retrieved from https://ec.europa.eu/eurostat/en/web/products-eurostat-news/-/ddn-20210106-1 Middlemiss, L. (2017). A critical analysis of the new politics of fuel poverty in England. Critical Social Policy, 37(3), 425-443. doi:doi.org/10.1177/0261018316674851C Thomson, H., Bouzarovski, S., & Snell, C. (2017). Rethinking the measurement of energy poverty in Europe: A critical analysis of indicators and data. Indoor Built Environ, 26(7), 879-901. doi:10.1177/1420326X17699260 Xiao, Y., Wu, H., Wang, G., & Mei, H. (2021). Mapping the Worldwide Trends on Energy Poverty Research: A Bibliometric Analysis (1999-2019). Int J Environ Res Public Health, 18(4). doi:10.3390/ijerph18041764
View more
Last news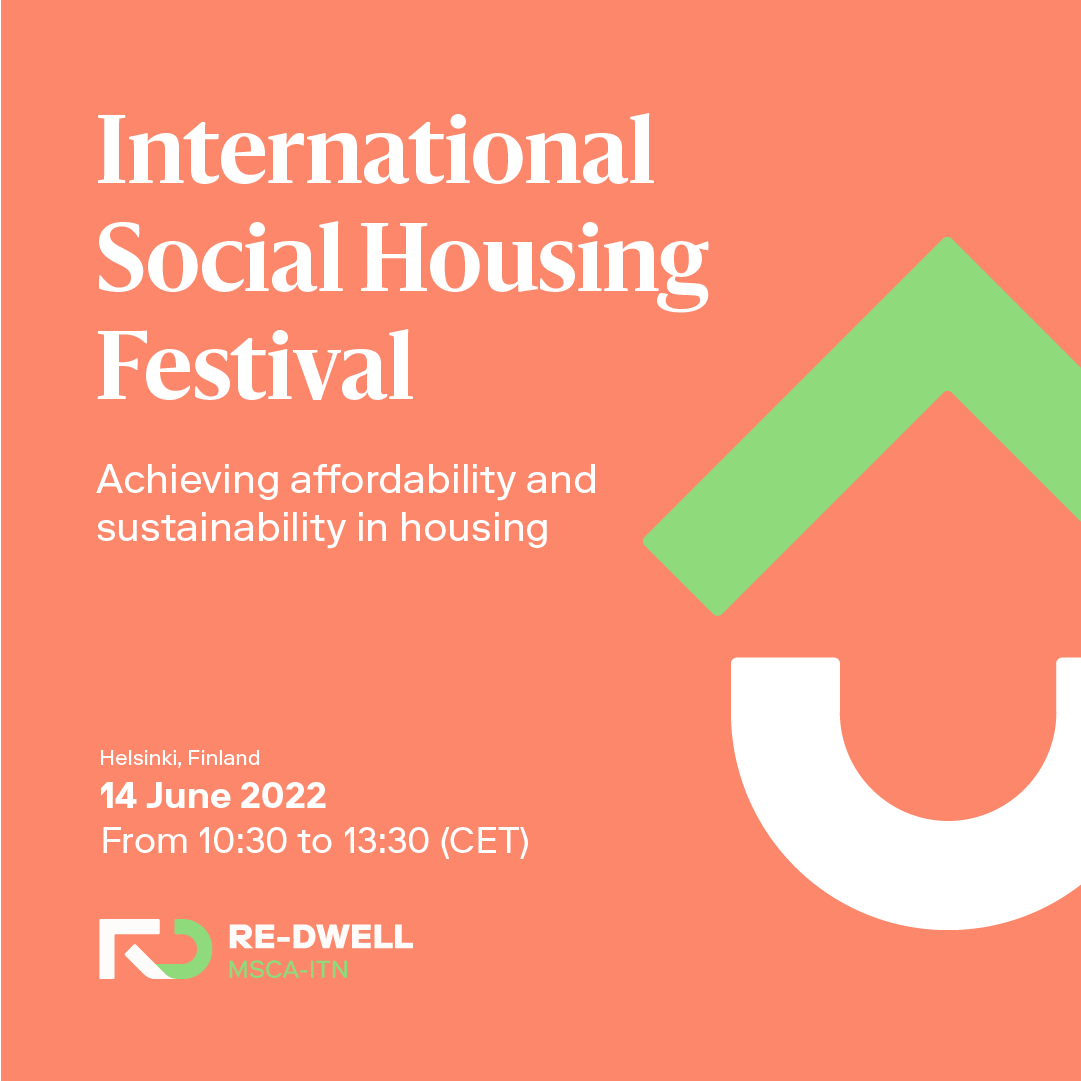 RE-DWELL will be present at the International Social Housing Festival, Helsinki
Published on 03-05-2022
RE-DWELL will be present at the International Social Housing Festival, Helsinki https://socialhousingfestival.eu/ with a workshop and exhibition on Tuesday June 14 at 10:30–13:30 Workshop https://socialhousingfestival.eu/events/festival-program/?event_id=1172 Programme This session, led by the Marie Curie RE-DWELL Innovative Training Network, will take the format of an interactive research workshop with the aim of developing a roadmap to address the urgent issues at stake in the delivery of affordable and sustainable housing across Europe: the priorities, the short and long-term strategies, and the envisaged scenarios. The discussion will be supported with an exhibition showing the 15 ongoing projects by the early stage PhD researchers who are working closely with partner organisations (industry, housing associations, administrations) across Europe. The workshop will begin with an introduction to RE-DWELL's holistic, transdisciplinary approach to affordable and sustainable housing. Participants in this session will be organized in break out groups each with a particular theme relating to the ongoing research projects. Here participants will discuss dimensions of the problem in small groups, each led by early stage researcher, supported by the academic supervisors. The break out groups will provide an opportunity to learn about cutting edge housing research, to contribute to the development of the ESR projects and to interact with colleagues across Europe. The group discussions will lead to a plenary session in which a series of policy recommendations will be formulated. These will be assembled into a manifesto for affordable and sustainable housing which will be disseminated after the festival in the RE-DWELL media channels. The aim of the workshop is to foster knowledge exchange between researchers, practitioners and policy makers involved in affordable and sustainable housing provision. Registration Sign-up for this event with the festival registration form (limited to 60 places) https://socialhousingfestival.eu/registration/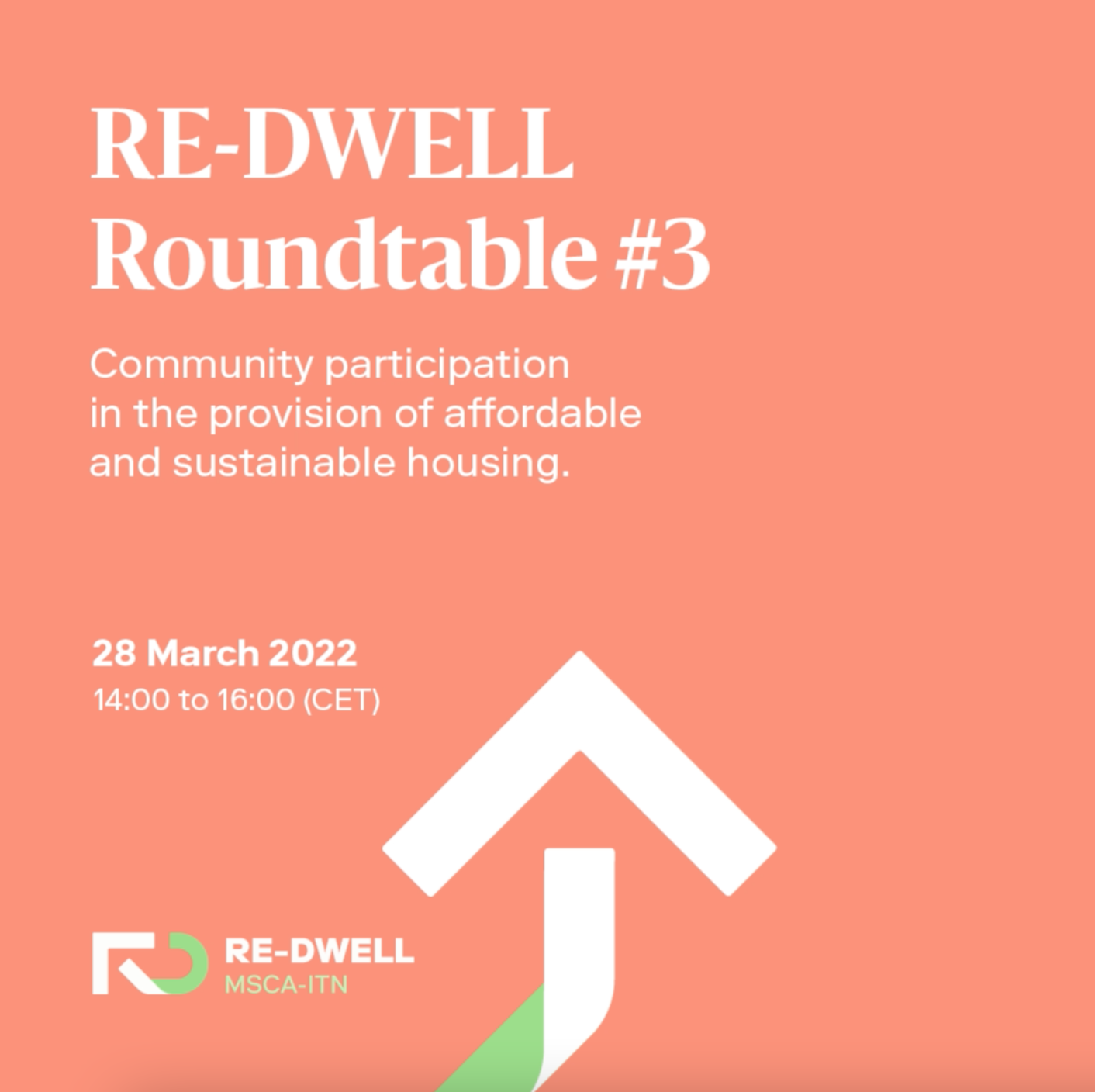 RE-DWELL Roundtable #3
Published on 23-03-2022
RE-DWELL Roundtable #3 Roundtable discussion "Community participation in the provision of affordable and sustainable housing" 26 March 2022 (14:00–16:00 CET) Open panel discussion with invited speakers and audience: processes, obstacles and best practices for community participation in contemporary housing provision. Moderated by Prof. Gerard van Bortel Faculty of Architecture and the Built Environment (ABE), TU Delft. With the participation of: • Laura Colini, PhD in Urban, Regional and Environmental Design; Habil. in Urban Studies. • Richard Lang, Full Professor of Social Enterprise and Innovative Regions at Bertha von Suttner Private University in St. Pölten, Austria. • Jenny Pickerill, Professor of Environmental Geography and Head of Department of Geography at Sheffield University, England. Free open session. Join us at: https://us06web.zoom.us/j/84596443228?pwd=eEgzSE5kQWhVOGZyMmlUQkttVVREQT09 Meeting ID: 845 9644 3228 Passcode: 291193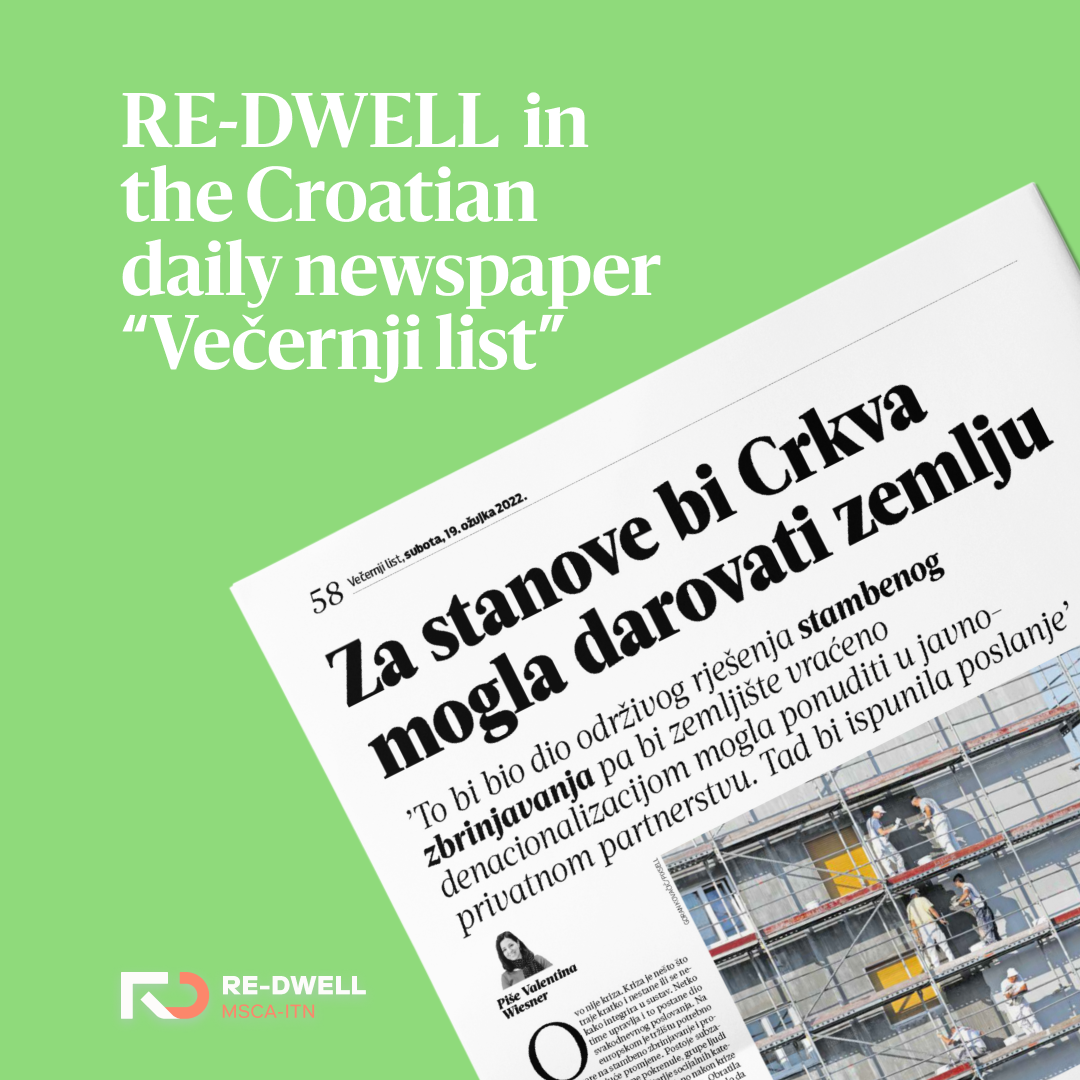 National newspaper article about RE-DWELL project
Published on 23-03-2022
In an article containing an interview for a Croatian newspaper, Prof. Dr. Gojko Bežovan, from the Institute for Social Policy, Faculty of Law, University of Zagreb, addressed some of the burning issues concerning sustainability and affordability in the Croatian housing market. His thoughts reflected some of the issues addressed in the RE-DWELL Roundtable #2 "Design of Affordable and Sustainable Housing: Challenges and Opportunities" On Saturday, 19 March 2022, the Croatian newspaper "Večernji list" published an article including an interview on housing sustainability in Croatia. The starting point of the article was the discussion held on the RE-DWELL Roundtable #2 "Design of Affordable and Sustainable Housing: Challenges and Opportunities". The article includes comments from Prof. Dr. Bežovan, from the Institute for Social Policy, Faculty of Law, University of Zagreb, who discusses the differences between the Spanish and Croatian affordable housing models, based on the contributions of the roundtable. According to Dr. Bežovan, the problem of housing affordability in Croatia is the lack of a national housing policy or strategy, which is accentuated by the lack of political will to implement the solutions already available. The need for affordable housing in Croatia is growing, and social groups that cannot afford to own a home are the most affected. Potential solutions to provide an affordable housing model for people in need should be sought through social and public rental housing, favourable interest rates from public-private partnerships, and possibilities for church properties to serve as a piece of the housing puzzle.
View more