A Culture of a British Housing Association
Posted on 20-07-2023
On the top floor of their building, where green trees peeked through houses that covered one of Sheffield's seven hills, a farewell party was held. It marked the end of an 11-year journey for Miranda Plowden, the business director of South Yorkshire Housing Association (SYHA). During this heartfelt and humble gathering, Juliann Hall, her close friend, teammate, and co-director of Care, Health, and Wellbeing, shared Miranda's story and her visionary approach to cultivating a unique "culture" within SYHA. However, this was not your typical notion of culture.
Miranda envisioned A Culture of Joy and Right to Beauty, encompassing every decision and detail at SYHA. This culture went beyond their housing schemes and influenced their daily work environment and attitudes. It stemmed from a people-first approach, firmly believing that happy and compassionate employees would naturally deliver homes that inspire happiness.
The Culture and Residents' Health and Wellbeing
SYHA is keen to spreading joy and promoting the right for everyone to experience beauty in their housing schemes. Their strategic plan focuses on providing affordable homes where residents feel happy, healthy, and proud. This is exemplified in the elegant and modern design of their properties, such as the recent North Wingfield Road social housing complex and the Wikihouse project.
The culture of promoting beauty extends beyond housing schemes to the surrounding landscapes for residents to have beautiful views and shared spaces. SYHA actively participates in creating vibrant meadow-like landscapes in urban areas, which serve as habitats for pollinators and require less maintenance. Through careful selection of plant species, they demonstrate how urban spaces can be transformed into visually appealing and environmentally friendly areas.
The culture of joy also encompasses care for residents' health and well-being, which is evident in various initiatives. For instance, they care to conduct co-design focus groups with residents to update design briefs for future projects. They maintain good communication channels through their customer experience team. Workshops with customers are held to continuously improve their services.
An interesting insight from one of SYHA's co-production workshops is the residents' dislike of jargon. They find terms like "fuel poverty" aggressive and prefer simple language that allows them to understand and feel in control of their decisions without being stigmatized. Similarly, the term "heat pump" can cause frustration, as residents desire clear and accessible language.
SYHA's Livewell department is dedicated to supporting residents' health and well-being. They provide mental health and wellbeing support and assistance in overcoming daily challenges, regardless of whether someone is a SYHA customer or not. They also have staff members focused on helping individuals find employment and integrate naturally into the community.
A unique work Culture, deviating from usual corporate work style
As an architect, I cannot overlook how SYHA implemented their culture of joy and right to beauty in the workplace as well as in their homes and services. Working closely with the interior designer, they ensured that every detail reflects this culture. Miranda's quote describes it best:
"People expect Google to have beautiful offices, but not a charitable organisation in Sheffield. The feedback from our teams shows that design and beauty in places where they are least expected can have a positive effect on wellbeing and make people feel valued. At South Yorkshire Housing Association, we believe that everyone has a right to beauty and joy, especially people who didn't expect to experience either."
As cited in SYHA's interior designer: 93ft website (accessed on 17/07/2023)
What amazed me was SYHA's boundary-less workplace. There were no individual offices, walls, or closed doors between departments and team members. They have a bookable rooms for meetings and workshops with teams and residents. If you just want to disconnect in peace, there is a room for prayer and meditation regardless of your belief. During her speech at the farewell party, Miranda emphasized the importance of maintaining the joy at work, smiling at one another, opening doors for one another and caring for both colleagues and customers. It's the small gestures that make a lasting impact.
At SYHA, everyone, from newcomers like myself to the CEO Tony Stacey, worked together in the same open space without assigned desks. On my first day, I sat at one of the long tables alongside Miranda (the business director), Natalie (the team's head), and my new colleagues. On the same table on the next day I sat with other directors and team leads and was able to schedule an interview with them within minutes. This setup promotes collaboration and easy access to discussions. It also harnesses a sense of collaboration and support beyond hierarchies. Being physically present in this open environment allowed me actively to engage in conversations, observe ongoing discussions, and receive immediate responses to my inquiries. What better setting could I had for my Transdisciplinarity based research?
SYHA's Culture and my Research Secondment
Understanding SYHA's core values and culture assured me that I am in a fitting workplace aligned with my research. Their belief in enabling individuals to settle into a welcoming home, live well, and achieve their full potential resonated deeply with the core motivation behind my research on Health and Wellbeing. My study aims to incorporate Life Cycle Costing into the design stages to prioritize the health and well-being of residents. Working in an environment that not only embraced meaningful slogans but also genuinely believed in and implemented them proved to be an invaluable experience for me.
As part of my Marie-Curie research project, I embarked on a three-month secondment with SYHA's Development and Asset Management team, under the guidance of Natalie Newman, the head of the team, who served as my secondment supervisor. Throughout our discussions, she openly shared her opinions, provided critiques, offered feedback, and provided guidance in approaching individuals and gathering necessary data. Likewise, my regular supervisor, Matteo Martini, supported, encouraged, and ensured my seamless integration within SYHA.
The knowledge and insights I gained during these three months at SYHA would have taken years to acquire independently. The colleagues at SYHA, with whom I discussed my topic, showed great enthusiasm and generously answered any doubts I had. They also expressed their willingness to continue supporting my research even after the end of the secondment.
By the end of secondment and being part of an association working hard to realize this culture, I felt hopeful and now eagerly look forward to contributing to the day when the belief in the Right to Beauty and Joy becomes the normal for all humans and for the betterment of our planet.
More interesting readings:
How SYHA started and the influence of Cathy Come Home movie
SYHA's history and the founders mission and vision.
A beautiful low-maintenance landscapes of Pictorial meadows.
How did SYHA communicate their business purpose through their workplace design.
93ft sharing SYHA's interior design.
Related case studies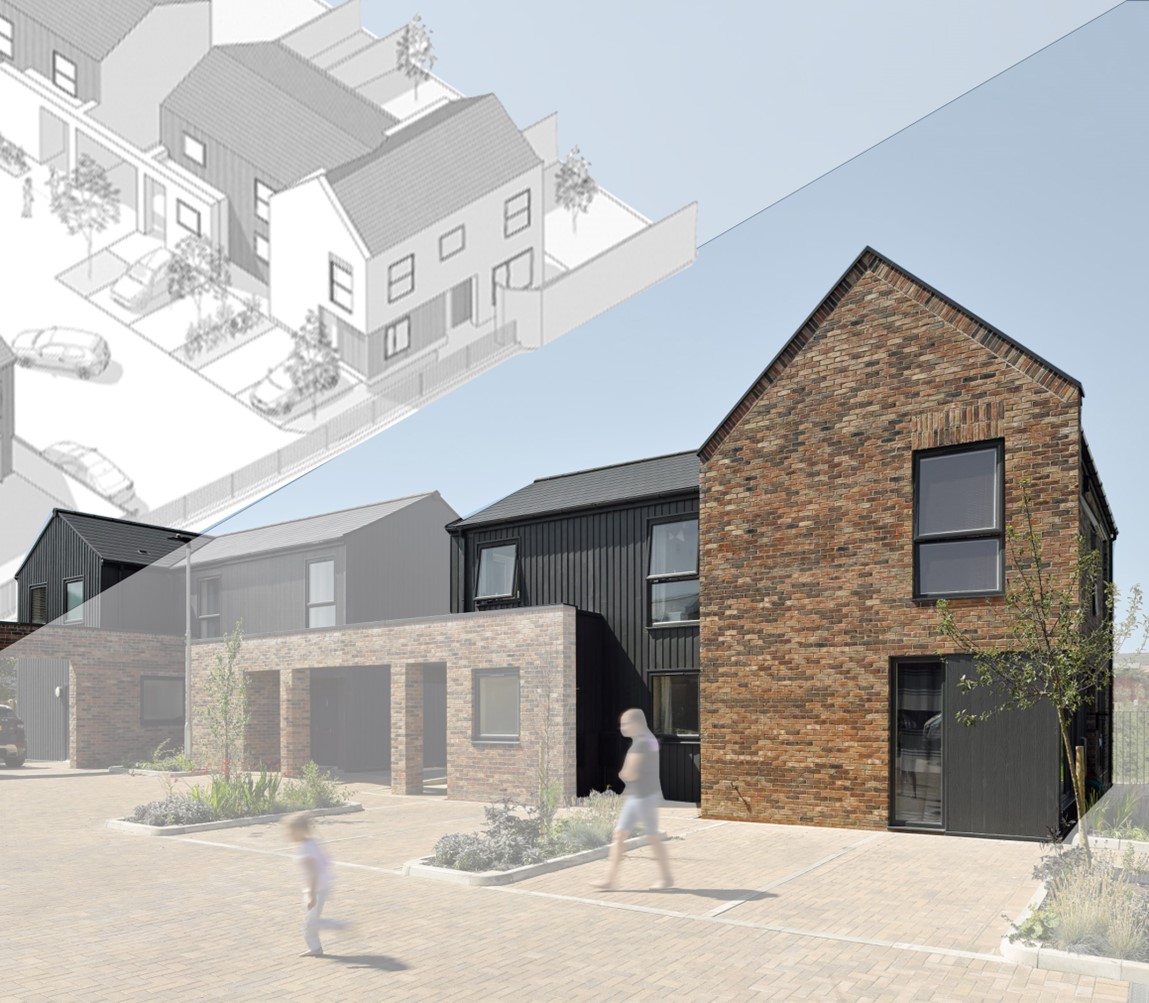 North Wingfield Road social housing complex.
Created on 25-11-2022
a) Design philosophy According to the Housing Design Awards, the design of the North Wingfield project took a contemporary design approach, combining the features of local vernacular architecture - as adopted from local farms - with the developer's vision and requirements for flexible, sustainable and innovative housing (HDA, 2021). The architectural office DK -Architects explains that this fusion is represented by massing the morphology of the project, traditional architectural elements (e.g. Dreadnought brick (roof), Janinhoff brick (walls)) with modern elements such as large glazing and aluminium cladding. This combination of materials not only provides an aesthetically pleasing appearance, but also helps to capture heat, ultimately reducing heating energy consumption for at least seven months of the year (DK-A, 2021). In addition, several innovative features have been adapted, including the well-planned use of space and the clear conceptual plans that extends beyond the interior spaces to the shared courtyard, which serves as a social gathering place for the tenants. The inspiration for the courtyard was derived from the local identity, the farmstead and the crew yard (HDA, 2021). At the same time, the use of a see-through fence, which extends the sightline into the rural surroundings, provides a calming splash of green colour in each residential unit. The semi-raised upper massing extends the courtyard and provides a semi-enclosed space that enhances the feeling of safety and security (DK-A, 2021). Meanwhile, the buildings in the front row clearly stand out from the surrounding buildings through the use of colours and materials and also serve as an entrance gate to the project (DK-A, 2021; HDA, 2021). Each dwelling has its own mini agricultural space, which has proven valuable for the well-being of the residents. b) Construction process The skeleton of the building utilises an off-site timber frame method of construction, adopting a semi-modular design principle (Davies & Jokiniemi, 2008). This construction method provides a structure with a superior thermal envelope that requires minimal maintenance and is a 'fit-and-forget' solution for the lifetime of the building. In addition, both labour and material costs were significantly reduced due to less reliance on craftsmanship and multiple suppliers. This is in line with the UK government plans to revamp construction regulations to encourage bold, creative and sustainable construction methods (Davies & Jokiniemi, 2008; Sterjova, 2017). The construction process started with ground treatment, followed by the casting of the foundations on site. Meanwhile, the timber frames were manufactured off-site at the supplier's factory, which helped to reduce construction work and thus carbon emissions. The frames were then transported to the site for fixing and external treatment, and all the construction work ran in parallel (Wheatley, 2020). The overall process can be seen in Figure 1. c) Sustainability integration At the sustainability level, the project worked on several areas to maximise the adaptation of sustainability features and minimise the impact on the natural environment (HDA, 2021). Creating sustainable buildings Through sustainable design and layout (e.g. orientation, maximising daylight, optimising solar gain). Creating high quality outdoor environments (e.g. public and private open spaces that provide shade and shelter and consider flood retention and multi-functional green spaces to protect wildlife). Use of sustainable water management techniques (e.g. use of sustainable drainage systems and consideration of surface water run-off). Use of sustainable waste management facilities for private and communal use (through the appropriate provision of waste and recycling bins). Focus on reducing the use of non-renewable energy. Reduction of carbon emissions The project has been designed in accordance with the highest level of building regulations and sustainability standards, in line with the Government's 10-year timetable for all new homes to be carbon neutral by 2016. Water recycling techniques (such as grey water and rainwater harvesting). Sustainable Transport (reducing reliance on the private car, incorporating practical and accessible sustainable transport patterns). d) Energy performance One of the tools to assess building energy efficiency in the UK is the Energy Performance Certificate (EPC), which is defined by the Department for Levelling Up, Housing and Communities as: A rating scheme that summarises the energy efficiency of buildings; it includes a certificate that gives a property an energy efficiency rating from A (most efficient) to G (least efficient) and is valid for 10 years (DLUHC, 2014). The EPC is produced using the Standard Assessment Procedure (SAP), which is defined by the Department for Business, Energy & Industrial Strategy as follows: The method used to assess and compare the energy and environmental performance of properties in the UK [...] it uses detailed information about the property's construction to calculate energy performance (DBEIS, 2013). The North Wingfield project has successfully achieved a (B) rating - equivalent to 84 out of a maximum possible 100 points with a high potential for an (A) rating equivalent to 95 points (DLUHC, 2021). This score is the result of The use of high-performance materials with very good thermal transmittance properties (walls: 0.20 W/m²K, roof: 0.11 W/m²K, floor: 0.09 W/m²K). Well-designed ventilation system that achieves a good air tightness indicator (air permeability 4.9 m³/h.m²). Low consumption of primary energy of 94 kWh/m2. Another indicator is the Environmental Impact Score (EIS), which shows the impact of a building on the environment through the estimated carbon dioxide (CO2) emissions calculated at the time of the EPC assessment (DLUHC, 2014). The higher the score, the lower the building's impact on the environment: like EPC labels, the environmental impact score is graded from A to G (DBEIS, 2014). The project generates 1.4 tonnes of CO2 annually. This is less than a quarter of the 6 tonnes emitted by an average household. By improving the EIS rating to A, CO2 production will be reduced to 0.3 tonnes, which will distinguish the project as one of the most environmentally friendly projects (DLUHC, 2021). Figure 2 shows the EPC and EIS breakdowns of the properties.
Publications
Elghandour, A. (2023, June). Affordability-led decisions impacting households' health and economic wellbeing - A transdisciplinary perspective. In Schweiker, M. et al. (Eds.), Proceedings of Healthy Buildings 2023 Europe (pp. 482-484). Aachen, Germany.
Posted on 11-06-2023