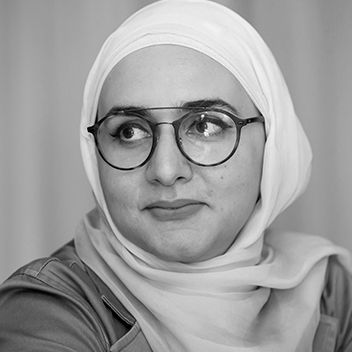 Aya is an architect, teaching assistant, and early-stage researcher with a Master of Science in architecture from Port Said University (PSU), Egypt. Her MSc focussed on computational design to support decision-making using performance-based parametric design strategies to promote buildings sustainability. The thesis proposed application using visual coding was published in Building Simulation and Optimization Conference (BSO) 2016 held in Newcastle University, UK.

Aya was offered a tenure track position right after her graduation in the Architecture and Urban Planning Department in the Faculty of Engineering, PSU, Egypt. After obtaining her MSc, she was promoted to be a teaching assistant for undergraduate courses that included designing housing projects and residential neighborhoods. As an architect, she started in 2008, since being an undergraduate in Egypt, to design housing, social buildings, and some Landscape projects.

In Portugal, Aya joined an AEC company based in Lisbon, where she carried out housing, commercial and industrial facilities projects using Building Information Modelling (BIM) for schematic design and execution purposes. This was following the company's and her interest in experimenting parametric techniques and facilitating multidisciplinary teamwork. Therefore, her current research interest aims to explore market-friendly strategies towards affordable and sustainable housing using Lifecycle Cost Analysis (LCCA) and BIM.
Housing affordability and housing quality are two key facets that influence social housing provision. The first is concerned with the overall cost of having and maintaining a house without adding unwanted financial pressure which may lead to psychological burdens on households. On the other hand, housing quality is pertinent to providing a pleasant, healthy, durable, and safe indoor and outdoor built environment, which in return rises housing costs. In this respect to measure housing affordability, Life Cycle Cost Analysis (LCCA) can be used as an economic analysis method to estimate the overall cost of building alternatives starting from the design, construction, operation, till its disposal phase. Therefore, housing alternatives with the lowest overall cost, and in line with quality, can be identified from early design stages where the most influential building decisions are made.
While LCCA is crucial in selecting the optimum housing alternative, it, however, increases the design complexity. For instance, estimating energy consumption, which occupies the largest portion of buildings' LCC, involves the use of various computational tools and requires reliable data that might not be available. In addition, from a social perspective, assessing housing quality and its LCC based on post-occupancy social feedback, is still limited. Accordingly, there is a real need to transform occupants' feedback and their potential role in energy saving into useful data to support design teams. In practice, Building Information Modelling (BIM) allows storing and managing all building data in a single platform. Thus, it has the potential of conducting LCCA and accessing real-time data from completed buildings. However, there is a present lag in providing an applicable feedback loop to inform design teams with this reliable data. Moreover, there is a dearth of research that integrates LCCA and social dimensions into BIM.
Therefore, this PhD aims to develop a market-friendly framework that achieves this integration to reduce the total LCC and inform the design based on occupants' real needs. The study will adopt a mixed approach of quantitative and qualitative research methods. A taxonomy of literature will be conducted to explore LCCA and social assessment methodologies, parameters, and optimization goals that are adequate for BIM to inform the design of the framework. This framework will be developed following four phases of fieldwork consisting of surveys, interviews, a co-design event with stakeholders and residents, as well as simulation-based comparative analysis of real social housing case studies. As a result, the study will be able to classify and prioritize the most efficient data to be utilized for BIM models. Finally, the framework applicability will be tested for a social housing unit. Therefore, the study is expected to enable informed economic and social-based decision-making from early design stages using BIM to promote housing sustainability and improve affordability.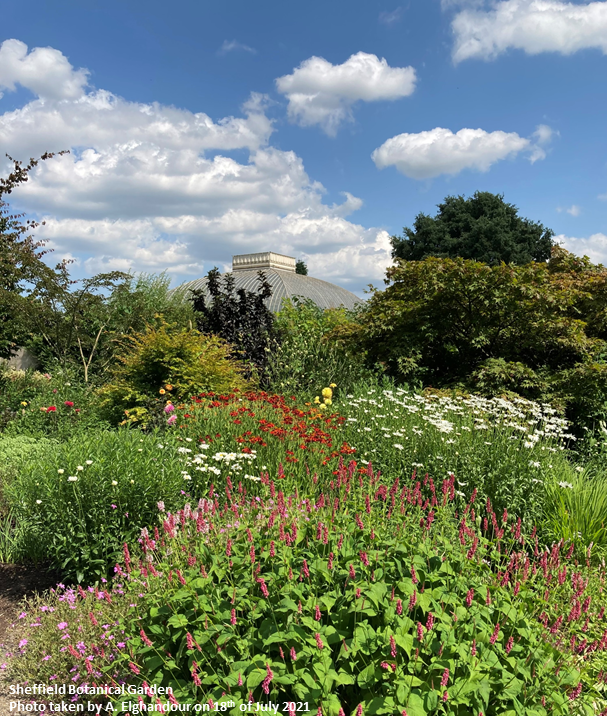 Kick-off a sense of unity out of us being different!
Posted on 15-07-2021
Togetherness, belonging, a sense of comfort and connection plus an increased sense of responsibility towards the position I am assigned, are the cocktail of feelings I had by the end of the kick-off sessions. I should have kept that till the end of my blog, but I could not because now I want to lightly share with you how it started! Hoping you enjoy it as I did. Hi! What are you going to talk about Aya? Ops! Yes, let me give you a hint. We are 15 young ambitious researchers (we are called ESRs Early-Stage Researchers) who have been selected for 15 research projects for Re-Dwell to investigate the affordability and sustainability of social housing in Europe and to conduct our PhD degree by the end of it! So, we have two jobs in one. We had 4 days of Kick-off sessions to introduce the young researcher, their supervisors, and the project partners to each other. And to inform us about how the workflow is going to be. Before it starts ... To be appointed for a position for the Re-Dwell Research Project was a very international competitive process that I went through. That is why I was over the moon when I was selected to be ESR 4. So, I know my colleagues and all the attendees will be 'la crème de la crème' in the field and we are going to be enriching each other experience. Before the sessions start, I was curious, excited, and nervous at the same time. For me, it felt like it is my first day of work although it was not. Let's know each other and have a little discussion! The sessions started with a 2-minute recorded video by each ESR. Each one has his own unique character, his own different story, and life timeline. It was reflected in how each of us presented himself. we were all amazing! Then the supervisors shared with us their interests in research and life. The insights that captured my attention the most were the ones related to empathy, compassion, and the co-creation approach to integrating residents in the decision-making of their housing design and policies. Then came the fun part to use Miro Board for the first time for almost all the ESRs! It is an online platform that allows all of us to draw charts and graphs together. We were more than 40 participants in the session, and we all used it at the same time to discover the affinities between us. There were quite a lot of them even though we are all from different parts of the world! The sessions were well designed to be interfered with lots of interactive activities for the ESRs to talk with each other. It was a really good strategy to make us discuss ideas, opinions, and share our different perceptions of the 3 main key terms of this project: Sustainability, Affordability, and Transdisciplinary. We were asked to create mind maps for each term and each ESR will be working with different ESRs for each term. In the beginning, we were confused and wondering what to do for the first couple of minutes but then the conversation started, and the ideas flew and filled the Miro Board with mind maps. Our transdisciplinarity! The term 'Transdisciplinarity' was the most interesting for me to discuss in the sessions as it is relatively new for me. It is a form of research that we are going to adopt in our research projects where different disciplines are crossing the boundaries of each other to find new solutions for complex problems. We are coming from different fields of expertise and educational background. In our case, affordability and sustainability are the two conflicting sides of the housing equation and our real challenge is to find a profound balance. Finally, my mixed feelings moved to the calmer side! After the sessions and meeting all the participants involved, and feeling their enthusiasm, I felt calmer, happier, and much more excited to go through this interesting mysterious journey with the 'la crème de la crème' team to discover innovatively affordable, and sustainable housing solutions. It is not going to be easy! it is going to be a ton of work. After explaining to us the workflow of the whole Re-Dwell project, I felt there will be no time for anything else. That is why after these 4 sessions and realizing the 2 in 1 job I have now, I called my husband and told him 'hmmm, I do not think I am going to be able to cook anything for the next 3 years, we will miss my cooking!'. I was joking with him but for sure I need to search as a researcher for other mom researchers to learn their secrets! In the end, I remember when Professor Leandro Madrazo, our Re-Dwell Project Coordinator, gave us a speech before our last interview to be selected or not for this position, he told us 'I wish you all the best, this opportunity is going to change your life!'. It is true! I knew it, I believed it and I am blessed to be now living it. It is the perfect challenge to extract together our best for the world. This is the first time in my life to write a blog! I hope you enjoyed it! See you soon in the next one! Thank you! Bye!