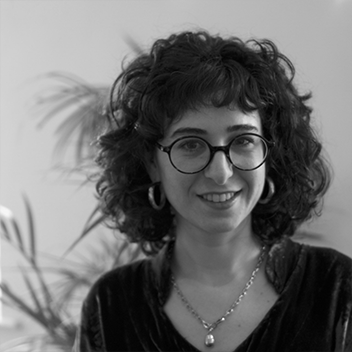 Saskia Furman is an Architect with an avid interest in social and environmental sustainability. Her range of practical experience includes residential, listed buildings, community buildings and low-carbon retrofit of existing homes, contributing to the ongoing European funded project, Homes As Energy Systems (HAES). She continues to investigate community-led cooperative housing design through her collaboration with the Greater Manchester Commoners Cooperative (GMCC).

  After completing a Bachelor of Architecture at the Manchester School of Architecture, Saskia studied for a Master of Architecture at Liverpool University, where the investigation into both the pragmatic and societal results of automation led to a new housing typology and the award-winning thesis - Automonument.

  Saskia's international study includes: London workshop How Do We Live?; Hello Wood design-build project Caravanserai, Hungary; Erasmus exchange, Germany; and investigation into the social, political and cultural context of the Inhotim Institute, Minas Gerais, Brazil, where she immersed herself in Brazilian culture and language. Based in Barcelona, she will be investigating how to adapt European social housing stock to meet the needs of modern and emerging households. 
March, 18, 2022
September, 15, 2021
Upgrading social housing to meet the socio-economic needs of today's dwellers, and the environmental needs of the planet: A framework beyond retrofit.
Despite the disparity between their meanings the term social housing is often used synonymously with affordable housing. Alongside the increased commodification of housing, this shift in language has facilitated a wider paradigm shift away from the welfare state and towards individualism. The project will discuss the sustainable upgrading of existing social housing stock – initially built as state-provided housing for different groups – in line with current sustainability targets including the triple bottom line of sustainability: social, environmental, and economic.

Increased resident satisfaction is a vital agenda for sustainable social housing renovation, and a multidimensional challenge: social, economic, and environmental. The socio-economic characteristics of social housing dwellers, the surrounding infrastructure including access to amenities and transport, and building energy performance, all converge to impact satisfaction with quality of life.

The necessity to low carbon retrofit housing is a widely accepted agenda throughout the construction industry, policy, and beyond. Retrofit schemes such as the EU's Renovation Wave aim to combat climate change and assist in the post COVID-19 economic recovery by creating jobs. However, a major obstacle for all housing providers outside the luxury market remains: how to complete retrofit while maintaining affordability?

Commodification of housing has facilitated the migration of social housing over to the private sector, leaving mixed-tenure 'pepper-pot' buildings that make retrofit decisions difficult to agree. Meanwhile, the current state of affordable housing is not affordable for all socio-economic groups. Whilst we are currently transitioning to low carbon housing, the large scale retrofit of residential building stock must defend the need to house people in homes they can 'afford', rather than upgrading existing social housing stock and selling it to the private market. Housing associations, local authorities, large housing providers and other stakeholders need to be convinced that large scale retrofit is a necessary economic decision that will facilitate a long-term return-on-investment through lower maintenance costs, reduced crime rates, positive educational outcomes, and increased mental and physical health and wellbeing. Long term affordability must be considered throughout the renovation to deter gentrification.

The objective of this research is to develop a matrix for mid- to large-scale housing renovation to deliver affordable and sustainable housing. Organised under broad categories, including urbanity, sustainability, social, connectivity and more, the framework will identify key issues to be improved, such as the building envelope, internal layout, social mix, safety, and energy efficiency. I will then analyse and inform the set of criteria against several case studies and precedents to assess the successes and failures of existing social housing stock. Chosen precedents for investigation will be partly renovated post-war European social housing. Deeper case studies will be identified alongside consultations with INCASÒL and Housing Europe to determine an optimal set of criteria and provide rich data sets for further analysis during secondments; these include post occupancy evaluation, energy performance data, and access to stakeholders for interview.

The following questions will be addressed during case study analysis: How long should evaluation of each case study take place? What problems were identified by renovations and how were solutions found? What did the renovators want to achieve? How do the renovations align with sustainability agendas such as the SDG's? How has renovation impacted residents' lives, post occupancy?

From the results of the matrix, I will originate a comprehensive multi-criteria framework that suggests what renovations should occur, why they should occur, and identify the multiple actors and stakeholders that will benefit, along with a best practice guide for easily digestible information.
Reference documents

Research Plan Diagram and Summary
View
Adapting European Social Housing to meet the Socio-Economic needs of Today's Dwellers, and the Environmental needs of the Planet: A Framework for Renovation
Despite the disparity between their meanings the term social housing is often used synonymously with affordable housing. The project will discuss the upgrading of existing social housing stock – initially built as state-provided housing for different groups – to affordable (still a contested term) and sustainable housing, in accordance with the current Sustainable Development Goals (SDG's)
When renovating existing social housing we must address the socio-economic characteristics of today's dwellers, the surrounding infrastructure, and energy efficiency standards.
The objective of this research is to develop a matrix encompassing the multiple dimensions and issues to consider in a mid- to large-scale renovation programme. Organised under broad categories, including urbanity, sustainability, social, connectivity and more, the framework will identify key issues to be improved, such as the building envelope, internal layout, social mix, safety, and energy efficiency. I will then analyse the set of criteria against a number of case studies to assess the successes of existing social housing stock and areas to be improved. The chosen case studies will be post-war European social housing that has been partly renovated since construction. Consultations with INCASÒL will help determine an optimal set of criteria, as well as provide a rich data set for further analysis during my secondment.
The following questions will be addressed during case study analysis: How long should evaluation of each case study take place? What problems were identified by renovations and how were solutions found? What did the renovators want to achieve? How do the renovations align with the SDG's?
From the results of the matrix I will originate a comprehensive multi-criteria framework that suggests what renovations should occur, why they should occur, and identify the multiple actors and stakeholders that will benefit.
Reference documents

Leinefelde Haus 07, Germany. Retrofit by Stefan Forster Architekten
View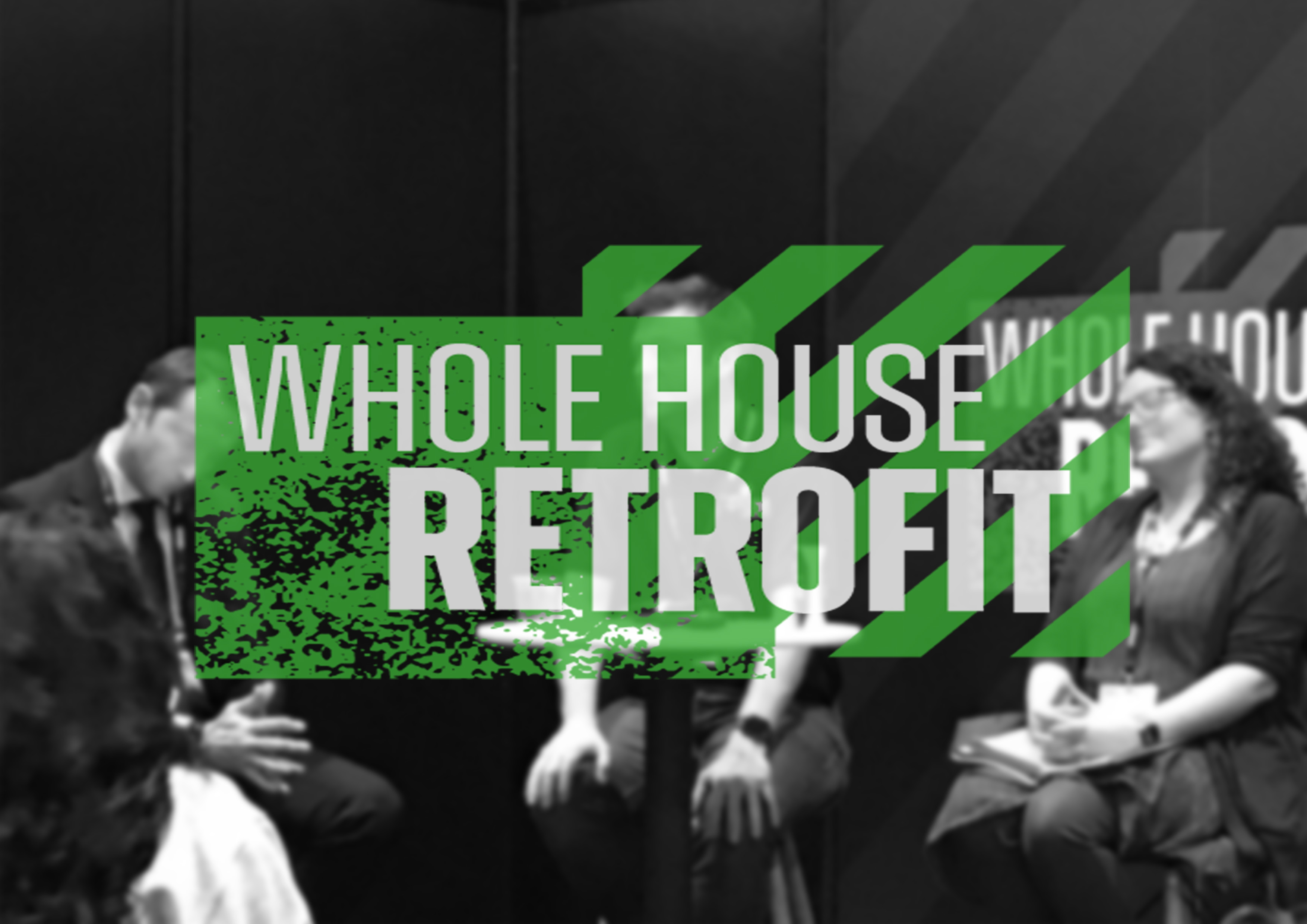 Bridging the Retrofit Gap: Climate, Culture, and Infrastructure | Future Build 2022 | International Women's Day
Posted on 08-03-2022
Future Build 2022 in London was an inspiring event. While the majority of discussion concerned homeownership tenures, the wealth of expertise available reminded me why housing retrofit is a vital and worthy goal. I was reminded of why my research project to retrofit social housing is an urgent modern problem. Interestingly, there was a noticeable divide between speakers promoting social value in retrofit (mostly women) and purely technical solutions to decarbonising homes (predominantly men). One of the few mixed-gender panels I attended was the Big Debate: Should we use RdSAP (Reduced Data Standard Assessment Procedure) in retrofit? Andrew Parkin of Stroma said yes, RdSAP is historical and therefore has a plethora of past data for comparison. It is also future proof; an API (application programming interface) with the BRE Group's 'Appendix Q database' is being developed to migrate external information and data sets into RdSAP. Marion Lloyd-Jones for Manchester Co-op 'People Powered Retrofit' said no, strongly arguing that: retrofit should be for the people with a focus on heat loss reduction, and that local knowledge should be amplified because EPC ratings are simply incomparable between varying regional climates. I am writing this post on International Women's Day. A day that should serve as a reminder that: women are still not paid equally; domestic and sexual violence, which disproportionately affects women, has increased during the covid-19 pandemic; and women remain responsible for the majority of domestic labour. The world of retrofit and decarbonisation must remember that social value is as important to sustainability as energy efficiency. Social retrofit should be encouraged in tandem with environmental retrofit in order to sustain the health and wellbeing of both the people and the planet. Here are my major takeaways: Climate The Intergovernmental Panel on Climate Change (IPCC) report cemented the UKs carbon target to limit global warming to below 1.5°C, fuelling the Net Zero Strategy – a net zero target by 2050. The National Retrofit Strategy by the Construction Leadership Council (CLC) modelled the work required to retrofit the nation's homes by 2040, a decade earlier than government targets. We can and SHOULD speed up the green transition – particularly in the midst of the current fuel crisis exacerbated by the conflict in Ukraine. "Decarbonising Homes" was a widely used slogan at Future Build, used to promote technical solutions to retrofit. Air source heat pumps were frequently discussed, a questionable cure-all solution, gaining popularity. Culture Skill shortages are a huge obstacle to low-carbon retrofitting – no one seems to know what to train people in yet, and in-house retrofit employees are relatively new because employers worry that post-training, they will leave. A possible solution to this is to borrow apprentices from within the construction sector to upskill. The Public Services (Social Value) Act 2012 declares the minimum weighting on all government projects that should be applied to social value is 10%. The Social Housing Decarbonisation Fund has pledged £3.8 billion by 2030. How to access the funds and get residents on board: Have a clear message for social value and EDI (Equality, Diversity, and Inclusion), and get it right! Prepare the project into a 'package' to send with your funding bids. Resident engagement in social housing retrofit should occur at multiple stages: pre-bid, mobilisation, and post occupancy (POE). Engage non-profit organisations to interact with residents, independent from local authorities and housing associations (aka tenants' landlords). Wellbeing outcomes from retrofit and a reduction in fuel poverty include increased physical health, increased mental health, improved educational outcomes, and decreased levels of crime. Quantifying the cost savings of these outcomes on public services such as the NHS could find retrofit leads to a return on investment. Infrastructure Digital Twins are a necessity to improve social housing. Tenants can flag an issue online (accessibility should be maintained by Housing Associations and Local Authorities for those without access to digital twins) and modelling social housing typologies can determine the impact of energy efficiency improvements. Complete dwelling assessments as soon as possible – defects must be fixed before retrofit can begin. While new build development continues to benefit from 20% price reductions, according to Sam Balch – Policy Advisor for the Department of Business, Energy, and Industrial Strategy (BEIS) – VAT exemptions for retrofit remain under consideration. Homes England have updated the Building Regulations (BR) as follows: Part L – 31% reduction in emissions compared to current standards, Part F – increased ventilation in new dwellings, Part O – overheating in new residential buildings, and Part S – electric vehicle charging points. This is in preparation for the introduction of the Future Homes Standard (due 2025). It will demand homes produce at least 75% less carbon emissions than currently allowed under the BR. SAP 10.2 will be released later this year, and RdSAP will consequently improve. The output of SAP is EPC ratings, which are highly controversial, at times unreliable, and often not comparable. But changes are coming to RdSAP including improved air tightness measurements and ventilation risk assessments. I believe RdSAP should produce new sets of comparable outputs alongside EPC ratings. I encountered many illuminating approaches from Future Build – clearly there are overlaps between climate, culture and infrastructure – but these strands should be brought into closer dialogue with one another. My project aims to bridge this gap. References (BEIS) Department for Business, E. & I. S. (2021). Social Housing Decarbonisation Fund: Competition Guidance Notes. Cabinet Office. (2021, March 29). Guidance: Social Value Act: information and resources. GOV.UK. https://www.gov.uk/government/publications/social-value-act-information-and-resources/social-value-act-information-and-resources Department for Levelling Up, Housing and Communities and Ministry of Housing, Communities & Local Government. (2021, December 15). Collection: Approved Documents. GOV.UK. https://www.gov.uk/government/collections/approved-documents IPPC (Intergovernmental Panel on Climate Change). (2021). Climate Change 2021: The Physical Science Basis. In Climate Change 2021: The Physical Science Basis. Contribution of Working Group I to the Sixth Assessment Report of the Intergovernmental Panel on Climate Change.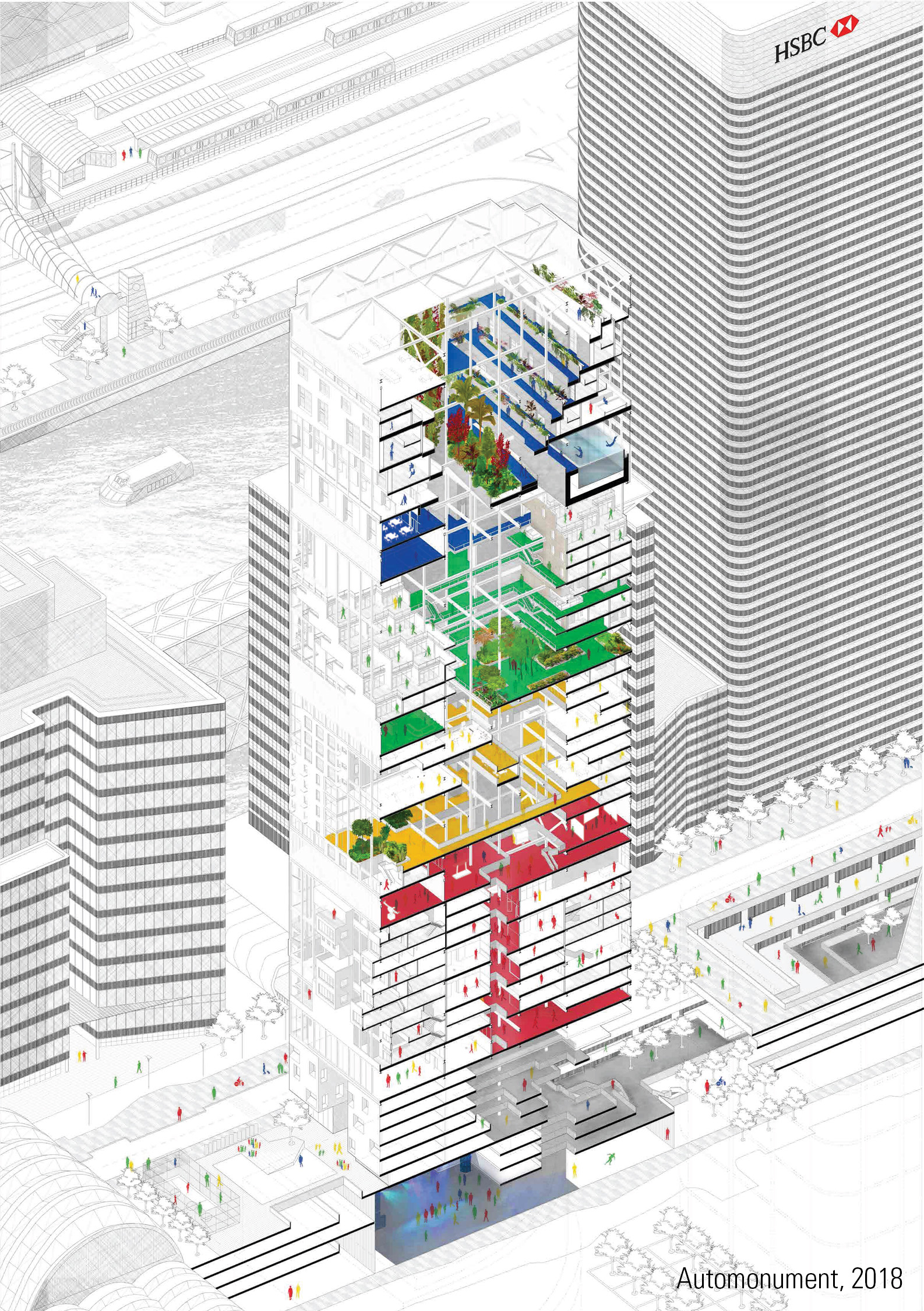 Isolation?
Posted on 26-07-2021
The past few weeks have been some of the most intense, jam-packed and fulfilling of my entire life. Though you may not believe it, during this time I have: completed and passed my final architecture exams, qualifying as an architect after 11 years of study; packed up my home and moved from Manchester to London as a stop-gap on my way to Barcelona; organised a Civil Partnership to my wonderful partner; and started a new job. Honorary mention to the general life admin that comes with moving country and distributing accumulated personal assets (dear plants, I will miss you!*). Anchoring me throughout this madness has been starting work with the RE-DWELL Consortium's Kick-Off Sessions. Although I've had the constant feeling of one foot in the (virtual) room and one foot out of the door, it only took one group Miro exercise into the definitions of affordability, sustainability and transdisciplinarity to know that I have found my tribe. Social housing and the politics that surrounds it have been woven into everything I work towards. One of my previous architecture firm directors actually took me aside one day to disclose to me, "you have too much of a social agenda, you need to change your thinking to become more commercial". I credit this director with pushing me to prove that a social agenda is not un-commercial. Discussing inequality, neoliberalism and financialisation is party talk to me. But during the kick-off sessions, a world-wide network of multi-generational professionals brought new focus to this conversation through concepts including paradigm shift, circular economy, and sustainable indicators, to name a few. As Hannah Arendt once said: "Action…is never possible in isolation; to be isolated is to be deprived of the capacity to act". And isolated we are not! (Government-mandated 10 to 14 days of self-isolation notwithstanding). Thus, as I embark upon a holistic journey, striving for transdisciplinarity with 14 of the most committed young professionals I've come across in my quest for fair and adequate housing for all, guided by a team of supervisors and specialists from our uniquely qualified secondments, I say … watch this space! Long Live the Social Agenda!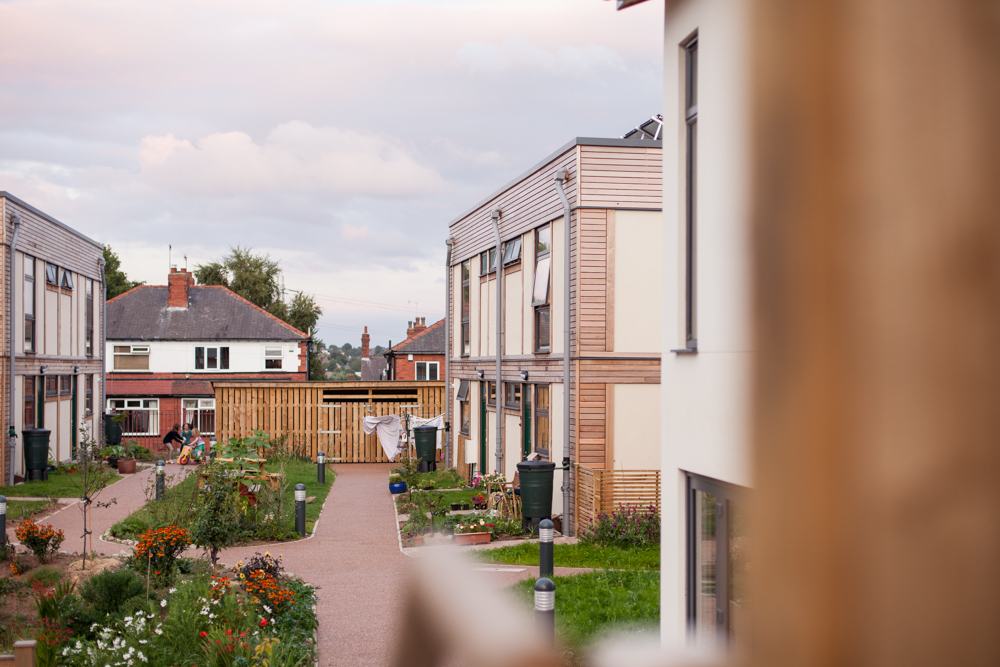 LILAC_Low Impact Living Affordable Community_Leeds
Created on 06-06-2022
Innovative aspects of the housing design/building Based on the Danish co-housing model: mixing private space with shared spaces which encourage social interaction. Green spaces include allotments, pond, a shared garden and a children's play area. Akin to the private self-contained homes, the 'common house' includes a communal workshop, office, post room, food cooperative, kitchen, dining space, social space, bike storage, play area, guest rooms and laundry room. A shared lifestyle, combine resources and amenities, reduces energy use and saves money: shared facilities in the common house include laundry, kitchen, reading area and community area; car sharing; pooling equipment and tools; sharing meals twice a week; growing food in the allotment; and looking for provisions in the local area (LILAC Coop, 2022b; ModCell, n.d.). Construction characteristics, materials, and processes Prefabricated ModCell construction: low carbon timber frame insulated with straw-bale. Residents assisted with labour – adding the straw bale insulation. Finishing: lime render – increasing benefits from passive solar heating through thermal mass, lime plaster interior finishes. Air tightness was prioritised in construction. Triple-glazed windows. Rainwater collection: roof rainwater runs off into water butts, used to water the gardens. Flood prevention: LILAC features a sustainable urban drainage system (SUDS) that feed the central pond. Overspill from the water butts enters a central pond which discharges at a reduced rate, into the public drain. All ground surfaces of the site are permeable. Energy performance characteristics Mechanical solutions: Mechanical Ventilation Heat Recovery Systems (MVHR) in the houses, solar thermal energy collection for space and hot water heating, 1.25kw solar PV array, with an extra 4kw on the common house (LILAC Coop, 2022b). Permaculture design certificate course was integrated into the planning design alongside biodiversity planting. Involvement of users 'Community agreements' cover areas such as pets, food, communal cooking, use of the common house, management of green spaces, equal opportunities, vulnerable adults, the use of white goods, housing allocation and diversity, and garden upkeep (Chatterton, 2013; LILAC, 2021). "MHOS forms the democratic heart of the project" (Chatterton, 2013). All decisions are made democratically, using templates to generate and discuss proposals, explore pros and cons, generate amendments, and ratify decisions (Chatterton, 2013). Funding and ownership The building was financed by a combination of government grant - £420,000 grant from The Homes and Communities Agency under its Low Carbon Investment Fund to experiment with straw construction (ModCell), personal members invested capital, and a long-term mortgage from the ethical bank Triodos (Chatterton, 2013; Lawton & Atkinson, 2019). Equity-based model – Mutual Home Ownership Society (MHOS) MHOS is an equity-based leaseholder approach, where the housing is owned by a cooperative (Chatterton, 2013). Residents purchase shares in the co-operative. The number of shares owned by each member is related in part to their income, and partly according to the size of their property. If someone earn a large income, their house becomes more expensive, but another property thereby becomes cheaper, maintaining affordability. Affordable housing at LILAC is maintained at no more than 35% of net household income should be spent on housing (Chatterton, 2013; LILAC Coop, 2022a). Minimum net income levels were set for each different house size to ensure a 35% equity share rate generates enough income to cover the mortgage repayments (Jenny Pickerill, 2015). The MHOS owns the homes and land and is made up of the residents who also manage LILAC. Members lease and occupy specific houses or flat from the MHOS. In effect, residents are their own landlords. Each member makes monthly payments to the MHOS, who then pays the mortgage – deductions are made for service costs. In 2015, annual household minimum income must be at least £15,000 Relationship to urban environment LILAC is in a highly integrated inner-city locality, located in an urban neighbourhood of Leeds, on a site that was previously a school. Integrating with the wider community in West Leeds, the common house is used for "local meetings, film nights, meals and gatherings, workshops and has been used as the local polling station" (LILAC Coop, 2022b). LILAC has increased residents feeling of empowerment to participate in social action, working within the wider community to explore issues together and work for change. This has included supporting a local community association, local schools and holding charity and music events (LILAC, 2021). Behaviour and wellbeing LILACs community act in the knowledge that an adequate response to climate change and energy reduction takes shifting the way we live, enacting behavioural changes that contribute to a post-carbon transition. Decisions in cohousing are made as a community, rather than the individual consumer or household. LILAC residents report a much higher health satisfaction (from 58% to 76%) and life satisfaction (from 58% to 87%) compared to previous accommodation (LILAC, 2021). Residents reported physical and mental health has improved since moving to the community due to LILAC's "plentiful greenspace, sustainable travel options, better high air quality and natural light in the homes, greater social interaction and opportunities for socialising with neighbours" (LILAC, 2021). Further benefits of LILAC as a cohousing scheme: increased safety and wellbeing, natural surveillance and support for the elderly, reduced car numbers combined with car separation and car-free home zones to increase safety as well as reducing carbon emissions related to car use (Chatterton, 2013).
Area: Design, planning and building
Buildings are responsible for approximately 40% of energy consumption and 36% of carbon emissions in the EU (European Commission, 2021). Environmental retrofit, green retrofit or low carbon retrofits of existing homes ais to upgrade housing infrastructure, increase energy efficiency, reduce carbon emissions, tackle fuel poverty, and improve comfort, convenience and aesthetics (Karvonen, 2013). It is widely acknowledged that environmental retrofit should result in a reduction of carbon emissions by at least 60% in order to stabilise atmospheric carbon concentration and mitigate climate change (Fawcett, 2014; Johnston et al., 2005). Worldwide retrofit schemes such as RetrofitWorks, EnerPHit and the EU's Renovation Wave, use varying metrics to define low carbon retrofit, but their universally adopted focus has been on end-point performance targets (Fawcett, 2014). This fabric-first approach to retrofit prioritises improvements to the building fabric through: increased thermal insulation and airtightness; improving the efficiency of systems such as heating, lighting and electrical appliances; and the installation of renewables such as photovoltaics (Institute for Sustainability & UCL Energy Institute, 2012). The whole-house systems approach to retrofit further considers the interaction between the occupant, the building site, climate, and other elements or components of a building (Institute for Sustainability & UCL Energy Institute, 2012). In this way, the building becomes an energy system with interdependent parts that strongly affect one another, and energy performance is considered a result of the whole system activity. From an economic perspective, retrofit costs are one-off expenses that negatively impact homeowners and landlords, but reduce energy costs for occupants over the long run. Investment in housing retrofit, ultimately a form of asset enhancing, produces an energy premium attached to the property. In the case of the rental market, retrofit expenses create a split incentive whereby the landlord incurs the costs but the energy savings are enjoyed by the tenant (Fuerst et al., 2020). The existence of energy premiums has been widely researched across various housing markets following Rosen's hedonic pricing model. In the UK, the findings of Fuerst et al. (2015) showed the positive effect of energy efficiency over price among home-buyers, with a price increase of about 5% for dwellings rated A/B compared to those rated D. Cerin et al. (2014) offered similar results for Sweden. In the Netherlands, Brounen and Kok (2011), also identified a 3.7% premium for dwellings with A, B or C ratings using a similar technique. Property premiums offer landlords and owners the possibility to capitalise on their retrofit investment through rent increases or the sale of the property. While property premiums are a way to reconcile split incentives between landlord and renter, value increases pose questions about long-term affordability of retrofitted units, particularly, as real an expected energy savings post-retrofit have been challenging to reconcile (van den Brom et al., 2019). A socio-technical approach to retrofit elaborates on the importance of the occupant. To meet the current needs of inhabitants, retrofit must be socially contextualized and comprehended as a result of cultural practices, collective evolution of know-how, regulations, institutionalized procedures, social norms, technologies and products (Bartiaux et al., 2014). This perspective argues that housing is not a technical construction that can be improved in an economically profitable manner without acknowledging that it's an entity intertwined in people's lives, in which social and personal meaning are embedded. Consequently, energy efficiency and carbon reduction cannot be seen as a merely technical issue. We should understand and consider the relationship that people have developed in their dwellings, through their everyday routines and habits and their long-term domestic activities (Tjørring & Gausset, 2018). Retrofit strategies and initiatives tend to adhere to a 'rational choice' consultation model that encourages individuals to reduce their energy consumption by focusing on the economic savings and environmental benefits through incentive programs, voluntary action and market mechanisms (Karvonen, 2013). This is often criticized as an insufficient and individualist approach, which fails to achieve more widespread systemic changes needed to address the environmental and social challenges of our times (Maller et al., 2012). However, it is important to acknowledge the housing stock as a cultural asset that is embedded in the fabric of everyday lifestyles, communities, and livelihoods (Ravetz, 2008). The rational choice perspective does not consider the different ways that occupants inhabit their homes, how they perceive their consumption, in what ways they interact with the built environment, for what reasons they want to retrofit their houses and which ways make more sense for them, concerning the local context. A community-based approach to domestic retrofit emphasizes the importance of a recursive learning process among experts and occupants to facilitate the co-evolution of the built environment and the communities (Karvonen, 2013). Involving the occupants in the retrofit process and understanding them as "carriers" of social norms, of established routines and know-how, new forms of intervention can emerge that are experimental, flexible and customized to particular locales (Bartiaux et al., 2014). There is an understanding that reconfiguring socio-technical systems on a broad scale will require the participation of occupants to foment empowerment, ownership, and the collective control of the domestic retrofit (Moloney et al., 2010).
Created on 16-02-2022
Read more

->