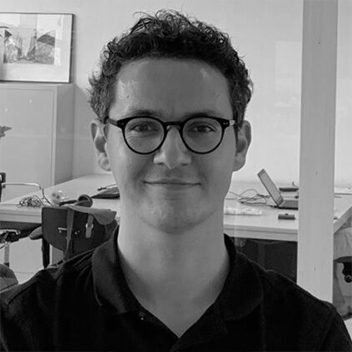 Tijn is a PhD candidate at the Delft University of Technology, where he looks into possible tensions between the environmental sustainability and affordability of European housing, with specific emphasis on the risks for vulnerable groups. He conducts spatial and statistical analysis on large data sets and explores innovative policies through case study research. Prior to his doctoral studies he was a consultant at Springco Urban Analytics, a research and advisory firm based in Rotterdam focused on urban development, real estate, and housing. Tijn received a M.Sc. in Sustainable Cities from King's College London in 2020, where he wrote his dissertation (Best Thesis Award 2020) in the Geocomputation and Spatial Analysis research group under the supervision of Dr Jon Reades. During his Masters Tijn won the Bank of England's annual Technology Competition together with fellow students, developing an idea to digitise debt counselling. In London he also worked as a trainee at the Siemens Centre of Competence for Cities. Prior to this period Tijn received a B.A. in Political Science and M.Sc. in Political Economy from the University of Amsterdam.
The Governance of a Just Housing Transition:
Targeting Disadvantaged Households within the European 'Renovation Wave'
As residential energy consumption constitutes a significant share of Europe's carbon emissions, the European Commission aims to establish a 'Renovation Wave' by incentivising energy efficiency measures and renewable energy sources while discouraging the usage of fossil fuels. However, even though it is generally accepted that this can lower housing expenditure in the long term, policymakers are becoming increasingly concerned about the short-term negative effects that retrofit costs and levies may have on the position of disadvantaged households. This research seeks to provide insight into the effects of sustainability incentives on their ability to afford housing and explores the embeddedness of 'just transition' principles within multilevel housing governance. The overarching principles of recognitional justice, procedural justice and distributional justice will be conceptually deepened and empirically assessed in different housing contexts. To that end, I first intend to determine specific vulnerabilities that arise in this transition by quantitatively assessing microdata. Identifying the characteristics of those households at risk could help to comprehend differences and subsequently design policies that accommodate specific needs. In the following phase I will focus on case studies at different levels of housing governance, looking at the application of just transition principles on different levels, but also evaluating how municipalities, housing associations and other local actors identify inequitable transition outcomes and incorporate fairness within their policies. Besides scientific publications, the project's output will include policy recommendations with guidelines for housing governance actors to address vulnerabilities and deliver a just housing transition.
Lisbon as an all-round learning experience
Posted on 29-09-2021
When trying to contemplate the first RE-DWELL workshop in the Portuguese capital, the first thing that comes to mind is that it was such an all-round learning experience. Not just because our joint programme included round-the-clock activities, but mainly because we touched upon so many different subjects, perspectives and case studies. At one moment a philosophical debate arose about flat ontologies, while seemingly the next moment the practical applicability of Building Information Modeling (BIM) would be the subject of discussion. The more philosophical debate took place during a Roundtable - not pictured on the left, which was a leisurely lunch on our first day - with Professor Clapham (University of Glasgow), Professor Debizet (University Grenoble Alpes), Professor Petrescu (University of Sheffield) and Professor Salama (University of Strathclyde). These renowned academics gave their views on the concept of transdisciplinary research for affordable and sustainable housing, which helped us to grasp the concept even better. But besides a clarification, in a way the speakers also challenged us. As Clapham (2018, p. 176) puts it: "there is scope to design a theory of housing that may be drawn partly from existing concepts that fit the housing context, as well as through the design of concepts that emerge from the specific nature of housing itself. Although the production of a specific, transdisciplinary theory of housing is not practicable at the current state of knowledge, it should be a major priority to derive and test out the specific concepts that are needed to build the theory." This is where the RE-DWELL team should pick up the gauntlet, try to overcome monodisciplinary paradigms, work together to redefine key concepts interdisciplinarily and eventually build these up into universal transdisciplinary knowledge. An important element of a transdisciplinary approach is the integration of non-academic stakeholders, and this first workshop in Lisbon immediately demonstrated how valuable this is. Field visits and guided tours make a research project come alive and inspire you in ways that scientific articles are not capable of. But first and foremost, conversations with practitioners, policymakers and in-house researchers can help ESRs to design their methodology in a way that could truly address societal challenges. A good example is how a municipality official (affiliated with the pioneering BIP/ZIP programme) contested the notions of 'top-down' and 'bottom-up' governance, and explained by means of obvious examples how this dichotomy is not found in practice. These conversations are instrumental in transdisciplinary research and make us all look forward to our secondments even more. Reference Clapham, D. (2018). Housing theory, housing research and housing policy. Housing, Theory and Society, 35(2), 163-177.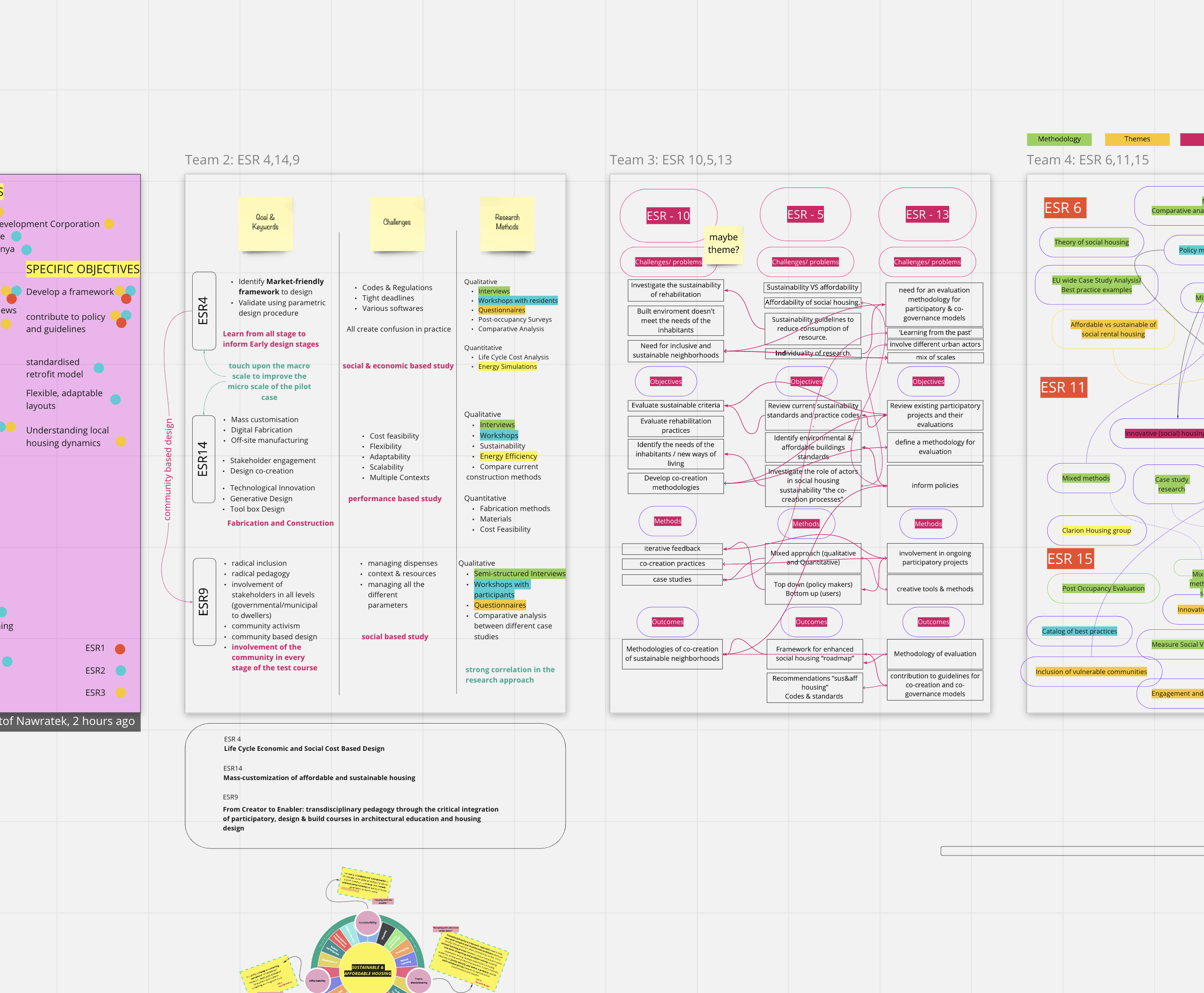 Greater than the sum of its parts
Posted on 21-07-2021
A few weeks into the RE-DWELL adventure, I find myself more optimistic regarding the challenges our societies face than I have been in a long time. Having to deal with both a climate crisis as well as a housing crisis at the same time can be quite daunting, especially when time is so short. But getting to know talented and dedicated peers, learning from their personal beliefs and disciplinary perspectives while thinking out loud about research opportunities really cheers you up! The kick-off sessions helped us to draw connections between each other and between the research scopes we envision. I really liked how the break-out rooms enabled us to have discussions in smaller groups, as this gave the sessions a personal and informal setting. And one look at the Miro boards will tell you that even when the issues at stake may sometimes feel fragmented, the opposite is true. We are all focusing on different elements of Affordable & Sustainable Housing but if we collaborate well the pieces of the puzzle will all fall together nicely. I genuinely believe the RE-DWELL community is in a unique position to contribute to a better understanding of the way forward, because messy and complex real-world problems call for a holistic approach. In that, I must give it to my old pal Aristotle, the whole could indeed be greater than the sum of its parts.