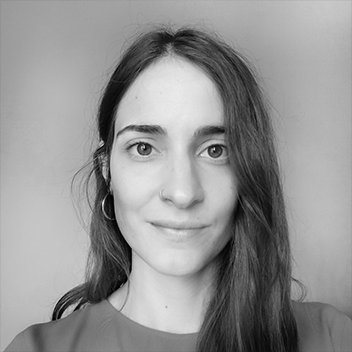 Androniki is an Architect, licensed from the Technical Chamber of Greece, with international professional experience. She holds a diploma in Architecture from the University of Patras, Greece (2016) and an MA in Architecture and Historic Urban Environments from the Bartlett School of Architecture, UCL (2019).

She has collaborated with several international studios, gaining professional experience in diverse projects including architectural and interior design, landscape and urban scale projects and masterplans, as well as policy and guideline reports. She has also worked as a researcher in the Hellenic Institute of Architecture and recently as a teaching assistant at the Master in City and Technology, IAAC.

Her research incentives relate to interdisciplinary methodologies towards the concept of participatory planning and engaging urbanism in heritage, working across architecture, art installation, model making, film, ethnography and social history. She has also actively participated in exhibitions, lectures, workshops and conferences as an organizer, researcher and volunteer.
Threshold
Posted on 18-07-2021
Through the juxtaposition of things that were not normally found together, new irruptive truths are produced. (Benjamin, 1999) Walter Benjamin's idea contextualised in the production of knowledge, has been in my mind for years, as a new way to engage with inquiry, research and lately life. Even before being accepted to participate in the exciting RE-Dwell ITN, when I could only dream of it, I was seeking ways to reposition and redefine myself in line with this idea. I honestly couldn't imagine what a great opportunity would be eventually given to me through RE-DWELL's multi-disciplinary network of people and activities. The moment of truth came with the 4-day Kick-off session, in which I was exposed for the first time in this juxtaposition with a number of incredibly talented researchers, supervisors and collaborators, coming from different countries, backgrounds, cultures and interests. And beyond any personal insecurity, stress or awkwardness the truth was rewarding; 4 days of seeking for connections, rich discussions, interesting definitions of the same concepts from different angles, overcoming any limitations that the new virtual operations bring. Yet it was not in the amazing conversations and collaborations, the knowledge sharing, the multi-level engagement and many more that I find the success of this Kick-off session. Most significantly, it acted as a threshold, establishing the transition from the individual to the collective, providing the invaluable feeling that no one will be alone within this demanding yet exciting journey. It provided a sense of belonging and the formation of a community, in which all of us will have a foot on to share ideas, concerns and questions, in parallel to our individual research. My inherent belief in this community makes my heart full of excitement for what follows! ---------------------------- Benjamin, Walter. 1999. The Arcades Project. conv. N2,1, trans. Howard Eiland and Kevin McLaughlin. Cambridge: Harvard University Press. 460.