Affordability
Area: Design, planning and building
Affordability is defined as the state of being cheap enough for people to be able to buy (Combley, 2011). Applied to housing, affordability, housing unaffordability and the mounting housing affordability crisis, are concepts that have come to the fore, especially in the contexts of free-market economies and housing systems led by private initiatives, due to the spiralling house prices that residents of major urban agglomerations across the world have experienced in recent years (Galster & Ok Lee, 2021). Notwithstanding, the seeming simplicity of the concept, the definition of housing affordability can vary depending on the context and approach to the issue, rendering its applicability in practice difficult. Likewise, its measurement implies a multidimensional and multi-disciplinary lens (Haffner & Hulse, 2021).
One definition widely referred to of housing affordability is the one provided by Maclennan and Williams (1990, p.9): "'Affordability' is concerned with securing some given standard of housing (or different standards) at a price or a rent which does not impose, in the eyes of some third party (usually government) an unreasonable burden on household incomes". Hence, the maximum expenditure a household should pay for housing is no more than 30% of its income (Paris, 2006). Otherwise, housing is deemed unaffordable. This measure of affordability reduces a complex issue to a simple calculation of the rent-to-income ratio or house-price-to-income ratio. In reality, a plethora of variables can affect affordability and should be considered when assessing it holistically, especially when judging what is acceptable or not in the context of specific individual and societal norms (see Haffner & Hulse, 2021; Hancock, 1993). Other approaches to measure housing affordability consider how much 'non-housing' expenditures are unattended after paying for housing. Whether this residual income is not sufficient to adequately cover other household's needs, then there is an affordability problem (Stone, 2006). These approaches also distinguish between "purchase affordability" (the ability to borrow funds to purchase a house) and "repayment affordability" (the ability to afford housing finance repayments) (Bieri, 2014).
Furthermore, housing production and, ultimately affordability, rely upon demand and supply factors that affect both the developers and home buyers. On the supply side, aspects such as the cost of land, high construction costs, stiff land-use regulations, and zoning codes have a crucial role in determining the ultimate price of housing (Paris, 2006). Likewise, on the policy side, insufficient government subsidies and lengthy approval processes may deter smaller developers from embarking on new projects. On the other hand, the demand for affordable housing keeps increasing alongside the prices, which remain high, as a consequence of the, sometimes deliberate incapacity of the construction
sector to meet the consumers' needs (Halligan, 2021). Similarly, the difficulty of decreasing household expenditures while increasing incomes exacerbates the unaffordability of housing (Anacker, 2019). In the end, as more recent scholarship has pointed out (see Haffner & Hulse, 2021; Mulliner & Maliene, 2014), the issue of housing affordability has complex implications that go beyond the purely economic or financial ones. The authors argue that it has a direct impact on the quality of life and well-being of the affected and their relationship with the city, and thus, it requires a multidimensional assessment. Urban and spatial inequalities in the access to city services and resources, gentrification, segregation, fuel and commuting poverty, and suburbanisation are amongst its most notorious consequences.
Brysch and Czischke, for example, found through a comparative analysis of 16 collaborative housing projects in Europe that affordability was increased by "strategic design decisions and self-organised activities aiming to reduce building costs" (2021, p.18). This demonstrates that there is a great potential for design and urban planning tools and mechanisms to contribute to the generation of innovative solutions to enable housing affordability considering all the dimensions involved, i.e., spatial, urban, social and economic. Examples range from public-private partnerships, new materials and building techniques, alternative housing schemes and tenure models (e.g., cohousing, housing cooperatives, Community Land Trusts, 'Baugruppen'), to efficient interior design, (e.g., flexible design, design by layers[1]). Considering affordability from a design point of view can activate different levers to catalyse and bring forward housing solutions for cities; and stakeholders such as socially engaged real estate developers, policymakers, and municipal authorities have a decisive stake in creating an adequate environment for fostering, producing and delivering sustainable and affordable housing.
[1] (see Brand, 1995; Schneider & Till, 2007)
References
Anacker, K. B. (2019). Introduction: housing affordability and affordable housing. International Journal of Housing Policy, 19(1), 1–16. https://doi.org/10.1080/19491247.2018.1560544
Bieri, D.S. (2014). Housing Affordability. Encyclopedia of Quality of Life and Well-Being Research, pp.2971–2975.
Brand, S. (1995). How buildings learn: What happens after they're built. Penguin.
Brysch, S. L., & Czischke, D. (2021). Affordability through design: the role of building costs in collaborative housing. Housing Studies. https://doi.org/10.1080/02673037.2021.2009778
Galster, G., & Ok Lee, K. (2021). Introduction to the special issue of the Global crisis in housing affordability. International Journal of Urban Sciences, 25(S1), 1–6. https://doi.org/10.1080/12265934.2020.1847433
Habitat for Humanity. (2019). What is housing affordability? [online] Available at: https://www.habitat.org/costofhome/what-is-housing-affordability [Accessed 14 Jul. 2021].
Haffner, M. E. A., & Hulse, K. (2021). A fresh look at contemporary perspectives on urban housing affordability. International Journal of Urban Sciences, 25(S1), 59–79. https://doi.org/10.1080/12265934.2019.1687320
Halligan, L. (2021). Home Truths : The UK's chronic housing shortage – how it happened, why it matters and the way to solve it. Biteback Publishing.
Hancock, K. E. (1993). "Can Pay? Won't Pay?" or Economic Principles of "Affordability." Urban Studies, 30(1), 127–145. http://www.jstor.org/stable/43195877
Maclennan, D., & Williams, R. (1990). Affordable housing in Britain and the United States. York: Joseph Rowntree Foundation.
Mulliner, E., & Maliene, V. (2015). An Analysis of Professional Perceptions of Criteria Contributing to Sustainable Housing Affordability. Sustainability, 7(1), 248–270. https://doi.org/10.3390/SU7010248
Paris, C. (2006). International Perspectives on Planning and Affordable Housing. Housing Studies, 22(1), 1–9. https://doi.org/10.1080/02673030601024531
Schneider, T., & Till, J. (2007). Flexible housing. Architectural press.
Sidewalk Labs, 2019. 6: Affordability by Design. [podcast] City of the Future. Available at: https://cityofthefuture.libsyn.com/6-affordability-by-design [Accessed 14 July 2021].
Stone, M. E. (2006). A Housing Affordability Standard for the UK. Housing Studies, 21(4), 453–476. https://doi.org/10.1080/02673030600708886
Created on 03-06-2022 | Update on 03-12-2022
Related definitions
Mass customisation
Area: Design, planning and building
Mass customisation (MC) is a process by which a company approaches its production in a customer-centric manner, developing products and services according to the needs and requirements of each individual customer, while keeping costs near to mass production (Piller, 2004). MC establishes a new relationship between producers and customers which becomes crucial in product development (Khalili-Araghi & Kolarevic, 2016). Alvin Toffler (1970, 1980) was the first to refer to the MC concept in his books "Future shock" and "The third wave". Stanley Davis (1987) later cemented the term in his book "Future Perfect". But it was not until 1993, when Joseph Pine developed its practical application to business, that the concept started gaining greater importance in research and practice (Pine, 1993; Brandão et al., 2017; Piller et al., 2005). Nowadays, MC is understood as a multidimensional process embracing a combination of mass production, user-driven technologies, big data, e-commerce and e-business, digital design, and manufacturing technologies (Brandão et al., 2017). In the last twenty years, almost every sector of the economy, from industrial production to consumer products and services, has been influenced by mass customisation. The difference between mass customisation and massive customisation is the ability to relate the contextual features to the product features. This means that a random generation of design alternatives would not be sufficient; these alternatives should be derived from the cultural, technological, environmental and social context, as well as from the individual context of the user (Kolarevic & Duarte, 2019). As a business paradigm, MC provides an attractive added value by addressing customer needs while using resources efficiently and avoiding an increase in operational costs (Piller & Tseng, 2009). It seeks to incorporate customer co-design processes into the innovation and strategic planning of the business, approaching economies of integration (Piller et al., 2005). As a result, the profitability of MC is achieved through product variety in volume-related economies (Baranauskas et al., 2020; Duray et al., 2000). The space in which it is possible to meet a variety of needs through a mass customisation offering is finite (Piller, 2004). This solution space represents the variety of different customisation units and encompasses the rules to combine them, limiting the set of possibilities in the search of a balance between productivity and flexibility (Salvador et al., 2009). The designer's responsibility would be to meet the heterogeneities of the users in an efficient way, by setting a solution space and defining the degrees of freedom for the customer within a manufacturer's production system (Hippel, 2001). Therefore, an important challenge for a company that aims at becoming a mass customizer is to find the right balance between what is determined by the designer and what is left for the user to decide (Kolarevic & Duarte, 2019). Value creation within a stable solution space is one of the major differences between traditional customisation. While a traditional customizer produces unique products and processes, a mass customizer uses stable processes to provide a high range of variety among their products and services (Pine, 1993). This would enable a mass customizer to achieve "near mass production efficiency" but would also mean that the customisation alternatives are limited to certain product features (Pine, 1995). As opposed to the industrial output of mass production, in which the customer selects from options produced by the industry, MC facilitates cultural production, the personalisation of mass products in accordance with individual beliefs. This means that the customer contributes to defining the processes, components, and features that will be involved in the flow of the design and manufacturing process (Kieran & Timberlake, 2004). Products or services that are co-designed by the customer may provide social benefits, resulting in tailor-made, fitting, and resilient outcomes (Piller et al., 2005). Thanks to parametric design and digital fabrication it is now viable to mass-produce non-standard, custom-made products, from tableware and shoes to furniture and building components. These are often customizable through interactive websites (Kolarevic & Duarte, 2019). The incorporation of MC into the housebuilding industry, through supporting, guiding, and informing the user via interactive interfaces (Madrazo et al., 2010), can contribute to a democratisation of housing design, allowing for an empowering, social, and cultural enrichment of our built environment. Our current housing stock is largely homogeneous, while customer demands are increasingly heterogeneous. Implementing MC in the housing industry could address the diverse consumer needs in an affordable and effective way, by creating stable solution spaces that could make good quality housing accessible to more dwellers. Stability and responsiveness are key in the production of highly customised housing. Stability can be achieved through product modularity, defining and producing a set of components that can be combined in the maximum possible ways, attaining responsiveness to different requests while reducing the complexity of product variation. This creates customisation alternatives within the solution space which require a smooth flow of information and effective collaboration between customers, designers, and manufacturers (Khalili-Araghi & Kolarevic, 2018). ICT technologies can help to effectively materialise this multidimensional and interdisciplinary challenge in the Architecture, Engineering and Construction (AEC) industry, as showcased in the Sato PlusHome multifamily block in Finland[1]. Nowadays, there are companies that have integrated a systematic methodology to produce mass customised single-family homes using prefabrication methods, such as Modern Modular[2]. On the other hand, platforms such as BIM that act as collaborative environments for all stakeholders have demonstrated that building performance can be increased and precision improved while reducing construction time. These digital twins offer a basis for fabricated components and enable early cooperation between different disciplines. Parametric tools have the potential to help customisation comply with the manufacturing rules and regulations, and increase the ability to sustainably meet customer requirements, using fewer resources and shorter lead times (Piroozfar et al., 2019). In summary, a mass customisable housing industry could be achieved if the products and services are parametrically defined (i.e., specifying the dimensions, constraints, and relationships between the various components), interactively designed (via a website or an app), digitally fabricated, visualised and evaluated to automatically generate production and assembly data (Kolarevic, 2015). However, for MC to be integrated effectively in the AEC industry, several challenges remain that range from cultural, behavioural and management changes, to technological such as the use of ICTs or those directly applied to the manufacturing process, as for example automating the production and assembly methods, the use of product configurators or managing the variety through the product supply chain (Piroozfar et al., 2019). [1] Sato PlusHome. ArkOpen / Esko Kahri, Petri Viita and Juhani Väisänen (http://www.open-building.org/conference2011/Project_PlusHome.pdf) [2] The Modern Modular. Resolution: 4 Architecture (https://www.re4a.com/the-modern-modular)
Created on 06-07-2022 | Update on 06-07-2022
Read more

->
Related case studies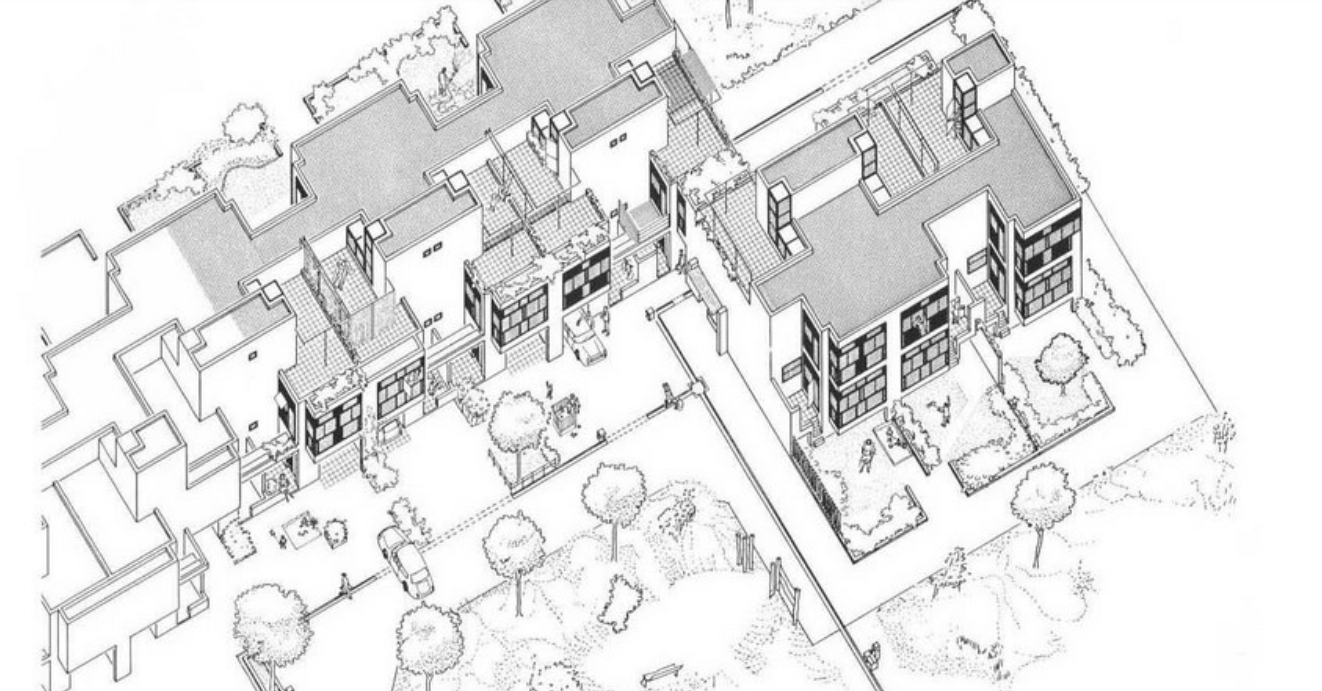 Diagoon Houses
Created on 11-11-2022
The act of housing The development of a space-time relationship was a revolution during the Modern Movement. How to incorporate the time variable into architecture became a fundamental matter throughout the twentieth century and became the focus of the Team 10's research and practice. Following this concern, Herman Hertzberger tried to adapt to the change and growth of architecture by incorporating spatial polyvalency in his projects. During the post-war period, and as response to the fast and homogeneous urbanization developed using mass production technologies, John Habraken published "The three R's for Housing" (1966) and "Supports: an Alternative to Mass Housing" (1961). He supported the idea that a dwelling should be an act as opposed to a product, and that the architect's role should be to deliver a system through which the users could accommodate their ways of living. This means allowing personal expression in the way of inhabiting the space within the limits created by the building system. To do this, Habraken proposed differentiating between 2 spheres of control: the support which would represent all the communal decisions about housing, and the infill that would represent the individual decisions. The Diagoon Houses, built between 1967 and 1971, follow this warped and weft idea, where the warp establishes the main order of the fabric in such a way that then contrasts with the weft, giving each other meaning and purpose. A flexible housing approach Opposed to the standardization of mass-produced housing based on stereotypical patterns of life which cannot accommodate heterogeneous groups to models in which the form follows the function and the possibility of change is not considered, Hertzberger's initial argument was that the design of a house should not constrain the form that a user inhabits the space, but it should allow for a set of different possibilities throughout time in an optimal way. He believed that what matters in the form is its intrinsic capability and potential as a vehicle of significance, allowing the user to create its own interpretations of the space. On the same line of thought, during their talk "Signs of Occupancy" (1979) in London, Alison and Peter Smithson highlighted the importance of creating spaces that can accommodate a variety of uses, allowing the user to discover and occupy the places that would best suit their different activities, based on patterns of light, seasons and other environmental conditions. They argued that what should stand out from a dwelling should be the style of its inhabitants, as opposed to the style of the architect. User participation has become one of the biggest achievements of social architecture, it is an approach by which many universal norms can be left aside to introduce the diversity of individuals and the aspirations of a plural society. The Diagoon Houses, also known as the experimental carcase houses, were delivered as incomplete dwellings, an unfinished framework in which the users could define the location of the living room, bedroom, study, play, relaxing, dining etc., and adjust or enlarge the house if the composition of the family changed over time. The aim was to replace the widely spread collective labels of living patterns and allow a personal interpretation of communal life instead. This concept of delivering an unfinished product and allowing the user to complete it as a way to approach affordability has been further developed in research and practice as for example in the Incremental Housing of Alejandro Aravena. Construction characteristics The Diagoon Houses consist of two intertwined volumes with two cores containing the staircase, toilet, kitchen and bathroom. The fact that the floors in each volume are separated only by half a storey creates a spatial articulation between the living units that allows for many optimal solutions. Hertzberger develops the support responding to the collective patterns of life, which are primary necessities to every human being. This enables the living units at each half floor to take on any function, given that the primary needs are covered by the main support. He demonstrates how the internal arrangements can be adapted to the inhabitants' individual interpretations of the space by providing some potential distributions. Each living unit can incorporate an internal partition, leaving an interior balcony looking into the central living hall that runs the full height of the house, lighting up the space through a rooflight. The construction system proposed by Herztberger is a combination of in-situ and mass-produced elements, maximising the use of prefabricated concrete blocks for the vertical elements to allow future modifications or additions. The Diagoon facades were designed as a framework that could easily incorporate different prefabricated infill panels that, previously selected to comply with the set regulations, would always result in a consistent façade composition. This allowance for variation at a minimal cost due to the use of prefabricated components and the design of open structures, sets the foundations of the mass customization paradigm. User participation While the internal interventions allow the users to covert the house to fit their individual needs, the external elements of the facade and garden could also be adapted, however in this case inhabitants must reach a mutual decision with the rest of the neighbours, reinforcing the dependency of people on one another and creating sense of community. The Diagoon Houses prove that true value of participation lies in the effects it creates in its participants. The same living spaces when seen from different eyes at different situations, resulted in unique arrangements and acquired different significance. User participation creates the emotional involvement of the inhabitant with the environment, the more the inhabitants adapt the space to their needs, the more they will be inclined to lavish care and value the things around them. In this case, the individual identity of each household lied in their unique way of interpreting a specific function, that depended on multiple factors as the place, time or circumstances. While some users felt that the house should be completed and subdivided to separate the living units, others thought that the visual connections between these spaces would reflect better their living patterns and playful arrangement between uses. After inhabiting the house for several decades, the inhabitants of the Diagoon Houses were interviewed and all of them agreed that the house suggested the exploration of different distributions, experiencing it as "captivating, playful and challenging"1. There was general approval of the characteristic spatial and visual connection between the living units, although some users had placed internal partitions in order to achieve acoustic independence between rooms. One of the families that had been living there for more than 40 years indicated that they had made full use of the adaptability of space; the house had been subject to the changing needs of being a couple with two children, to present when the couple had already retired, and the children had left home. Another of the families that was interviewed had changed the stereotypical room naming based on functions (living room, office, dining room etc.) for floor levels (1-4), this could as well be considered a success from Hertzberger as it's a way of liberating the space from permanent functions. Finally, there were divergent opinions with regards to the housing finishing, some thought that the house should be fitted-out, while others believed that it looked better if it was not conventionally perfect. This ability to integrate different possibilities has proven that Hertzberger's experimental houses was a success, enhancing inclusivity and social cohesion. Despite fitting-out the inside of their homes, the exterior appearance has remained unchanged; neighbourly consideration and community identity have been realised in the design. The changes reflecting the individual identity do not disrupt the reading of the collective housing as a whole. Spatial polivalency in contemporary housing From a contemporary point of view, in which a housing project must be sustainable from an environmental, social and economic perspective, the strategies used for the Diagoon Houses could address some of the challenges of our time. A recent example of this would be the 85 social housing units in Cornellà by Peris+Toral Arquitectes, which exemplify how by designing polyvalent and non-hierarchical spaces and fixed wet areas, the support system has been able to accommodate different ways of appropriation by the users, embracing social sustainability and allowing future adaptations. As in Diagoon, in this new housing development the use of standardized, reusable, prefabricated elements have contributed to increasing the affordability and sustainability of the dwellings. Additionally, the use of wood as main material in the Cornellà dwellings has proved to have significant benefits for the building's environmental impact. Nevertheless, while this matrix of equal room sizes, non-existing corridors and a centralised open kitchen has been acknowledged to avoid gender roles, some users have criticised the 13m² room size to be too restrictive for certain furniture distributions. All in all, both the Diagoon houses and the Cornellà dwellings demonstrate that the meaning of architecture must be subject to how it contributes to improving the changing living conditions of society. Although different in terms of period, construction technologies and housing typology, these two residential buildings show strategies that allow for a reinterpretation of the domestic space, responding to the current needs of society.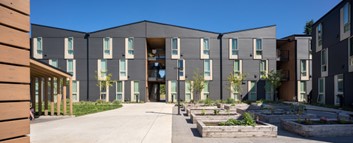 The Elwood Project, Vancouver, Washington
Created on 02-11-2022
The Elwood Project is an affordable housing development and includes forty-six apartments and supportive housing services provided by Sea-Mar Community Services. All apartments are subsidised through the Vancouver Housing Authority, so that tenants pay thirty-five percent of their income towards rent, according to public housing designation. There are garden-style apartments to allow residents to choose when and where to interact with neighbours. Units are 37 sq. m. with 1 bedroom. These apartments are fully accessible and amenities include a community room, laundry room, covered bike parking, and outdoor courtyard with a community garden (Housing Initiative, 2022). This case highlights the benefits of trauma informed design (TID) in the supportive housing sector. These homes were built using concepts of open corridors, natural light, art and nature, colours of nature, natural materials, design with commercial sustainability, elements of privacy and personalization, open areas, adequate and easy access to services. With these thoughtful techniques, Elwood offers socially sustainable help for vulnerable people (people with special needs, homeless, formally homeless) and for the new "housing precariat". The Elwood project is a good example of combining private apartments with opportunities for community living, where services and facilities management contribute to the well-being and stability of dwellers. What makes this project especially unique is that it does not look like affordable housing. As Brendan Sanchez concluded, people think that it "looks like really nice market rate upscale housing", which is empowering, because people in general "deserve access to quality-built environment and healthy indoor interior environments". Access Architecture did not design it as affordable housing, they just "designed it as housing" (Access Architecture, 2022). Affordability aspects The Elwood affordable housing community project is in a commercially zoned transit corridor. Existing planning regulations did not allow building permits in this area. Elwood is the first affordable housing development in the city of Vancouver that has required changes to the city's zoning regulations. As a result of these changes, other measures have been adopted to promote affordable housing in the community. Under the city's previous building regulations, it was simply not possible to obtain a building permit. The Affordable Housing Fund helped developers to undertake this project and provided tenants with budget friendly housing options (Otak, 2022). Now, thanks to the Elwood project, there are ongoing talks at the Board of the Planning Commission of Elwood Town to get construction permits for similar projects. As the council stated, "it is on the horizon for all towns to have affordable housing" (Elwood Town Corporation, 2022). Although the population of the area is small, it is estimated that in the coming years the need for more affordable housing units will increase. Previously, permitted uses were limited to C-2 (general commercial, office and retail) and C-3 (intensive service commercial) zoning uses (e.g., gas station, restaurant, public utility substation). Currently, the members of the town council together with other stakeholders are negotiating new plans for affordable housing in the area. With the help of the community, they are striving to harmonise the legal, political, financial and design aspects and work on a general plan that includes the construction of multi-family affordable dwellings. In addition, the ultimate goal is to further modify zoning regulations to incorporate tax advantages for social housing. Sustainability aspects It is a highly energy efficient building as it meets the minimum requirements of the Evergreen Sustainable Development Standards (ESDS), which include requirements for low Volatile Organic Compounds (VOC) content, water conservation, air sealing, and reduction of thermal bridges. It also meets the Green Point Rated Program requirements. The building materials are bamboo, cork, salvaged or FSC-Certified wood, natural linoleum, natural rubber and ceramic tile. There are no VOC adhesives or synthetic backing in living rooms, and bathrooms (Otak, 2022). Design Access Architecture used an outcome-based design process during the development of this project. The outcome-based design process considers TID principles to lower barriers among tenants and minimize stigma of receiving services. Brendan Sanchez from Access Architecture highlights that TID is a kind of design that is "getting a lot more attention now that people understand it more. It applies in this project, and we're also just finding that it doesn't have to be a certain traumatic event we design for. It can also be a systemic problem — we all have our own traumas we're working through, especially after the events of the pandemic last year. So Access likes to focus on how we can create healing spaces in this kind of design." (Nichiha, 2022) As Di Raimo et al. (2021) wrote, trauma informed approaches can be adopted by a wide range of service providers (health, social care, education, justice). In this case, Sea Mar-Community Services Northwest's Foundational Community Support provides guidance for tenants with the help of case managers. Such partners can help with professional and health objectives. CDM Caregiving Services helps (or offer assistance) with daily tasks from cooking to cleaning and hygiene. Finally, Vancouver Housing Authority members help with anything they can, so that tenants would not feel themselves alone with their problems (Nahro, 2022). Elwood offers informal indoor and outdoor spaces which provide a relaxed atmosphere in a friendly milieu. In this building, TID suits the resident's needs. The building was planned with the help of potential residents and social workers, so that a sense of space and place would provide familiarity, stability, and safety for those who are longing for the feeling of place attachment.
Related publications
No entries